By April Jensen
I have my parents to thank for the "travel bug." Not just for passing it down to me (they have both been avid travelers for decades), but also for making a brave decision, when I was five, that changed and enriched my life forever. At the time, my dad — an engineer — was working in wind power, and an opportunity came up for him to do some overseas development work in Barbados. Rather than go alone for months each year, it was decided that the whole family would come along, and so it came to be that, in 1983, we all hopped a plane bound for the tiny island that would — over time — become my second home.
We settled into our new home in Sunset Crest, Holetown, minutes from the sandy beaches and beautiful Caribbean Sea, noticing and relishing each small difference from our home in Canada. The warm, humid climate; the lizards on the walls; the crickets chirping at night; the way the sun never failed to rise and set at 6:00; the way the women could carry huge baskets on their heads hands-free and unaided. And the food — the dishes spicier than at home, the fruits fresh from the trees with the taste of the warm, West Indian sun in their sweet juices.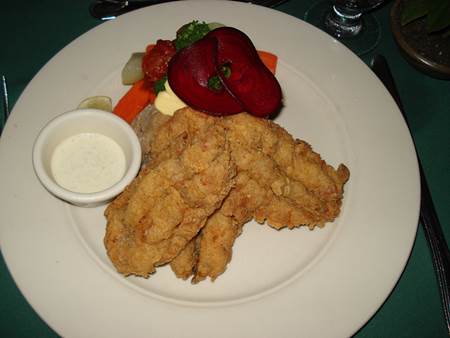 My quick favorite: flying fish, a Bajan delicacy named for its small wings and ability to flutter above the water. Our housekeeper — Maggie — a tall, thin, Bajan woman with a quick giggle and perpetual smile, would cook up the delicious filets of the fish: first seasoned, then dipped in egg followed by breadcrumbs, then fried to a perfect golden brown.
When it came time for me to start school I was ecstatic — another new adventure to be had! Wearing my school uniform I sat on the benches of the one-room private schoolhouse, learning quickly under the rule of the headmistress and the strict British school system of high standards, high expectations, and zero coddling. I cherished the experience of being a "minority" at the school, and remember the innocent, uncensored questions of the other kids who were curious to know why my skin was so "clear" and my hair so white. I was equally fascinated with the wonderful differences between us having, before then, lived my whole life in a small Canadian town. I envied the other girls their hair, which was dark and thick and could be easily molded into complex and perfect braids while mine was thin, slippery and unruly.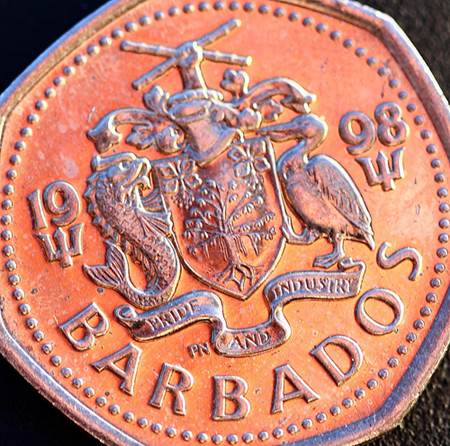 At recess, we would go to buy snacks at the "canteen" with our coins. I quickly began to develop a Bajan accent after realizing that the friendly, elderly lady who worked at the canteen could not comprehend my Canadian drawl and — like all children — I wanted candy. When the time came, I would open my coin purse and extract a Bajan dollar to hand over for corn curls or cakes. And on those dollars – an engraving of the flying fish.
Back home to Canada we would fly each year — back into school with the Canadian friends that we had kept in touch with via letters and postcards, sharing tales of our adventure. We would get reacquainted with things like snow and cold temperatures, and then it was back to Barbados in the spring. Excited to be back, we would resume our regular trips to the beach after school and on the weekends, walking to the beach nearby or driving across the island on explorations and picnics. Every Thursday night, we would visit our favorite restaurant and sit at a table out in a gazebo, enjoying our meals while soaking in the warm night air, serenaded by the crickets chirping nearby. My choice of dinner was almost always the same: flying fish… with chips.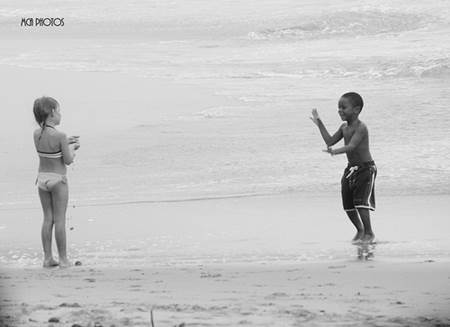 At age eleven, the time came for me to prepare for the "Eleven-Plus" exam. Secondary school placement, in Barbados, is based on a true meritocracy. All children at age eleven take an exam on the same day. This marathon exam tests the basics of math, English, and logic, and the scores determine which secondary schools (the equivalent of junior high and high school in North America), that the child can apply to. Like other children, I underwent a rigorous regime of preparation and testing until the big day came, and I did well enough to have my choice of any of the island's schools. From then on, instead of the closer primary school that my brother and sister continued to attend, off I went each morning to Harrison College, former school of many of the island's prime ministers, in the capital city of Bridgetown. Here, I made new friends and was driven to learn at an even faster pace. My mom used to marvel at the fact that the piles of homework never seemed to stop me from going to the beach. Each day, I would gather at lunch with my friends, sitting in the sun or under the tree in the courtyard to enjoy the lunches our moms had sent with us. Sometimes, I would be lucky enough to find a packet of tin foil containing a special treat — leftover flying fish.
The next year, my dad's project completed, we returned home to Canada for good, with the travel bug properly instilled and with new friends with whom I would keep in touch by letter for many years before the letters finally dwindled, as they do. I still make it back every few years to visit the island, seeing each time how much my old home has changed yet how some things stay the same. Each time I visit, I like to try to stop in at the Oistins' Fish Fry on a Friday night, find a booth with a long line (which means it's the best) and then sit at a picnic table enjoying a cold Banks beer and — of course — some flying fish, surrounded by locals and tourists alike.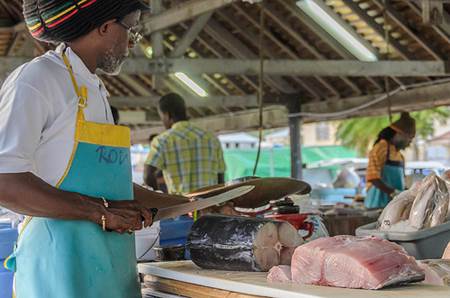 I believe, that when a child grows up in two countries, they are destined to become a lifelong traveler because they are forever torn – in the best possible sense of the word — between worlds. Early travel experiences teach a child a truth that many will live their entire lifetimes never grasping — that home is not a geographical location or coordinates on a map. Home is wherever your family and friends are; wherever your heart is at peace or soars with the joy of adventure — be that one place, or two, or many. I am forever grateful to my parents for giving me the chance to learn this lesson.
I still miss Barbados years later, at 35. I still read its newspapers, look at my old pictures, and get there to visit when I can. Sometimes, when I miss it enough, I take the bus to the Caribbean store in my home city in Canada. I go in, buy a chicken roti for lunch, then walk to the back and look in the freezer. And sometimes — when the fishing in Trinidad and Barbados has been good that year — I am lucky enough to find them. Just waiting for me to take them home, season, bread and fry them — frozen packages of flying fish.
*****
April Jensen is an IT Professional and life-long traveler, currently living in Calgary, Canada. She loves writing, photography, learning, and adventure, and can frequently be found plotting her next trip.
*****
Photo credits:
Flying Fish: michal
Flying Fish Fried: GoingLikeSixty.com
Barbados Dollar: Mark Morgan
Kids at Barbados Beach: Marc Aberdeen
Oistin's Fish Market: Rob Hyndman