By Deb Smith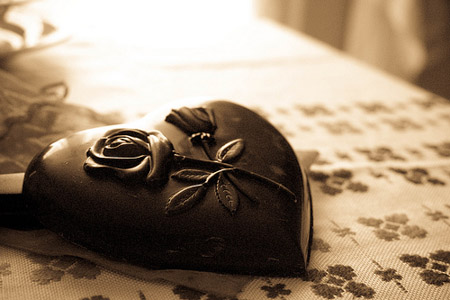 When I was small, I used to wonder about Heaven. What was it like? In one of my favorite fantasies, Heaven was made of chocolate and you didn't gain weight, get cavities or sicken yourself eating it.
Now, as a grown-up, I can tell excellent chocolate from the mediocre kind. And Heaven? If chocolate is Heaven, then it's in Perugia at 1,500 feet above sea level where I went to find it.
My son and I set out to see the Italian hill towns by train one sparkling morning. A half-hour ride north from Assisi is Perugia. Exiting at the station, we first took the elevator and then walked to Piazza Quattro Novembre.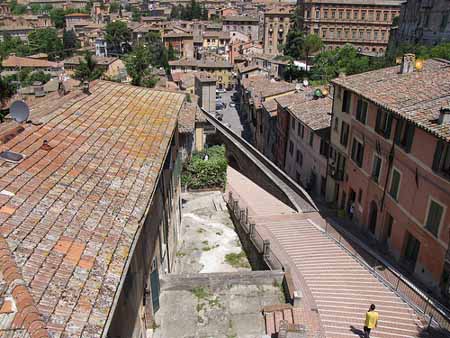 Along the way, we trudged up wide, flat stairs and peered into the shops. Seeing ancient civilizations was why we had come to Italy, so we examined Roman statuary in the museum courtyard and toured the Etruscan ruins at the Cathedral of San Lorenzo. Staring nose-to nose with 1,000-year-old statues, I wondered if some long ago Etruscan knew about chocolate? Did he send his lady a chariot full? Or was that a delight only reserved for the Roman conquerors?
Alas, for those in Italy, chocolate was a product from the New World. Nearly twelve centuries after the Etruscans and the Romans, Francesco Carletti discovered how chocolate was made and brought the beans from South America to Europe. By 1606, chocolate was an established product in Italy. It now remained for the Buitoni family, makers of dried pasta, to branch out into the confectionary business with Perugina chocolates.
I'd heard so much about Italian chocolates that I was determined to sample some, especially the Perugina. In the company's signature navy and silver colors, the sweets were everywhere – boxed, in heart-shaped canisters, tied in a set with a teddy bear or stacked in a bin for sale by the piece. But chocolate didn't stop at the Perugina brand. So I didn't either.
How can I describe the taste? In milk or dark, the chocolate was a fresh, dense sweetness that slipped like silk into my mouth and quickly possessed my whole being. Hazelnut or truffle fillings were highlights to the essential, elemental taste of fresh chocolate.
My twelve-year-old son followed joyfully along behind me. He thought this trip to Italy was a dream come true. Lazy days roaming through town eating candy; what could be better?
Each store carried its own assortment of sweets for the woman on a mission. Small milk chocolate hearts the size of dimes winked in sparkling red wrappers. Filled Caffarel chocolates, in gold holographic wrap, gleamed like shiny buttons inside their bags. These were perfect for my staff or as a gift for a friend.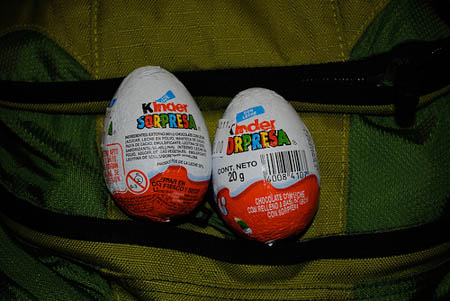 Perugina miniatures in four different color papers were scooped into a sack for everyone else. Then I bought the classic Baci, the Italian "kiss" with a saying inside. The multilingual maxim on the wrapper of each Baci confirm, as someone said, that Perugina employees' love of romance exceeds their command of English. The candy kiss is just as delightful as the wishes.
My son loved the Kinder Sorpresa. Available throughout Europe, these hollow dark and white chocolate eggs – about the size of a real one – contain cleverly designed toys, puzzles, figurines and other surprises. He chose an egg, wandered to the Duomo steps, and took up a post among pigeons and people – watchers waiting to discover what toy was inside.
I bought stamps and mailed postcards. I was lucky the cards didn't arrive home with chocolate smudges on the edge from all the candy buying.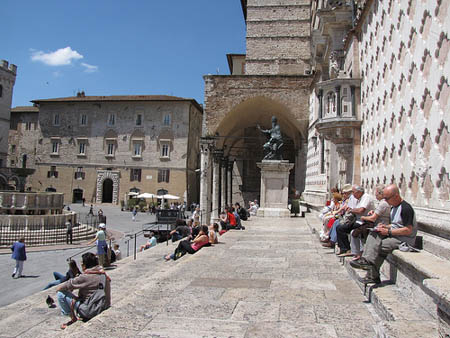 After carting home sweets, I was delighted by the faces of co-workers and those I love when I handed over the goods. It is truly great chocolate, the kind that makes you wonder what you were ever doing eating anything else. It's chocolate closest to my fantasies of the next life.
I may well go back to Perugia soon. Visit the factory and the chocolate museum. Stay longer. Explore more. Eat pieces of Heaven.
*****
Deb Smith is a Contributing Writer for Iceland Review/Atlantica and Associate Professor at Empire State College in Saratoga Springs, NY. She has written for Tastes of Italia magazine, Parentingexpress.com, The Berkshire Women's Times and chapters in several travel anthologies from Traveler's Tales Publishers including 30 Days in Italy.Her work also airs on WAMC Northeast Public Radio's morning program "The Round Table." Conor Smith McCallion, her son and favorite travel companion, is now a student at the College of Saint Rose in Albany, NY.
*****
Photo credits:
Heart-shaped Chocolate: ilaria
Perugia views: Christopher John SSF
Perugina Chocolates: Paola Sucato
Kinder Sorpresa: Lizard10979
Perugia Duomo: Christopher John SSF