by Erica Jacobs Green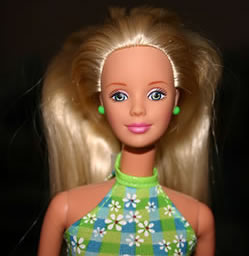 My days begin with pitch-dark, five a.m. wakeups from bright-eyed little people. Stumbling downstairs, I find our living room littered with crayons and Mr. Potato Head parts, headless Barbies, and wooden train tracks. The little people and my husband require food, preferably something healthy for the three meals they eat each day, substance that hasn't been overly processed, contains red meat, or will lead to mercury poisoning, obesity or diabetes. Dust gathers on the new table in the entryway, asking to be wiped. Pictures for the empty spot above the mantel beg to finally be hung. Because of the daycare schedule, at any given time there is at least one child at home, often two, requiring dispute settlement, emergency medicine, or positive disciple.
For my husband's job we live in a foreign country, selected by his employer, and recently we moved into a new home, furnished by someone I've never met. Last month, when I finally took a moment to stop parenting, cleaning, cooking, or moving, I was slammed with one thought: very little about my day, my time, or my home has to do with me.
Oh, yeah. Me. Who is that again? Why have I been ignoring her?
In the early years of our relationship, the mister and I used to joke that his interests and opinions didn't matter because it was all about me. This was especially ironic given that my whole life had just changed dramatically. I'd left everything that was familiar–apartment, job, belongings–everything that was mine, in order to live in his house, on a new continent, and become a part of his life. While I couldn't choose the residence, the country, or the employment opportunities, I did have one thing that was all mine, time.
Last month, in this arrested moment, I thought of that phrase, it's all about me, and started to cry. It seemed that now, even time was not my own. I was desperate for a break.
Within a week, I'd planned a trip to Prague. Not for the family. Just for me.
The morning of the trip, I started to feel guilty: I was leaving the mister to deal with both kids alone for a whole weekend, actually four days! We'd recently moved into a new house that needed attention, we were just back from a vacation and not settled, I should focus on the business I'm trying to launch, I was supposed to work on my novel. I shouldn't spend too much money. This was selfish.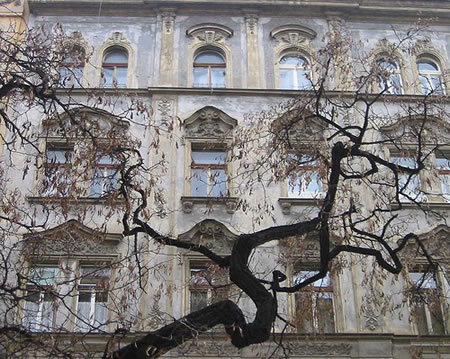 As the taxi pulled out of the compound into the dark Russian morning, I watched the rain and let all those thoughts fall away. Who was I kidding? I was FREE!
Of course, the feeling of utter weightlessness, or was that carelessness, didn't last. But it had begun. A few short hours later, I wandered down cobblestone streets and headed toward a castle on a hill. Stopping for a ginger tea in a modern café, I read The New Yorker and took notes in my pink moleskin journal. In Saint Nicholas church I got down on my knees and thought of the lines from Simon & Garfunkle's California Dreamin. I was a long way from my home in California. A long way from my family. A long way from my original path. But the bench, like the reflecting, felt good. The entire day was mine. I could almost feel my body become my own again.
Peeking into souvenir shops, I couldn't help but think of the kids and what to bring home for them. Seeing a baby in a stroller, I cooed, wondering what my son was doing back at home or what my daughter would say about the gargoyles on Saint Charles Bridge. By nightfall, my feet were tired and my friend had arrived to join me for the weekend. We drank a delicious bottle of wine at a gourmet restaurant and caught up on girl gossip. I didn't think twice about going to bed late and in the morning, I woke up in a room all alone. ON MY OWN. No children, no alarm clock.
I can't say that the rest of the weekend was spent in a state of ethereal winsomeness, my real life forgotten. But I can say that somewhere between that beer-filled lunch overlooking the fall colors of Prague, sipping my second coffee in the hotel's executive lounge, and purchasing a new pair of purple tights, inspired by the tall Russian fashonistas on my flight, I remembered how it felt to be on my own. I started to remember who I was, just me, and think about where I'm going and where I've been. And how good it felt to spend time, just as I wanted to.
The weekend ended and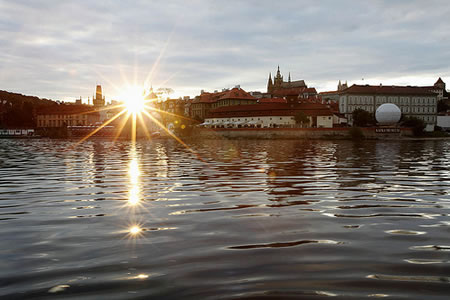 back at home, I kissed and kissed and kissed my family. It had only been a few short days, but I missed them something powerful. Before crawling into bed, I felt compelled to open the drawer on my bedside table. I hadn't looked in there for months. Inside, hidden from view, and forgotten by me, were the objects from a Peruvian Mesa Ceremony I gathered at a girl's weekend a year earlier. The idea of the ceremony was to honor our inner goddess and our truest, innermost selves. As women, we often give so much to others that we forget to take care of ourselves. In this ceremony we chose objects to remind us of who we are and what is important. Unwrapping the package, I found a charm once belonging to my daughter, my son's adorable baby sock, empty pages from a journal, a world map from a scholarly publication, sand from a beach in California, and a bit of bling from a raucous costume party years earlier. I looked at these silly but now precious objects, representing my loves, my scholarly passions, my career, my laugh-out-loud friendships, my memorable parties, and my wanderlust. I promised to be good to it and honor it again. To honor myself. Prague was just the beginning. It may be a lot about them, but really, we all know it is, and always will be, all about me.
* * * * *
Erica Jacobs Green has worked in book publishing for nearly twenty years as a children's book editor at Chronicle Books and the Director of Publishing at Discovery Channel, among other roles. Her writing has appeared in anthologies, newspapers, and online. Currently a freelance writer and editor, Erica is also the co-founder of Ever After Studio and working on a novel. Originally from California, Erica lives in Moscow, Russia with her husband and two small children.
Photo credits:
Barbie doll: ianmacm
Prague building facade: Ahron de Leeuw
Prague sunset: East Capital