by Erin Byrne
. . . the vine, from whence we have that nectarian, delicious, precious, heavenly, joyful, and deific liquour . . .
РFran̤ois Rabelais
And what wine is so sparkling, what so fragrant, what so intoxicating, as possibility!
– Søren Kierkegaard
James and Marcus howled with laughter. Ann and Jack, heads crushed together, pored over photos. Nick gestured wildly, indicating precisely what it is about Bordeaux that spills into his soul. Balash, international party boy/philosopher, snatched and drained half-empty glasses. Out of the corner of my eye I saw silver-haired Barbara tiptoe into the kitchen in search of more crème brûlé. felt the kind of relaxing smile you have at the end of a long day with people you know well. Only dimly, I remembered my reluctance to relax with this selection of strangers.
Often if we venture not only out into the world, but beyond our usual boundaries, life acquires a sweetness that lingers long after a voyage.
The idea of group travel has always made me assume the emotional fetal position. I am a closet introvert; I do not savor branching out. When I signed up for a travel writing, food and wine class in Saint-Emilion, France, I anticipated writing feverishly and saturating myself with histoire. I invited two unclingy friends to come. I chose Ann and Wendy because they were entirely confident and independent. While planning the trip, it did not fully sink in that there would be other people with whom I would need to interact. I just wanted to dig deep into myself and write.
Saint-Emilion, 35 kilometers northeast of Bordeaux, is perched on a hillside overlooking the
Dordogne valley. The medieval spire of Eglise Monolithe — the eleventh-century church dug entirely out of a limestone cliff — seemed to peek out of emerald vineyards as we approached the village. We passed under a soft golden Gothic-style gate, one left intact of the original eight, with steep cobblestoned lanes branching off the ivy and geranium-lined street.
Ann, Wendy and I got settled in our room at the top of a tiny winding stone staircase, and walked into the meeting place, the lobby of our hotel, L'Aberge de la Commanderie. My dreams of solitude were instantly crushed; we were going to mingle. I recalled with dismay that there was even one day on our schedule (Wednesday) that involved traveling on a bus all over the Médoc region, spending every minute of the day with this bunch. I get carsick; I need breathing room. Restlessness settled in the bottom of my stomach. What had I been thinking of?
The first few days were full of introductory encounters and awkward conversations. Of course Ann and Wendy, the unclingy, had settled into the group with ease. I could see them from my fetal position, chatting gaily with Jack the photographer and Lisa the surgeon. I was masquerading as an extrovert and having some shallow conversations of the type that I detest. I gave it the old sorority try, searching for anything in common with Liezie, a South African restaurant owner. I am the mom of two teen boys and spend my spare time in gyms and playing fields. I murmured inane comments but enviously gnashed my teeth at her tale of surfing with her man. Her wrinkly-nosed laugh, though, made me smile in spite of myself, but only for a minute. I feigned interest in foie gras, which I secretly compared to ground cardboard.
O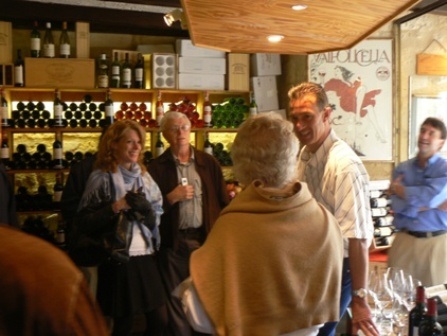 ur room at L'Aberge de la Commanderie was a cozy, oblong room under the eaves. Wendy, prettily petite, stood on the bed modeling a short skirt as Ann and I lounged against the wall calling out sweater options. We three balanced each other: tall, blond, Ann's humor lightened up my redheaded intensity, and Wendy always had a spicy comment to make us snicker. We talked well into every night and went our separate ways during the day: they were my ideal traveling companions. As for the rest of the group, they all seemed very nice, but I was absolutely dreading Wednesday — the full day.
One morning we toured the city and learned that wine production in Saint-Emilion began in the fourth century under Roman occupation. I imagined brown-robed monks bending over to pick grapes while the flag over the castle regularly changed from French to British to French again, all through the thirteenth to the fifteenth centuries. Next, the Catholics and the Hugenots spilled each other's blood in the fields, and then the turmoil of the French Revolution interrupted — but never entirely stopped — wine production. In the early eighteenth century, the vineyards expanded, and when the age of railway transport arrived in 1855, the export market blossomed. One sip of Château Ausone, a Saint-Emilion Grand Cru, and I understood why the resilient wine industry continued to grow in this place: currant, raspberry, and black cherry lolled around my tongue and rolled down my throat to warm my bloodstream. I felt my fetal position nudged a little.
Another afternoon, we sauntered the cobblestones between garages. For while there are dozens of grand, elegant châteaux in the area, it is the garagistes who have created a stir since the 1990s by making award-winning wine inside their cold, whitewashed, tile floored . . . garages.
Michel Gracia — a distinguished bald, bushy-eye-browed, gentleman that Ann, Wendy and I immediately classified by mutual glance as of the sexy-older-man variety — brought out photo albums that showed his children and grandchildren helping with the harvest. He and his neighbor, competitor, and best friend Michel Puzio tossed their arms around each other's shoulders and told stories of their intertwined lives, loves and vines. The intimate atmosphere inside Gracia's garage added spice to the taste of his wine.
Wednesday morning was cloudy, but ripe with a hint of possibility as the group climbed onto the bus to explore La Gironde, the area of southwestern France that encompasses Bordeaux. Fifteen people plucked from different parts of the world —Seattle, Austria, Canada, Boston and South Africa — barreled together up France's D2 highway, known as the Route des Châteaux, in search of things to write about. There was an ease settling on the group. Talk had dipped into the personal, family photos were circulated. We swapped stories of articles we'd written — publishing successes and rejection scars were revealed. Bouncing around on a bus tends to loosen you up, I noticed.
We arrived at the stately, cream and ivy-covered Château Magnol and sat down for our tasting. The scarlet of the wine was vivid against the white tablecloths. Liesie wrinkled her nose at not-so-shy-anymore Jack, and I laughed. Frank continued his interrogations, plotting to uncover the secret of the French terroire (soil). He had been like Inspector Clouseau all week, in search of every detail behind the fermentation miracles we'd tasted, and we listened to his questions fondly. Conversation flowed. As we swirled, swished, swallowed (or spit), it was clear to me that something was happening.
Mellow from the wine, we poured into the next room of sparkling windows and bright flowers. During lunch I sensed a political debate at the next table, heard the clink of glasses raised in toast, and felt myself unwind enough to engage in a bit of philosophical conversation with Marcus about whether we were actually becoming wine snobs. We had both been surprised at how unpretentiously the vintages had been presented.
Running through a downpour we sopped ourselves back on the bus. Our destination was a waking dream for all of us: Chateau Lafite Rothschild. How could it possibly live up to our collective expectations?
The flag-flapping turret was more imposing in reality than on the Travel Channel. At the sight of our dark, handsome guide Frederique, the female heads collectively snapped up and we exchanged fruitful glances. All fifteen of us crept upstairs past dust covered wine bottles and ancient candelabras; we glided down a dark hallway lined with wrought iron doors. This place seemed saturated with tradition. Finally we entered a vast, circular concrete room with gigantic pillars and a cool, mysteriously blue feel. As Frederique poured, we clustered together sharing our three-day-old expertise. Glasses were held up t
o the light and examined for hidden rubies of reflection. Wrists rotated to slosh the crimson liquid up the sides of glasses so it could run down and we could watch wisely. Heads nodded, nostrils flared, lips smacked. The wine smelled of cedar and leather and tasted like the entire history of France contained in one sip.
As we rambled through the Médoc region the rest of the day, the two chateaux swirled in our minds. Polite chuckles had become belly laughs that echoed in the clattering bus. Twenty-something Anne had turned out to be the editor of a travel website and had become the mentor of the group. Sharon, who looked the most carefree, had gone through crisis after crisis with dignity and courage. Balash was from Iran, clear across the world, with a tumultuous past I had only had glimpses of in The Middle East for Dummies. He was the one with whom I had the most quirky traits in common: we'd memorized the same passages in books, had fought back tears as we turned the same corners in our European travels, and shared an identically wicked sense of humor. Balash and I instantly understood each other no matter which subject we brought up, sitting on the bus with our heads together.
Awkward glances had ripened into quick grins, and the gloves were off in the political debates. Instead of dread at the prospect of a long dinner, I felt the best was yet to come.
Le Lion d'Or is a small and simple restaurant in the village of Arcins. As we walked in, I saw M. Barbier, the chef, smiling seductively in a professional photo above the entrance. The real M. Barbier was standing directly underneath his portrait. His eyes had the same gleam in real life, his mustache trimmed just so and his white apron pristine. He greeted us with a blend of pride and professionalism that made us feel we should take his culinary talents seriously indeed.
The room in which our glittering table awaited was hushed and noisy at the same time. The heady aroma of juices, herbs, and hospitality filled us with anticipation and made our mouths water. The waiter, who resembled Adrian Brody with his hooked nose and drooping eyelids, held out two fistfuls of wine glasses and grinned seductively.
We drank in the familiarity of each other. Soon Denise had everyone in f
its of hysteria as she described an Italian man trying to proposition her when she lived in Italy. She imitated his gestures and accent with gusto. She'd had to explain to the sexy signor, mostly by gestures, that she wouldn't abandon her two kids on the playground to dash off for a bella notte with him. I shared literary whispers with Anne next to me; it seemed we had read the same books at the same times during the past year.
We tasted truffle freshly shaved and lovingly placed on roast pork with a flourish by the dramatic M. Barbier, who waited for our response as if he had just proposed marriage. It tasted of the earth and seemed to lure sizzling secrets out of the meat. Le chef beamed. We imbibed like the wine connoisseurs we had become.
As cognac lifted us to a floating haze, Barbara returned from the kitchen victoriously bearing another crème brûlé. The ambiance in the room was priceless, and it was because of the people. I heard the booming laugh of Marcus and James: not the polite chuckle of acquaintance, but the deep, body-mind-soul laugh of good friends. I felt myself stretch out of the fetal position and savored the feeling that I was a part of this group, who had mingled together like a fine Bordeaux to produce a rare, perfect blend.
* * * * *
Erin Byrne writes articles and essays that dive deeper into travel, cultural and political themes. Her work has appeared in Everywhere magazine, The Literary Traveler, Brave New Traveler, and The Writer's Workshop Review.
Erin's essay Leaning Back won a 2009 bronze Solas Award from Traveler's Tales Best Travel Writing.  Winged Victory, A Pilgrimage to Paris won first place in the essay category of the Whidbey Island Writer's Association 2009 Benefactor's Award. Placed in the Place was awarded the grand prize at Book Passage Travel Writer's and Photographer's Conference 2009.
Erin's most recent article is about the Nobel Prize going to President Obama and highlights David Elliot Cohen's book, What Matters.  It is a follow-up to her earlier article about the past eight winners of the Nobel Peace Prize.
Erin lives with her husband and two sons in the Seattle area, but she beams herself to Europe at least once a day.  She is currently working on two travel books.
Photo credits:
Wine bottles: alexbrn
All other photos submitted by author on behalf of photographer:
Chateau Lafite Rothschild cellar: Wendy Hendrickson
M. Barbier preparing truffles: Wendy Hendrickson
Table Lion d'Or: Wendy Hendrickson
Cave de L'Armitage Wine Shop: Ann Mehl
Michael Gracia and Wendy Hendrickson at winetasting: Ann Mehl