by Janie Starr
The dented dusty Blue Bird bus stood waiting by the side of the road, like a promise. With some degree of trepidation, we decided to jump aboard and venture into Guatemala. The year was 1976, summertime, and my husband, Kirk, and I were indulging in a south-of-the-border excursion, a last hurrah before returning to our lives in Tacoma, Washington, where we were planning to start a family. We had been pueblo hopping in southern Mexico for two weeks, crashing in postage stamp-sized rooms in Oaxaca and San Cristobal. Between bouts of turista, we gorged on chicken with thick chocolaty mole sauce, and steamy enchiladas smothered in green chilies, eschewing anything fresh and raw. We washed it all down with bottles of yeasty cerveza, slaking our thirst against the oppressive heat. In the markets I pulled out my English/Spanish dictionary and attempted to negotiate with rug venders and pottery sellers, showing more ignorance than skill as we admired brightly patterned rugs and lusted over handspun finery we could never afford.
We were in our mid-twenties, just starting out, and, while we were short on pesos and were traveling on the cheap, Kirk had recently completed his pediatric training and was on the cusp of joining a medical practice. With a master's degree in public health, I had landed a job as education director of a local clinic. We were going to be fine, unlike the Indio peasants squatting on the side of the road, hands outstretched, faces drawn and listless, inured to the flies that buzzed incessantly overhead.
We were naïve in the ways of local politics. We grieved for the poor but felt helpless to intervene. On the spur of the moment, we decided to move on, in search of more hopeful circumstances. Hot and sticky from the humidity, I had chosen to wear my shortest short skirt, and I felt conspicuously bare next to the long-skirted women waiting in the bus line with us. At 5'1", I wasn't accustomed to standing out, but I fairly towered over these small people and had to resist patting their heads, the way strangers often patted mine.
When, at last, the bus's motor roared to life, I took lessons from those around me and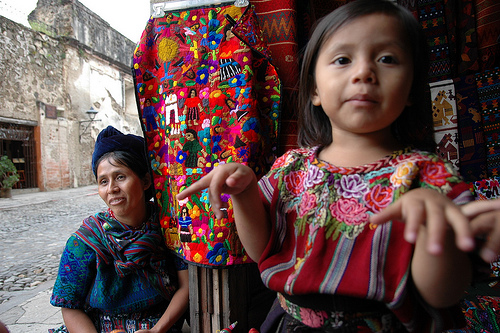 proceeded to elbow my way onboard in order to secure seats. Kirk hung back allowing others to shove past him. His blond hair and green eyes drew stares, but by then we were used to the fact that locals confused him with the mythical Moctezuma, rumored to have been fair-haired as well. Kirk abhorred my pushiness, but it didn't stop him from plopping down beside me, wiping the sweat off his face with the sleeve of his grimy blue work shirt. Everything we owned was grimy by then, including us.
After the border crossing, uneventful despite the machine gun-wielding guards, and many hours of bouncing along rutted roadways, we finally arrived at our destination, the budding community of Panajachal. It consisted of little more than a stream of thatched-roofed huts that tumbled toward Lake Atitlan. A few lanchas, creaky wooden boats with canvas stretched across the top, bobbed on the water and dared us to take a ride. Next morning we did, shooting across the bluest most sparkling water I'd ever seen, undaunted by the waves that broke across the bow, and drenched us to the bone, energized by our spirit of adventure.
With limited Spanish and no Tzutujil, the local speak, we, nevertheless, found our way. We were struck by the gallantry, friendliness, and astonishing cleanliness of those we observed: Mayan descendents garbed in the clothes of their ancestors, each pueblo along the lake characterized by the attire of its people: brilliant reds and blues, purples, and gold, white-white cloth against brown skin, faces wreathed in smiles, pride emanating off them in waves… a luminous contrast to the downtrodden we had despaired of in Mexico.
After our day spent meandering from one village to the next along well-traveled footpaths on the far side of the lake, checking out native markets, and marveling at our isolation from the western world, we were weary, hungry and ready to return to Pana. Having been conditioned by Mexican travel time, we assumed our lancha would be running late. Not wanting to take any chances, however, we raced for the boat dock, sprinting through avocado groves and stumbling over fallen fruit, only to witness the boat, teeming with commuters and their ungainly wares, pull away from shore… early. It was full, so it left, which makes sense unless you're a couple of gringos stranded on the wrong side of the lake, on a Friday, at sunset.
When we ascertained with some dismay that the next lancha wasn't due until Monday, we wandered into Santiago, seeking alternative transportation. We were not optimistic. The village priest, who spoke good-enough English, assured us that we could snag a ride on a cebollos truck that would be departing shortly, and, moments later, as if in answer to a prayer, a loud rumbling vehicle materialized beside the church. We were getting ready to climb in the front seat, when the driver motioned us to scale the high slatted sides in back.
Conscious of my very short skirt, I scrambled up as fast as I could, and dropped into darkness, landing on an itchy pungent burlap bale, bumping against a man who had been perched there. Mystery solved: cebollos = onions. We had become passengers in the bowels of an onion truck! In the dim light, I could barely make out the shadowy outlines of Mexican trabajadores, workers heading home from the fields with their fragrant harvest. They motioned for us to settle in and make ourselves comfortable, offering us bruised bananas, which we received in gratitude. We laughed all the way back along the potholed road to Pana, arriving in the pitch dark, and feeling fully satisfied with our day's escapade.
I fell in love with Guatemala and the Lake that night, and have returned three times in recent years on my own… after letting out my hems, and learning to speak Spanish.  Lots more gringos go there now. Panajachal is a booming hotel-filled town, and Santiago has become a destination for tourists seeking good deals on hand woven textiles and multi-colored huipiles. Still, one or two villages remain where hardly anyone speaks English, and I can still hop on the back of a truck to get from place to place. I haven't landed in any carrying cebollos though, and, if it weren't for Kirk's shared memory, I would be tempted to believe I had dreamed those onion bales of long ago. That first trip offered the magical blend of the unexpected and the hoped-for: exotic tastes and smells, the kindness of strangers and soft landings. That's what journeying off the beaten track is all about, at least for me.
* * * * *
Janie Starr lives on an island in the Pacific Northwest, with her family. In previous incarnations, she has been a mental health therapist, a diversity trainer, an environmental and social activist, and an advocate for women of all ages.  Her current passions include food security, localization, and climate crisis issues.  She struggles between the urge to pack up-and-go and her commitment to shrink her carbon footprint.  Janie believes in speaking out and speaking up, outrage, and laughter.
Publications include "Radiation is Lonely", RN Journal for Nurses, "The Dolphin Tube", Applied Radiology, "A Trip to Cuba" TIMELINE, and "Laura", in the anthology, Cup of Comfort for Women, "Mother-In-Love", Ducts.org, and my memoir, Bone Marrow Boogie, the Dance of a Lifetime. Her essay, "A Pair of Shoes", will be featured in Rita Golden Gelman's anthology, Female Nomad and Friends.
Photo credits:
Onions: La Grande Farmers Market
Guatemalan woman and girl: lifeabundantly
Bluebirds bus: 3Neus
View from back of truck: buzzthrill