By Meghan Morton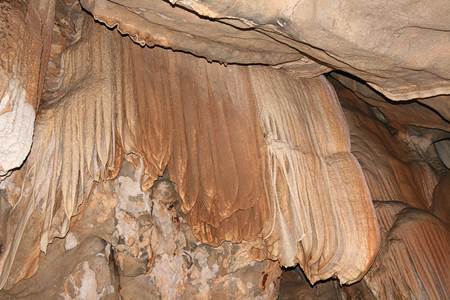 A moment of darkness. Eyes adjust. A vague perception of bats overhead in the dim light at the mouth of the cave. The foreboding feelings stirred by this sight are echoed in the voice of the river as it flees calling out warnings as it passes us. It rushes and crashes over itself desperate to get out of the caves we willingly enter and crying out for us to turn back. In spite of these warnings, or because of them, we follow our guide into the depths of the Cave of the Glowing Skulls.
Though it may sound like an Indiana Jones film, the Cave of the Glowing Skulls is in fact a set of caves outside the city of Catacamas, Olancho, Honduras. Dark and cool and a refreshing change from the heat two Canadians certainly are not acclimatized to, the caves cry out adventure and we pursue it.
Correctly titled Cueva del Rio Talgua the cave mouth is accessed by a little foot bridge that goes over a river crashing between a narrow gap in the rocks. We press forward in this dim light pushing the bats and the river's cries to the back of our minds. I reach out in the darkness to steady myself, but after the first touch of the metal rail beside the path, I shake the droppings from my hand, wipe my hand on my pants and quickly decide that I won't be using this railing for the rest of our adventure inside the mountain.
Our guide is a Honduran gentleman who speaks no English and, though both of us have taken Spanish classes in the past, our Spanish remains quite tragic. Fortunately, we were accompanied by a few friends who, though they also speak very little English, kindly manage to translate enough for us to get a sense of what we are being told….for the most part.
The ceiling is covered in stalactites and the walls with mineral formations telling stories of many years inside these caves. Stories I long to be able to read from the calcified pictures. Our guide and our friends manage to convey to us, as they point to various parts of the walls, that we are looking at a lion, or Jesus, or many other pictures in the rocks and minerals. By squinting and tilting our heads in just the right way, some are possible to make out and others are completely lost on us. We stop at one point and though the guide tells us we are looking at a map of Honduras, try as I might all I can see is the melting faces of the Nazis who so unwisely looked into the Ark of the Covenant in the first Indiana Jones film. Once seen–I can't forget it and the map remains elusive.
Eventually, we come upon a metal door built and locked for no other purpose than halting our exploration. We are told that this is the end of the line. Behind this is a forbidden chamber. My heart quickens. Was this what terrified the river? Was this the reason it cried out its warnings for us to go no farther? We are told it was used long ago as a burial ground…well honestly…first we think we were being told that a group of explorers died in some sort of tragedy in the chamber-gas from inside the mountain (like I said our Spanish is more than a little useless to all concerned) however, with a bit more "conversing" we understand the truth. We are forbidden to enter because this ancient burial ground is still being explored by archeologists. This is the destination we most want to get to though, for it is inside this cavern that the bones covered in calcium glow when light hits them. From this, the caves derive their mysterious name. Discovered in 1994 by two Americans and two Hondurans and soon explored by Dr. James Brady, it is estimated that behind the door there are 100 to 200 individuals buried. Unfortunately, we are going to have to leave the mystery of the identity of the glowing skulls to others and be content with being inside this breathtaking bit of creation.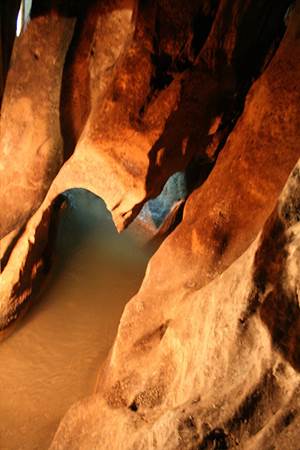 As we reluctantly retrace our steps, we come upon a place where a cavern yawns at our left. Our tour guide tells us that this is a special cave–one that tourists are not supposed to go into. He offers to lead us into this cave, but naturally for this "special offer" we will need to pay the tour guide a few extra lempira. Now of course we are well aware that this money will make it no farther than the pocket of our tour guide and, due to the well-trodden mud on the "road less traveled," we are also not deceived into thinking that we are the only ones to whom this offer has ever been made. We take him up on it anyway and stoop under the rails and into this virtually "undiscovered" cave. The floor here is made up of a very wet and sticky mud which proves to mix poorly with our flip flops. This just adds to the fun however and after slipping at parts and sticking in the mud at others one of us is barefoot and both are muddy and laughing. Though some might say this cave is just more of the same, I am certain that more of the same is perfect! We want nothing more than to spend as much time as we can examining this natural wonder. The longer we are in here the better!
All adventures must end though and eventually we are led smiling and blinking back into the daylight. Perhaps better footwear and a better handle on the Spanish language would have been good but perhaps the absence of both just added to the experience. Perhaps this mixed with a sense of adventure allowed us to see mystery, danger and darkness where others might only see caves and an interesting historical account.
*****
Meghan lives in the beautiful Elk Valley in British Columbia, Canada. She loves to travel and is restless within weeks of each return home. She has been fortunate enough to spend time in Honduras, Zambia and Guatemala.
*****
All photos by Amareto_ via Flickr:
Cueva del Rio Talgua
Río Talgua
Inside Cueva del Rio Talgua
Cave River