By Diane Gregerson Bowe
Comedian Steve Martin once said, "It's like those French, they have a different word for everything!" I can painfully confirm, the same is true in Tanzania. A month into my year-long stay, it's clear I'm not making much progress. My Swahili stinks. I feel like every time I open my mouth, I run into a barrier. The one-word commands I think I've mastered are unmistakably a liability.
This predicament is no fault of my Swahili teacher. In fact, the problem lies with my inability to focus on Swahili when I'm with him. Instead, his life story is so incredible, his perceptions so fascinating, I only want to hear more. He brilliantly weaves his insight into culture, politics, and most interestingly, living as a disabled person in Tanzania throughout his Swahili lessons. It is one thing to feel isolation due to a language barrier, but I can't imagine using a wheelchair on dirt roads or how I would support myself when the majority of the population here lives on less than a dollar a day.
Forty-four year-old, paralyzed Zachariah suffered a spinal cord injury twenty-six years ago as the result of an untreated, infected abscess on his arm. A stocky, soft-spoken man, he embodies calm, a sort of Gentle Giant. He is an impeccable dresser who smells of cologne, and always wears shiny shoes with funky dress socks. His short hair is beginning to gray. It takes only a few lessons for him to expand to his personal thoughts.
Zach rolls himself out to the dirt driveway where we routinely meet under the banana trees; a weathered folder rests on his lap. Inside are photos chronicling his life. "See, I looked much different then," he says, showing me photos of a gangly young man who barely fills the wheelchair. Stacks of various sized pictures from his wedding, of his son, and of his house, are damaged from lack of protective storage. Like most people with spinal cord injuries, life is divided: before the incident, and after.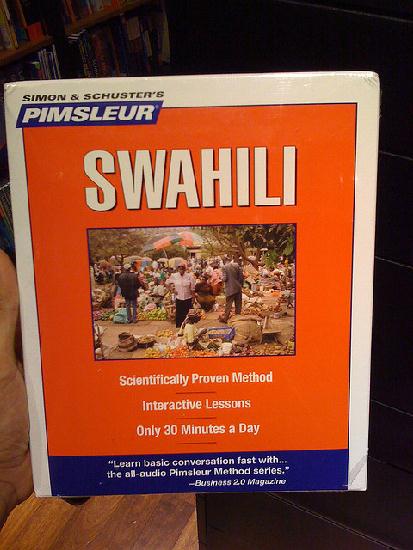 Zach went to the nurse at his secondary boarding school in Dar es Saalam when an abscess on his arm became painful. She punctured it, and sent him away without antibiotics. The rest is a distressing history, one that Zach recounts with an equal amount of bitterness and acceptance. "Anyone who tells you they wouldn't go back to their life before the injury… I don't believe them," he says shaking his head.
The school dispensary refused to take him to a hospital. When he finally admitted himself, it took seven days for Zach to become paralyzed from the chest down. No one can say exactly what happened, but it was his older brother by twenty years a doctor himself, who put the pieces of the puzzle together. "My brother came to save my life," says Zach. "He advocated on my behalf with the staff. He thought the infection spread in my blood to my spine, causing the paralysis."
Zach spent three years of his young life in two hospitals, the first at the National Hospital of Dar es Saalam. He was transferred to Kilimanjaro Christian Medical Center (KCMC) in Moshi where he stayed with no discharge plan. "I wanted to die, some days I still do. But I think of my brother who urged me to live. He saved my life," Zach says.
While lying in his hospital bed at KCMC, Zach was approached by a missionary who innocently asked, "Where do you live?"
"I live in the hospital," he replied.
"No one lives in a hospital," the missionary responded, and arranged for Zach to transfer to the outpatient medical hostel he administered.
Seeking self-sufficiency, he began to teach Swahili to Wazungu (foreigners like me) while lying down. "All my life I've been around Wazungu. I was very good at English from an early age." In school he recalls, "I wasn't good at math, but always got the best scores in English." Soon, he was teaching Swahili as a full time profession.
In addition to establishing his professional career at the hostel, Zach's personal life improved too. While helping another wheelchair bound woman at the hostel, he noticed her pretty niece Maryann, who visited daily. Over eight years, they formed a friendship that eventually led to marriage. Triumphantly, Zach left the hostel and moved into a wheelchair accessible house he designed and built, acting as the general contractor. Maryann joined him after their wedding. "I can't imagine my life without Maryann," he says with a shy smile.
He is intimately aware of the barriers spinal cord injured persons face in Tanzania. The obstacles are not unlike those in other areas of the world, even the United States. The flagrant difference is the complete lack of infrastructure that physically supports people in wheelchairs. Zach explains, "There is one ATM machine in Moshi that is wheelchair accessible. I have to literally be carried inside the Kilimanjaro Welfare Office, where the Ministry of Disabilities is located. In general, if I'm lucky, I can enter a front door in my wheelchair, but probably not the toilet. So I have to consider how much to drink before I leave the house in case I need to use a bathroom. People think you're inferior because you sit in a wheelchair," He continues. "They assume you're stupid, that you don't know anything." The stigma he says, is everywhere in society. "For example, if I'm at the bank with my wife, they'll address her even though the account is in my name. When I was very thin in my wheelchair, people would hand me coins and made me believe in my need for charity. We need respect. That's why I try so hard to help people become independent. I try to show why it's beneficial to have the disabled in your midst. I tell peers, if you don't want the coin, throw it away."
I've lived in Tanzania long enough to realize as a self-starter, a motivator, and an advocate, Zach is very much counter to the culture at large. Apathy, I've learned, is a prevalent attitude. With a deep sense of justice and desire to advocate on behalf of other spinal cord injured persons, Zach decided to expand his career. Friends of Paraplegia, the non-governmental organization (NGO) he founded grew organically from the informal safety net he provided for other paraplegics. Its mission statement reads: "To work with spinal cord injured and help them achieve a meaningful life by raising their self esteem and personality."
For Zach, this translates to finding financial assistance to meet the most basic needs of clients: food, wheelchairs, accessible toilets, beds, accessible homes, income generation for financial self-sufficiency, school fees for dependents, grants for education, medical costs. "I don't give handouts," he says. "Handouts make people more disabled. The idea is to help clients 'walk', not keep them down. I provide a boat and a net."
I notice on any given day, there is at least one client living with Zach, his pregnant wife Maryann, and eight year-old son Michael. The modest house is also his office. A small garage is filled with corn that's grown on a nearby plot and harvested by hired help. In his front yard, next to the wheelchair accessible outhouse, there is a mini-silo where more corn is stored and distributed throughout the year to clients. "If I go visit a client, I'll bring a bag of maize. That way, I know they have something to eat."
Our twice-weekly Swahili lessons continue. Increasingly, there is less grammar and more conversation.
"Relationships are difficult. People are embarrassed to identify with you. Someone may love you but they're afraid of what people will say. You're still the same despite the wheelchair; the desires are the same regardless." Within the family, Zach says there's inequality as well. "They see you as different than before the accident, they don't see you as equal. For example, in the case of inheritance, I would be treated differently than my twin." Social stigma exists too. "If I wanted to be a political leader in the community, no one would vote for me because I can't move. The same goes in the business world. I am not in an advantageous position because of the wheelchair. It says 'I'm dependent on others for help' ".
Those lucky enough to be considered clients of Friends of Paraplegia are never ignored despite the unpredictable availability of funds. Sometimes Zach's involvement with clients is short-term, other times he maintains ongoing contact. Regardless, those in need never go away. "The attitudinal barriers here are great. Sometimes, it hurts me knowing about the possibilities that exist for the disabled in other places. In America, you fit into their plan for you, you have resources and tools. I'm not respected here, but in America, if you disrespect me you'll hear from my lawyer," he says only half joking.
After hours of lessons, there's been a shift. I'm no longer the Swahili student, but instead I've evolved into a consultant to Zach and his NGO. We spend our time together exchanging ideas instead of conjugating verbs. It feels like I've inexplicably graduated to the level of trusted friend.
Zach invites me to do home visits with his clients. Maryann helps him out of the wheelchair into the high passenger seat of my Land Rover. He chooses to leave his chair at home. "I haven't been in a big car like this for a long time," he says excitedly despite his earlier confession that he doesn't feel well. Zach directs me north, towards Mt. Kilimanjaro on a road I haven't traveled before, interjecting anecdotes about the area. I'm trying to imagine the same journey on these narrow, muddy, back roads climbing upwards through banana fields in a low-riding taxi, which is how he normally conducts his visits. I'm also wondering how expensive the long rides must be. Even with a 4WD, I'm uneasy and cautious in these conditions.
After forty-five minutes, we arrive at Avalina's. The dirt driveway leading up to her property is at a forty-five degree incline, difficult for the old Land Rover to summit let alone a wheelchair. Zach stays in the car while I tour the premises. A paparazzi of scrappy, vocal, neighbor children greet us and become noticeably more excited when they see my camera. Avalina, who appears to be mildly developmentally delayed, is smiling broadly. She's dressed in a pure white blouse, pressed pants and new shoes. Her wheelchair is a relatively new model. "She's looking really good today," says Zach with pride. "You wouldn't recognize her from the first time I met her."
Avalina moved into her new, two-room cement house after her previous mud hut was deemed dangerous. She lives with her three school-age nieces who moved in with her after her sister died. In addition to building a new house and toilet, Friends of Paraplegia also assists with the girls' school fees. She wheels ahead inviting me into the home. In the bedroom are two beds: one for Avalina, one for the three sisters. To support herself, Avalina operates a small storefront from a window that was purposely built into her home. Out of the wheelchair accessible window, she sells staples like salt, rice and soap. There's an outdoor stand closer to the driveway and road where she's able to operate her business as well.
Avalina loves to have her picture taken and shoos the neighbor children away so I can focus on her individually. "Nzuri!" (good) she says, looking at herself repeatedly in the viewfinder. When I try to leave, she won't let go of my hand.
Fifteen minutes away, we visit Peter who welcomes Zach and me with an even bigger smile than Avalina. His leaning, two-room, windowless, mud hut is crumbling and looks very close to collapse. He shares the dark, clutter-filled space with his two cousins. While Peter faithfully awaits the funds from Friends of Paraplegia for a cement house, he has begun to collect a pile of random wood he hopes to somehow incorporate into the future structure. Zach helped to build him an accessible toilet and provided a chicken coop with chickens. In addition to selling eggs and chickens, Peter supports himself by repairing umbrellas.
Barefoot, in his jury-rigged, ancient wheelchair, Peter proudly shows me the accessible toilet, then speeds up the muddy path to see Zach who's waiting in the car. I stay to contemplate the scene. Centered inside the wooden outhouse structure is an 18-inch hollowed cement pillar.
Zach tells me Peter participated in and won, the wheelchair division of the Kilimanjaro Marathon last year. He hopes to win again this year. I learn Peter routinely pushes himself one and a half hours downhill, half on dirt roads, into Moshi to do errands. It occurs to me, this is the same precarious drive I just completed in my 4WD.
From that time forward, Zach and I spend our lesson time together visiting clients and doing work for the NGO. I leave Tanzania with many things, but sadly not a grasp of grammar or a respectable vocabulary. It's okay though. Instead, I witness the dignity that comes from being able to use a toilet, or sleep in a bed, or leave a mud hut for a concrete house. Those are Swahili lessons.
*****
Diane Bowe is a former social worker who lived in Tanzania with her pediatrician husband and two school-age kids in 2009-2010. It changed all of them. Her family's story and photos are at wide awake in africa.
*****
Photo credits:
African children: Nite_Owl
Swahili Book: Keng Susumpow
Wheelchair and Stairs: Christos Doulkeridis
Dirt road with Mt. Kilimanjaro view: lovely sundries
Tanzania store: Martijn Munneke
Tanzania Mud Hut: James Ho
Wheelchair Racer: Peter Brown