by Lisa Chavis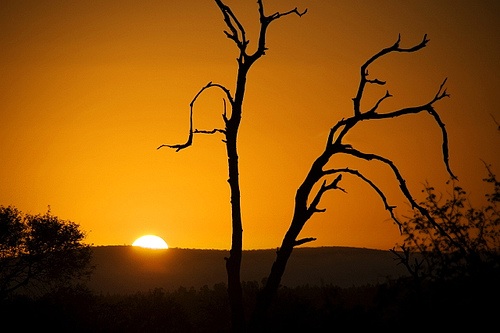 The braai was a smashing success. Empty beer bottles littered the riverbed and soft snores punctuated the pre-dawn quiet. Sleeping on the soft sand wasn't uncomfortable, but trying to ignore the screams of indignant baboons defending their territory all night from a group of volunteers camping outside was difficult. I stretched my creaky joints back into shape with an audible crack.
Sara, one of the guides, noticed we were the only ones awake and came over to whisper, "I have to go check on Savannah. She's recently given birth. Would you like to go with me?"
Savannah, a temperamental cheetah on the game reserve, had abandoned her last cub soon after it was born. The daily directive for the guides was to track her using the telemetry collar and get close enough to check on the welfare of the newborn.
Jumping up from our sleeping bags, we exchanged smiles and nodded. Walking in on a cheetah was an experience we didn't want to miss. We crept over sleeping bodies, careful to avoid the remains of last night's party — the highlight being the giraffe-poo spitting contest.
"It's all compacted grass," one guide explained with a grin. "Just put it in your mouth, roll it around a little to get it good and wet, then PT-TOWIE — spit it as far as you can!"
Sara was already in the Jeep, so my flannel ladybug shorts would have to do. I didn't think Savannah would mind. I climbed into the dew-drenched seat and we headed off deep into the reserve.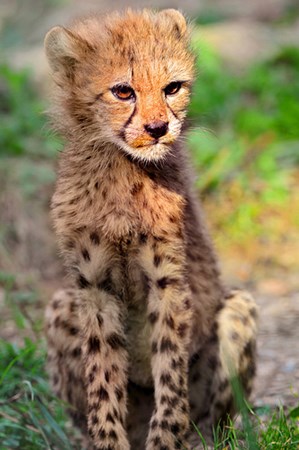 Before Sara shouldered her rifle, she double-checked the bullets. "Just in case," she explained. "Because we'll be on foot, I usually have one caliber loaded for elephant and one for lion. If I shot an elephant with a small caliber bullet, he'd never feel it. He's got eighteen inches of bone in his skull. It would bounce right off. But if I shot a lion with the caliber needed to bring down an elephant, it would go right through him and he'd still be charging full force." Good to know.
Walking through the bush, Cheryl carried the telemetry equipment and tried to hone in on our cheetah's position. "Wait," Sara said, putting out her arm. "What's that up ahead?"
A flash of leaves in the underbrush and a curious sound to our left had all three of us straining to hear. "We're near the old den of our matriarch hyena, Giggles. I thought she'd abandoned this den weeks ago, but maybe she's back. Be careful!"
Watching Sara slip the gun from her shoulder didn't provide as much comfort as it should. I hoped the hyena couldn't hear my pounding heart.
A few yards ahead, we stepped into a clearing and there she was — a waist-high, dog-like creature with an expressive face and powerful jaws. Those jaws were now crunching on the bones of what was left of a small warthog. Giggles made her eponymous, goose-bump producing vocalization, and then bared her bloody teeth in our direction.
"Let's hang back here," Sara suggested in a whisper. I felt the hairs on the back of my neck stand at attention. The week before we'd seen firsthand the force of those mighty jaws. Our compound was visited by a small male who sat contentedly in the yard and ate an entire SuperSoaker water cannon. Only a few plastic slivers remained from his feast.
Backing slowly away from the still munching hyena, we disappeared into thorny acacias. A few minutes later, a dirt path appeared and we walked in silence, listening to the static hum of telemetry as we moved closer to Savannah's path.
"This road has its own stories to tell," Sara said quietly. "Because the reserve is so close to the Zimbabwe border, often whole families will climb over the fence into the reserve to escape the oppression in their country."
"They climb into a game reserve? That's crazy!" I said.
"Yes and there have been times we've found remains along this road. Families. Individuals. Whether they don't realize the danger of wild lions and leopards here, or the possibility of escape is so strong it forces them not to think, I don't know."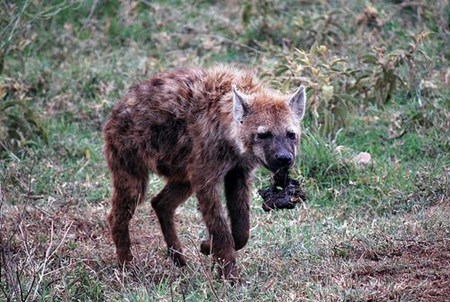 "Have you ever found any alive?" Cheryl asked.
"A few. Once, we came upon a terrified man who had watched his entire family being dragged off by lions before we found him. We're required by South African law to turn them back over to the Zimbabwe authorities. It's a tough call."
Deep in our own thoughts as sunlight filtered through dawn mist, the chirp of the telemetry box brought us quickly to attention. Our lessons at base had taught us: At minus two the animal can see you. Everyone in the truck sits down and stays quiet. Tune lower until you get a visual. At minus five you're standing on the animal.
Here we were, creeping through thick bush with a clear, strong minus four signal. All three sets of eyes trained on any movement, because we were close enough that Savannah could pick out the ladybugs on my shorts. A healthy female cheetah protecting a cub. The fastest land mammal on earth. What were we doing out here again?
A deep ravine yawned to our right and the strength of telemetry beeps grew. Dry now, but this area became a rushing gulley when frequent rains poured on the reserve. "Hope she didn't put the cubbie down there," Sara whispered. "It won't make it through the first storm." She motioned for us to stay while she inched forward to the lip of the gorge.
The sudden termination of telemetry beeps was deafening. Cape turtle dove calls and cicada sounds soon filled the empty air. Cheryl frantically tuned the meter, but with no luck. Savannah was gone.
The disappointment was clear on Sara's face. "She bolted," she sighed. "She was right here, too. We were so close. At least we know she's in this general area. Maybe we'll get to see a cub next week."
As the adrenaline began to ebb, my own frustration kicked in. We had been given a truly unique opportunity to be out here this misty morning, just two of us with our guide. To almost walk in on a cheetah with a new cub in the wild South African bush. Stuff I'd only dreamed of before now. Cheryl turned off the telemetry machine with damp eyes.
With heads and hearts hanging low, we surveyed the best path to take back to our Jeep. Barbed and spiky acacia bushes, invisible while we were on cheetah patrol, now seemed to be everywhere. "Let's follow the ravine," Sara suggested. "We'll have a better chance of saving our skin."
After only a few steps we heard it. Soft at first, but growing louder with every gulp of air. Crying with every ounce of energy it possessed. The sound was so much like that of a human it gave me chills. An infant under the acacia in front of us? We crawled closer. Not a person, but a tiny, mewling ball of fur. No bigger than my hand. Eyes still clamped shut and teeny pink tongue on display as it wailed with all its might. How such a loud noise could come from something so small, I couldn't understand. We stood in awe. It was the most beautiful thing I had ever seen.
I would have stayed rooted to that exact spot for hours, just watching this blind, fuzzy wonder; but Sara wisely suggested we get out of there fast. Not only might the little one's cries bring back an angry Mommy, but hyenas and lions anywhere nearby would be alerted and come in to take out the competition. Sara was sure Savannah would return soon to quiet her baby. Now that we had a location, it would be easier to keep tabs on the cub.
The ride back to the reserve camp was giddy fun. We grinned like idiots and mentally replayed the steps that had taken us to find Savannah's baby. We gushed over the photos as if it had been us who produced this miracle. Knowing over half of all cheetah cubs wouldn't make it past twelve weeks made this moment all the more precious. We wished the newest member of the reserve well.
This morning we were on foot as the African bush went through its daily time of flux. Those animals of the dark prepared to bed down once the brilliant, rising sun burned tired eyes. At the same time, animals needing the light of day for survival were waking up to begin their day. We walked on a road with a tragic story as the moon's sliver faded into full morning. Life begins anew — breathless and exciting. With the silent promise of a new day, we applauded the spirit that is South Africa.
* * * * *
Lisa and her traveling companion Cheryl MacDonald are the authors of "What Boundaries? Live Your Dream!". They travel the world, writing and photographing their adventures to inspire others to live their own dreams. Follow their blog at What Boundaries Travel.
Photo credits:
African sunrise: carolune
Cheetah Cub: Tambako the Jaguar
Hyena: Chadica