By Victoria Allman
The narrow streets of Marrakech's medina tangle like spaghetti leading to the heart of the city. The souq, an Arabic market was where we were headed. Saffron yellow, burnt-red and tan spices mounded in barrels along the way. Mule carts laden with bundles of fresh mint, coriander and parsley were parked along the side of the street.
"Just look. Just look." Arabian men sat in front of endless stalls like auctioneers bidding us to enter their shops. "Ali Baba, come look." Patrick's blond beard evoked the nickname we heard called to us everywhere. It stood out as much as the red hair I tucked behind a scarf. No amount of discretion in this Muslim country would hide the fact we were two pale-skinned people among a darker race.
Our foray into the labyrinth had meaning. We had a destination. The problem was we were hopelessly lost.
"This way." Patrick led me down an alleyway and around three right turns to a dead end. We doubled back to where we started.
"Maybe we should have turned left at the hanging lantern store?" I was only guessing. We had passed four identical shops with intricate tin lanterns and candles with stretched goatskin and hennaed designs hanging from the ceiling. I had no idea which one was the right one to turn at.
Patrick sighed loudly and turned back the way we came.
"Ali Baba, where are you going?" A man asked. After an hour of trying to find the correct alley we resigned ourselves to ask for help.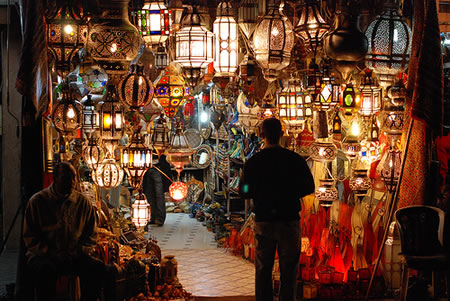 "Mechoui?" Patrick hesitated not sure he was pronouncing it right.
"Yes, come," he said.
We shrugged off the anxiety of being lost like a shawl from our shoulders and gave ourselves over to the guide.
Hazzid had the soft features of a Berber man. His dark tight curls were trimmed close to the scalp, his skin a latte color. His dress of black jeans and a Western jacket told the all too familiar tale of a man who left the mountain village to work in the larger city of Marrakech. He wove us down serpentine alleyways and around corners. He walked fast, glancing back to make sure we followed close.
"Watch, Victoria. Watch here." He pointed out every misplaced stone that maimed the street, caring for me like he would his own child.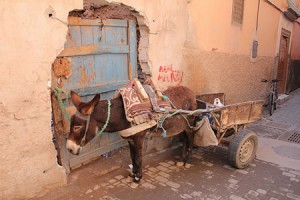 The hot, smoky smell of roasted meat alerted us that he'd found the place. A row of tables heaving with cuts of lamb spread out in front of us. Eyes stared at us from roasted sockets as we passed the first stall. The second table was identical to the first, a mountain of legs, ribs and rumps. The scent of cumin followed us from stall to stall.
Finally we stopped. "My family," Hazzid introduced us to two men in white chef's jackets, their bellies stained with grease.
"La bes," I ventured a Berber greeting. They laughed in unison.
"Hello. Big welcome." Smiles erupted on their faces.
Hazzid stepped behind his brothers and lifted a round stone from the floor. "Victoria, look." This time he wasn't
cautioning me. He showed me how the lamb was cooked. Through the manhole, was a pit dug deep under the street. In the center of the chamber embers of a long-burning fire glowed, lighting the space. A dozen lamb carcasses hung from hooks above the coals. Heavily scented smoke clouded the space, permeating the meat with its flavor. The earth-oven had cooked the lamb slowly, for hours, melting away fat and leaving moist, tender meat.
"Mechoui," Hazzid stated in way of an explanation.
"You try?" One of the men asked.
"Yes, please."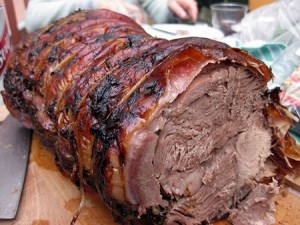 He raised a large cleaver. With one stoke he split the lamb through the backbone. Another blow sectioned off a hunk for us. Tendrils of steam rose from the chopping process. Using the knife and his free hand, he scraped and scooped the meat onto one side of a scale, on the other he stacked weights.
"One kilo. Good for you." He heaped more meat than I could imagine eating in one sitting onto a paper plate and loaded the top with two rounds of Moroccan pita bread. I reached for the plate but Hazzid quickly grabbed it from me. It was clear he was now our host. He carried the meat up the stairs to the open-air terrace above the stall.
Over the building tops the Atlas Mountains loomed clear and bright. "My home." Hazzid smiled proudly and retreated back to speak with his family.
We wasted no time. Soft pieces of meat fell from the bones. Custom dictated we eat only with our right hand;
something that proved harder than mastering chopsticks. We dipped the meat into dishes of cumin salt. Succulent flavor filled my mouth and coated the inside with silk. Hot juice glistened my fingers. Patrick groaned. This was good. We devoured the whole plate and I wondered if Muslim customs would frown on a woman sucking the bones in public. It took a great deal of inner strength to resist the urge.
Hazzid returned with a tray of tea. He held the ornate silver teapot at a great height, pouring clear brown liquid in an elaborate show of service into the tiny glasses below. The high pour brought new aromas to the air. Fresh mint replaced the smell of roasted lamb making my mouth water again.
Hazzid held his cup high. "Big welcome." And with that we were left on our own to meander the streets home, our bellies pregnant with the flavor of Morocco.
* * * * *
Victoria Allman, author SEAsoned: A Chef's Journey with Her
Captain, has been following her stomach around the globe for twelve years as a yacht chef. She writes about her floating culinary odyssey through Europe, the Caribbean, Nepal, Vietnam, Africa and the South Pacific in her first book, Sea Fare: A Chef's Journey Across the Ocean.
SEAsoned, Victoria's second book is the hilarious look at a yacht chef's first year working for her husband while they cruise from the Bahamas to Italy, France, Greece and Spain; trying to stay afloat.
Victoria is a columnist for Dockwalk, an International magazine for crew members aboard yachts. Her column, Dishing It Up, is a humorous look at cooking for the rich and famous in an ever-moving galley.
She also regularly contributes tales of her tasty adventures to Marina Life Magazine and OceanLines.
You can read more of her food-driven escapades through her website.
Photo credits:
Man in market: plusgood
Lanterns: Nicholas Ruddick
Mule cart: AnnieGreenSprings
Spice mounds: isa_adsr
Lamb roast: acme
Mint tea: clagnut