by Julie Paterson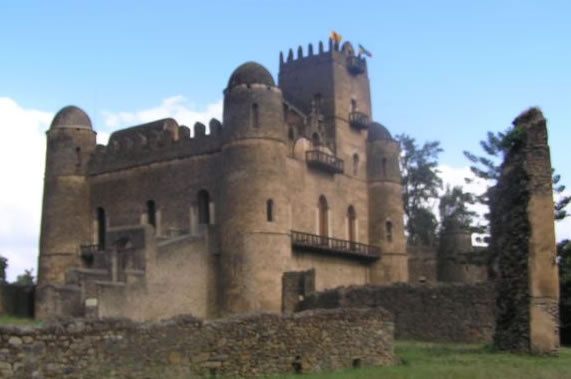 I was full, yet I stuffed another forkful of rice in my face. "Eat up. There are starving children in Africa", my mother had said, and those words had stuck with me. Somehow it felt odd that the Ethiopian man sitting opposite me had not finished his plate. What could I say?
I was on a two week trip of the historic northern route in Ethiopia to see what all the lack of hype was about in this amazing country. Sure, I had heard good things about Ethiopia, but very infrequently, so clearly there must be very few tourists there — and as a seasoned traveler, I love not having to slalom my way through bumbling busloads of package tourists!
First stop was Addis Ababa. At about 8,500 feet, it's the 3rd highest capital in the world. I headed for the National Museum to give me a good start to Ethiopian history. But looking at all the amazingly old and ornate royal crowns, clothing, furniture and military equipment, it all seemed too European to me, and somehow it just did not compute. Were we not in Africa? Did they not, way back then, wear the latest in grass or skinwear? Obviously not.
Mention Ethiopia and everyone thinks of famine and drought, but in actual fact these are irregular occurrences. Ethiopia is better than that unpleasant image. And although I had been to dozens of other African countries, I was having real difficulty getting my head around this one. It was so…different.
Ethiopia is where the Ancient World once met Africa, and this meeting has left the country with a rich history: of kings, queens and castles; and of centuries-old churches and monasteries filled with fresco paintings. Combine this with deliciously tasty food (influenced by spices from the nearby Arabian Peninsula), hospitable people, and the best coffee in the world, and you might ask yourself, like I did, why tourists aren't flocking there in droves?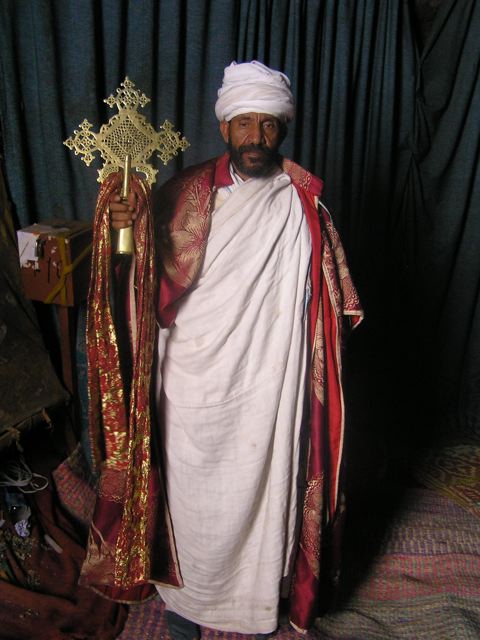 My happy confusion continued in Bahir Dar, a town on the edge of Lake Tana. We had buzzed across the large, peaceful lake in a small boat, to visit a couple of island monasteries. The monasteries were filled with brightly colored fresco paintings and relics, like a 900 year-old chanting book, well-preserved and written on goatskin, and still in use today. Anywhere else they would have long since been pilfered by some treasure-hunting museum.
Ethiopia had a dynasty of kings, but where did they live? In castles, of course! There is a whole compound of them in Gondar, known as the Royal Enclosure, which is about 400 years old and is well-preserved and as good as any in Europe. Slowly it was starting to sink in with me that this really was where several roads did in fact once converge — with influences to be seen from Egypt, Europe and the Middle East. Ethiopia seemed to be a fantastic mix but the highlight was yet to come…
My midday flight left at 11 a.m. and had us flying across the beautiful green and gold patchwork of barley, corn and wheat fields blanketing the high plateau, to Lalibela.  Even the name is beautiful.
Lalibela has what is considered to be the 8th unofficial wonder of the world — two clusters of rose-colored rock-hewn churches, which were literally dug out of the rocky ground. Some of them are also elaborately decorated on the inside, with beautiful columns, archways and paintings — and all just carved right out of the ground. The two clusters of churches were commissioned by the King Lalibela in the 12th century so as to avoid the long pilgrimage to Jerusalem every year. (Fair enough. No comfy hiking boots back then).  Probably the most famous one is Bet Giyorgis, because of its cross-shaped roof, set by itself into a slightly sloping hillside. Marvelous.
It was about now that it was sinking in with me that I had had assumptions about Ethiopia too — I had it expected it to be just another version of Africa. What I learned, though, is that Ethiopia is not at all like any African country I had been to. It is quite unique. So why aren't tourists flocking here in droves? There is only one possible answer: it is Africa's best kept secret.
*****
Julie Paterson is a modern-day nomad and the founder of Venus Adventures. As a child she traveled to distant places in her head whilst putting her sticky mitts all over the exotic souvenirs on her grandparents shelves, bought in countries thousands of miles away. Her grandmother's somewhat long and drawn out travel stories served to feed the flames of her travel desire, and at 18 years of age she left her native New Zealand.
Her travels have since taken her from North America to Europe to Africa to Asia and . . . literally . . . to Timbuktu — and back. Julie has worked in tourism since 1992 in New Zealand and Switzerland, and has studied history and business. After many years of guiding both mixed and women-only trips, she decided she really liked the relaxed atmosphere that develops in a women-only group and started Venus Adventures.
Photo Credits:
All Photos: Author