by Kimberley Lovato
"I hope you don't mind," Wilna says, "but I invited a friend of mine to the party. She'll be traveling around Europe during that time."
"Of course," I say. "The more the merrier."
We are on the terrace of her house, actually a château, along the Dordogne River in southwestern France. I met Wilna, a convivial South African woman, nearly five years ago while researching a book I would eventually publish. We became fast friends and have devoured many a bottle of wine from this spot since then. When my book was released, Wilna's home felt like the natural location for a celebration.
"She was very interested in meeting you actually," Wilna continues. "She too writes about food and travel."
When Wilna reveals the name of her friend, the shock on my face is as apparent as the freckles.
I realize there are people who take hero-worshiping to stalking extremes. I'm not one of them. But I have, admittedly, admired those with whom I share a mutual interest and whose talents I hope to emulate one day. It's one thing to adore them from behind a computer screen, but it's an entirely different story when confronted with the proposition of actually meeting, face to face, the object of your admiration.
Wilna's friend, and unsuspecting target of my veneration, is Gwynne Conlyn, a cookbook author,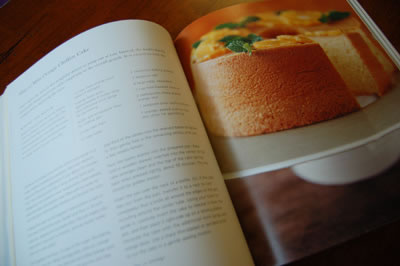 also South African, whose book, Delicious Travels, fell accidentally into my hands a few years earlier. Like any skilled secret admirer of the modern age would have done, I Googled Gwynne and discovered her prolific magazine and newspaper articles, which added to her appeal.
I rhapsodize to Wilna like a loony fan about Gwynne's book and tell her it's one of my most dog-eared kitchen companions as well as the impetus for my own culinary travel book. Turns out Wilna and Gwynne have been friends for nearly 20 years. We marvel at how small the world is and as I feign brave enthusiasm about meeting Gwynne, my heart pounds faster and sweat beads under my arms. All I can think of is the old adage (or maybe it was a fortune cookie), "You never get a second chance to make a first impression."
Luckily I have a month and a long drive from Brussels (my home at the time) back to the Dordogne to craft the perfect 'first impression' scenario.
With no working radio in my car, my mind reels and images flip rapid fire through my head depicting various introductory scenes. The more I think about it, the more nervous I become.
I rehearse out loud, hoping to quell the nervous ticks in my voice. People shoot me curious looks as they drive by. Understandable since I am alone in the car.
"Hey Gwynne. How's it goin'?" No, that sounds too informal. I have to show some respect.
I purse my lips and lower my chin.  "Hello Ms. Conlyn. I'm a huge fan."  No, too stiff; Too stalker.
"Oh my gosh, I love your book!" I shrill and bob my head side to side. No, definitely not. Way too Hannah Montana.
A barrage of questions fills my head. Should I shake Gwynne's hand? What if my hands are sweaty? Should I greet her with the standard two-cheek kiss common in France? What if she thinks I'm too forward?
On a length of French highway somewhere south of Paris, my idol-meeting wardrobe becomes a top concern. Since it's been peaking at 95 degrees in the Dordogne, a dress and sandals seem the sensible choice. But will I appear over-dressed? Is my pedicure good enough for sandals?
By the time I reach the Dordogne, I am drenched in worry but have decided on a firm handshake (I will wipe my hands on my dress if I need to) followed by an informal first name introduction and a smile. After all, a mutual friend is introducing us. I conclude my toes look fine.
Wilna and I plan to meet the next day at an open-air market in the minuscule medieval village of Issigeac where Gwynne will join us for lunch.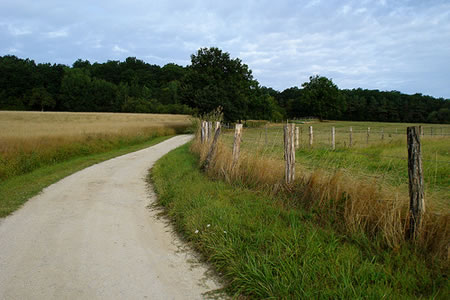 The rural roads of the Dordogne are serpentine and narrow, and even the tiny French cars, no bigger than super-sized roller skates, barely fit side by side.  My beefy, Belgian-plated German car is an obtrusive interloper. It is also packed with items I am planning to drop off at my house in France — beach chairs, a trash can, dishwasher salt, pillows, a coffee maker and other incongruent occupants that, had I been pulled over, might have suggested I was on the lam after having just knocked over a Carrefour, the French equivalent of a Wal-Mart.
A few miles from Issigeac, I roll down my windows to allow the air to coif my hair and billow my confidence. I have on a new dress, my nerves are steady and I have rehearsed, ad nauseam, the meeting with Gwynne. It's perfect.
As I round a blind curve, I see a large Mercedes truck barreling toward me. It has been gaining speed on a straightaway that stretches out behind it and wasn't slowing down. I immediately take my foot off the gas and maneuver the car to the right. I assume the truck driver will courteously move to his right too, allowing us to pass one another safely. The truck stays its course, speeding down the middle of the road.
My car is now balancing along a tightrope of gravel separating the asphalt from a 2-feet deep drainage ditch that parallels the road. Much like a bowler does after hurling a 10-pound ball toward the pins at the end of a slick lane, I lean to the left and contort my limbs and body, naively assuming I can will my car to do the same and avoid the ditch. But this isn't the bowling alley. I have two choices — a strike, (great in bowling but not so victorious while driving) or a gutter ball. I take the gutter ball. I AM the gutter ball. My car topples in, almost gracefully, and rattles over the heavy dirt and grass, gradually slowing until the front tire hits a cement pipe from somewhere underneath the road. The gruesome crunch brings me to a sudden and slanted stop.
I am fine (the airbag didn't even deploy) but my car looks like a rejected snack, spit out by a creature from Jurassic Park. I look around for my cell phone but can't find it. Several items that had been on my passenger seat had flown out the window and I can see them splayed like a yard sale on the ground outside. I assume my cell phone is among the debris. The angle at which the car has settled makes it difficult, but I manage to heave myself out of the driver's side, and slice my shin on the door the process.
My phone has landed at the bottom of the ditch, damp from water that has come, presumably, from that blasted cement pipe. I step in to grab it and my foot sinks into soggy dirt that belches out a steady slurp reminiscent of a straw sucking the bottom of an empty glass. Mud oozes between my toes and sandal. I half expect Ashton Kutcher to jump from behind a bush and tell me I'm being "punk'd."  Instead, a woman is walking toward me. She says she was working in her garden when the truck sped by and she had heard the subsequent crash.
"Where is the truck?" she asks.
"It never came back."
"Then they are not French. A French person would have stopped," she says, wagging her index finger back and forth.
I smile at her defense of her countrymen and backhanded accusation of tourists. The French are so proud.
I ask her if she will call a dépanneuse and then I call Wilna with my mucky phone and tell her I will not be joining them for lunch.
"I'll come wait with you," Wilna comforts, "and then we can go together."
Vanity whispers in my ear and I think of my bloody leg and my sweat-stained dress, accessorized by a sandal caked in mud, and the filthy phone print that's now on my face. There is no way I can meet Gwynne looking like this.
"No, no," I say. "I'll just have the driver take me to his garage and will call a taxi."
"Where do you think you are, New York City?" Wilna retorts.  "There are no taxis here."
Point taken. And so I wait by the side of the road like the proverbial damsel in distress, only I'm armed with a cell phone, which really does take the 'stress' out of the word.
Several people (all French) stop to make sure help is on the way and inquire just how exactly I had managed to plow my car into a ditch. Among them an older couple wearing matching concerned looks beneath their white hair as they feebly try to dislodge my car by pushing on the front fender. I discourage them and send them on their way. A young twenty-something guy on a motorcycle also stops. I'm tempted, only for a minute, to ride off with him and forget this whole mess.
The noon sun blazes down on. I can feel my shoulders burning and my mascara mixing with sweat and war painting my face. My trunk looks as if a thief has picked through the contents of my dresser drawers but I manage to fish out a black umbrella, which I use to provide some shade.
Eventually a 4-door car pulls up in front of me. I don't recognize it as Wilna's but she emerges from the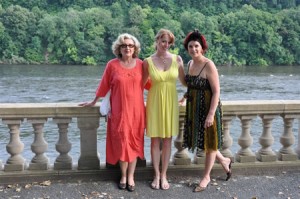 passenger side door. And out of the driver's side steps a blond woman wearing a coral colored dress and a red-lipstick smile. Oh no!
I quickly wipe my sweaty hand on my dress. At least that part of my scenario remains in tact. The rest of my plan has been ditched, quite literally. I lick my lips, hoping to put some gloss back on them, and return the smile. I feel the dried dirt and mascara crack on my cheeks.
The blond woman extends her hand.
"Hi. I'm Gwynne."
Before I can introduce myself she says, "You look like you could use a beer."
She reaches down into her shoulder bag and pulls out a Stella Artois.
"I figured Belgian would be your preference," she says.
Gwynne pops the cap and hands me the cold bottle.
We clink a toast and eventually I am brave enough to reveal to Gwynne my admiration for her and her book. We each take turns sharing other travel mishaps, and laugh together like old friends, two South Africans and an American, huddled under an umbrella sipping Belgian beer while my German car is pulled from a ditch in the French countryside.
It's not exactly the first impression I had hoped to make. It's way better.
Dordogne chateau photo by PhillipC
Cookbook photo by jspatchwork
Country road photo by net_efekt
All other photos by the author
* * * * *
Kimberley Lovato is a freelance writer who splits her time between San Francisco and France. Her articles have appeared in various print and online media in the US and in Europe and her culinary travel book about the Dordogne region of France was released in 2010.Â