Now in its 2nd edition!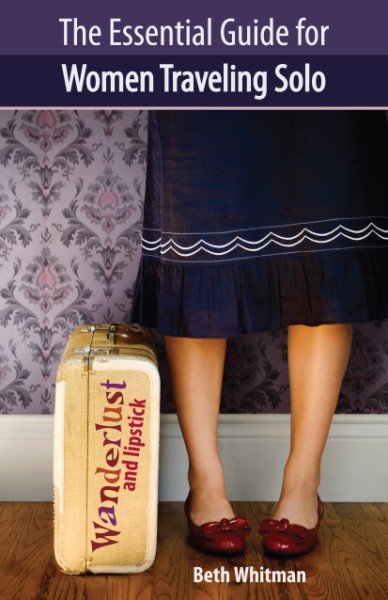 Wanderlust and Lipstick: The Essential Guide for Women Traveling Solo
Order now and receive a signed copy for $15.95. All orders ship Priority Mail at a discounted rate.
All books are signed and include a LIPSMACK!
Updated with new websites, gadgets and information!
Wanderlust and Lipstick: The Essential Guide for Women Traveling Solo is the hip road map to creating your own adventure by self-described travel addict, Beth Whitman. Far more than a tip book for travelers, this inspirational guidebook provides encouragement, travel-tested information and lighthearted anecdotes drawn from Beth's twenty years (and hundreds of thousands of miles) of experience as both an adventure and business traveler.
Beth addresses the most common fears of would-be solo travelers and dispels the accompanying angst by providing practical advice to get beyond the usual excuses. In addition to this guidance, she inspires women to dream big and provides them with the tools and insider tips of the trade to make those dreams a reality. In addition to listings for more than 150 travel-related websites, Beth includes up-to-date information on the latest technology, suggestions for traveling alone without feeling lonely and stories and tips from more than 45 women "wanderlusters".
Even the most reluctant of solo travelers will be coaxed from their homes and the more intrepid will be roused to embark on journeys they had only previously dreamed about.
This unique guide for women travelers to India will be released this summer. Be one of the first to own a copy of this guide to navigating the culture, fully enjoying your experience and staying safe in this amazingly diverse country.