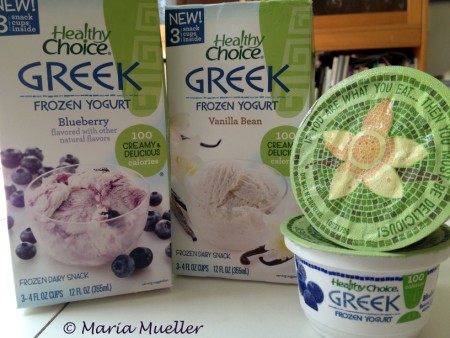 Every once in awhile I have the opportunity to review a product that I think would be relevant and useful for my wanderboomer readers. This is one of those times.
Disclosure: I am participating in a Vibrant Influencer Network Healthy Choice campaign. Over the next three weeks I'll be sampling a few products provided free and with remuneration by Healthy Choice in exchange for my honest opinions about the products.
I don't know about you, but I find it a challenge to eat healthy foods when I'm on the road. It's so easy to go for the fast food fix at the end of a busy travel day, especially when you'd rather call room service than check out one more local eatery. For those times, I think about snacks I can stock in my hotel refrigerator for comfort and convenience,  so I was eager to try Healthy Choice Greek Frozen Yogurt.
For the purpose of my review, I picked up a carton of blueberry and a carton of vanilla bean frozen yogurt. Only later did I learn that it also comes in Honey, Strawberry, Raspberry and Dark Fudge Swirl flavors. Dang! I really would have liked to sample the Dark Fudge Swirl. Note to my local grocer: stock more flavors . . .
For my sampling, I liked the fact that one 12-oz. pack contains three individual servings. I'd like it even better if Healthy Choice offered a variety three pack. That way I could have my pick of flavors in one container.
More important than packaging for me, however, is the taste. I definitely tasted the blueberry and vanilla bean, though I can never have too much of either flavor.I found both flavors sweet, but not too sweet. Just right in fact for an afternoon snack or after-dinner dessert. The product contains no trans fat and each serving has only 100 calories – if you count calories – so I didn't feel like I had overeaten, but rather had just enough to satisfy my sweet tooth.
The bottom line is would I stock the Healthy Choice Greek Frozen Yogurt in my hotel refrigerator freezer? I would, but I'm a great believer in trying things out for yourself. Here's a coupon for a $1.00 off your next purchase. Let me know what you think.
What's your favorite travel snack, wanderboomers?