These aren't as much confessions as anecdotes, but "Anecdotes of a High School English Teacher" just doesn't have quite the same ring to it.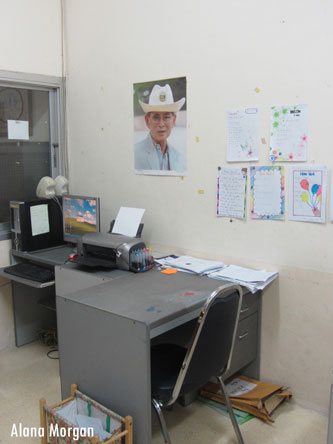 My career as a full-time English teacher in Thailand was short-lived.  To be fair, I came over here to be able to live in THAILAND, not necessarily to be a teacher.  I knew that teaching would just be part of the deal in order to create some income, be able to have a long-term visa and involve myself in the community – I didn't just want to travel through, I wanted to put down some roots, live and work here.
Though I have now taught 3- to 33-year-olds in almost every type of situation – from a regular school, to language schools, to private, in-home lessons – my first real gig was at a secondary school.  I enjoy working with small groups or individual, helping the students, getting to have actual conversations and playing around more – but as far as full-time…  I only survived one semester at a high school teaching 13- to 16-year-olds and I think I'm set.  I can check that off my list of things to try.
Check.
In a nutshell, I didn't have the best experience but mai pen rai (no worries).  I did, however, get a few good stories out of the deal.
First of all – I didn't know what/when/who I was teaching until students had already been coming to school for a day and a half.  That was fun and not stressful at all.  I also didn't receive attendance records until two months into the semester.
Uniforms – All students in Thailand, whether they're in kindergarten or in their fourth year of university, wear uniforms.  So do many of the teachers.  As someone who has never worn a uniform in her life, I was shocked to learn that I was expected to come to work everyday wearing certain clothing and colors.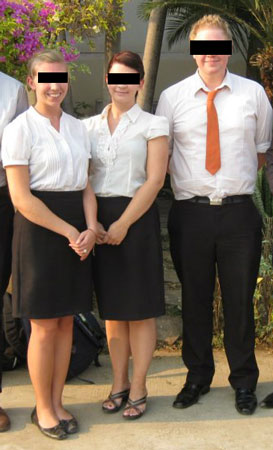 Do we look like we're about to teach…or serve hors d'oeuvres at a wedding?
Mondays and Wednesdays: white dress shirt, black skirt, black shoes
Tuesday: pink dress shirt, black skirt, black shoes
Thursdays: school-issued XL polo shirt (supposedly they didn't have any smaller ones that would fit my gigantic Western body…) and black pants (Whoo-hoo!)
Fridays: traditional northern Thai dress
To me, I never looked like a teacher – on the white/black days I looked like a catering server and on the polo shirt days I looked like I should be working the drive thru window at McDonald's.
School or Zoo? Several students thought it was appropriate to bring sugar gliders to school.  They would carry them around in soft little pouches, usually in the shape of  Hello Kitty, Winne the Pooh or Stitch (from Lilo and Stitch).  I would turn around from writing something on the whiteboard and see a a student pulling one out of their shirt, or trying to get it untangled from their hair…
Guerilla Home Ec – Once I walked upstairs to see if my students had decided to show up to class that day.  (If memory serves me correctly, they hadn't.)  I had to side-step students flipping crepes over a bunsen burner in the middle of the hallway.  No teachers were around; they were just cooking for the heck of it.
Festivals and Firecrackers – During the Loy Krathong holiday we had an entire day of festivities that included creating flower floats, contests, performances, food and…firecrackers.  Let off in the middle of all the students and staff, naturally.  While the foreign teachers were all wide-eyed, aside from some initial screams, no one (students, teachers, admins) seemed to bat an eye.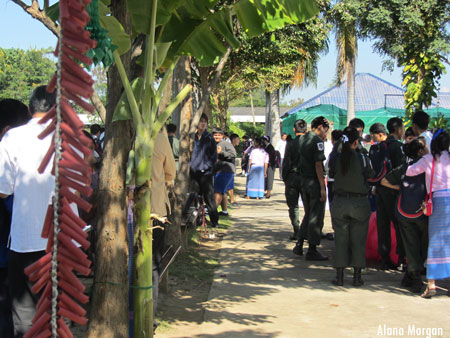 Safe.