What's the deal about me quitting my teaching gig, making a quit exit to Malaysia and now being back in Thailand?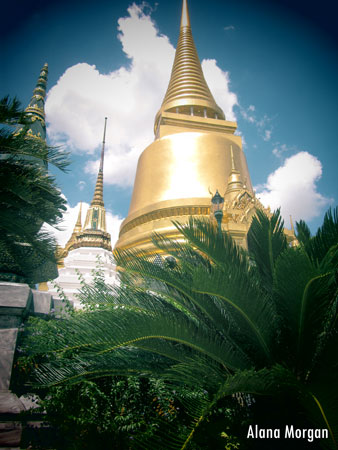 How could I stay away…?
In my very first post at Gen Y Wanderer I talked about the – privileged – dilemma of trying to figure out what to do when you don't know what you want to do.  This includes where I want to live, what I want to spend my free time doing, what things I want to pursue or learn more about and, especially, what I want to do for work.
That job possibility that popped up a few months ago really kind of shook me up.  Ever since I left home, even though I knew that I wanted to travel and live abroad – and had done the responsible thing of consciously planning, working and saving to make it happen – I've still had this little voice in the back of my head nagging,
"What are you doing?  You need to decide on, and start, working toward a career.  Why are you still in Thailand – you came here over a year ago!  If you want to travel, travel, but stop just waiting around in one place…"
Before the job opp – something that was right up my alley and would have been incredible if I had been planning on moving back to the States soon – I had been doing a good job at fighting that voice, of being secure and sure of my intentions of being here and fully enjoying myself.  Then the cool job came up and, while it ultimately wouldn't have been the right thing for me, it woke up that inner voice leaving me feeling a little unsettled ever since.
Which way to go?
The past several months have been very fun – I've met some incredible people, learned a lot, have visited some stunning places and overall enjoyed myself while still making a living.  I've been working (almost) this whole time…but I haven't felt like I was working toward anything.  I still have had that thought in the back of my head, "But, really, what are you doing?"
So, coming back to my original question, what now?  I don't know…still.  But I'm trying to be okay with that.
Teaching's not for me and I need some time to really figure out what it is that I do want.  So, I did the only sensible thing there was to do – I quit my job and am now spending my days helping in a friend's tattoo shop.  Naturally.  Yes, my parents are very proud – in just under a year and a half I managed to leave a 'real' job, quit the U.S. and start spending my time doing who knows what in a little tattoo shop in Thailand.   A couple of my friends have literally said, "Who are you?"  (I'd like to think this is less about my seemingly random, current situation and more to do with the workaholic, tense, tired person I was becoming at home.)
But you know?  In a weird way, while it may seem like I'm a little lost (because….I am) I'm in a good position to continue growing and exploring my life here while thinking about what's next.
And get a free tat.