I think about where I want to be working , what I want to be doing and what I want my career to look like roughly 100 times a day.  That's actually probably a conservative estimate.  I just don't know yet what it is that makes me tick.
Working in a foreign country is an experiment in flexibility and patience and often comes with a steep learning curve.  It's fascinating and frustrating.  Everyday brings something new – some complicated process, new social standard you weren't aware of or way of handling a situation that would never go down back at home.  (So….you're telling me the reason that there are no trash cans in the classrooms is because you want the students to keep the rooms clean, and therefore put only a broom and dustpan instead….?  Right, of course that makes sense.  I'm definitely on the same page as you.)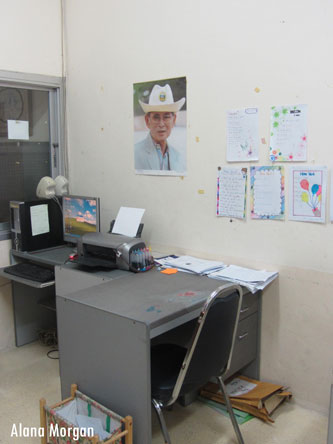 A little different from the funky, exposed-brick, downtown Seattle office I left behind…

Though it can will be tiring and confusing, you'll also realize more about how you work (well and not so well) in a short period of time strengthening your ability to handle problems, new situations and interactions with different types of people.  Of course you deal with different people in any job, anywhere, and it is always difficult, but add to that a lack of a shared language/culture/background/worldview and you get a whole new set obstacles.
You'll learn a different side of a country's culture by observing and participating in how they work, and how they work together – what are the protocols, hours, expectations, pressures, traditions and bureaucracies?  Do you like them? If not, why?  How can you adapt to them?  How can you use the lessons you learn by doing things a different way or being put into a new situation?
Even if you absolutely love what you're doing, when you're keeping a job in a new country you have different stresses put on you that still end up affecting your work.  The gig might be going well, but maybe you're having issues figuring out your living situation, trying to learn the language or getting used to the sweltering heat.
I've worked in London, Seattle and now Chiang Mai and all three have been very different.  It's been most interesting to see what the accepted level of work is, recognizing how people interact with each other and simply knowing that I can usually handle new or unusual situations without getting too rattled.  In both London and Seattle I worked long hours in a high-pressure business.  In Thailand, I've still had the long hours (often clocking in more than 50 per week), but the level of stress, responsibility and expectations has been far less.  Overall, the pace here is just slower.  Do I like it?  Mmmm…yes and no.  Personally, I work better if I have a lot to get done preferring to work more quickly and efficiently in a shorter amount of time than drag it out over the course of a day.  Yet, when I came here I desperately needed a breather from the high-strung 12-hour work day.
Seeing both ways, along with the different available jobs, hierarchies and practices, is helping me to determine what would be my ideal work situation (if I'm ever so lucky to find it).  Surviving in completely new work environments also helps me establish what I'm good at and how I can rely on myself to handle different situations, which ultimately will benefit me down the road regardless of what type of job I may end up doing.
Note: There are numerous resources for work/intern/volunteer/study abroadopportunities and with a little courage and planning they're very attainable.  For more information, check out Transitions Abroad.