Yes, there's more…
Sports Day – The Thai school concept of 'Sports Day' is an interesting one.  Less about sports and more about the appearance of everything else (a procession! sets! costumes! routines!).  I heard a director of a well-known school's English program only be able to describe Sports Day as "Uh, well, it's…sexy".  This was not a creepy answer…just the truth.  The whole thing is a show and for many that means fake eyelashes, flashy costumes and lots of make up (sometimes for both the boys and girls).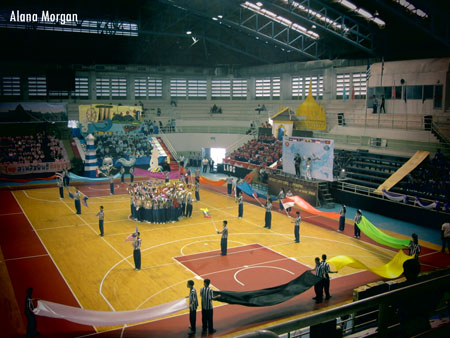 At the school I worked at, we had a shortened class schedule for two weeks to allow students to prepare for the day.  TWO WEEKS.
A few of the foreign teachers were asked to dress up in traditional clothing for the 'opening ceremonies'.  Being one of the only things we were actually asked to participate in all semester, we said yes and I secretly looked forward to getting dressed up in a beautiful Thai skirt, top, wrap, jewelry…  Instead I ended up looking like a cupcake with a lot of lace.
I'm trying to preserve my co-worker's dignity here…
She Came in Through the Bathroom Classroom Window – One of the other foreign teachers couldn't get into the classroom because the door was 'stuck' (or, conveniently locked from the inside by the students).  As a solution to the problem, the students suggested she – in heels and a skirt – climb through the window to get in.  She didn't really have a good day that day.
No Students – Often I would walk into a classroom and the students would walk out.  Or I would walk in to only two or three students sitting at their desks.  The common answers to my exasperated inquiry of, "Where is everybody?!" were, "eating" and "playing badminton" — as if these were completely legitimate reasons for not being in a class that was supposed to have started ten minutes ago.
Exams – Test answers were always amusing.  Between complete blanks, rambling answers, or sycophantic attempts at getting a couple points ("I love Teacher Alana!!!/Teacher is beautiful!!!"), we saw it all.  Aside from one truly standout answer to What do you want to be when you grow up? ("I want to be a programmer, I want to be a hacker, I want to be a killer"), my favorite responses were to Describe Teacher Alana's appearance.  Some gems included:
She is butifol.
She has a big nose.  (Again with the big nose, ugh.  It's not that big, I swear!!)
She look like rabbit.
I don't know.
Although this next answer to the same question on my colleague's exam takes the cake: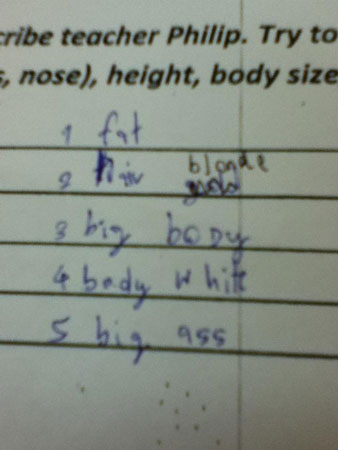 Pretty sure he didn't teach those types of answers in class…