What to See and Do in Delhi, India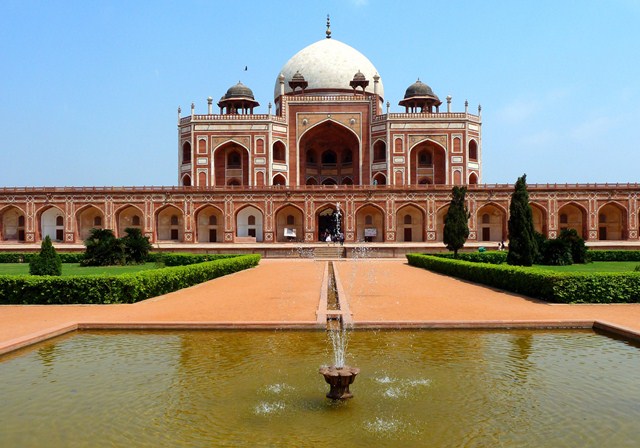 If you're looking for things to see and do in Delhi, here's a list of tourist places and sights to visit while you're there. These are some of the more popular sightseeing attractions that are favored by both locals and international tourists.
More about Delhi: Tips for Having Fun in Delhi | What to Wear in India
Emperor Humayun's Tomb
Declared a UNESCO World Heritage Site in 1993, this site is considered by the Indians as the first garden tomb. It's hard to imagine that within the chaos of the most populous city in the world, there is a peaceful place that can calm one's senses. It is considered by some as a mini-Taj Mahal and is actually an impressive historical work of architecture from the Mughal Empire. Surrounding the tomb-monument is Char Bagh Garden, created in the Persian style. Within the compound, there are also several monuments including Babur's Tomb, the Tomb and Mosque of Isa Khan, Bu Halima's Tomb and Garden, and the Chillah Nizamuddin Auliya.
Akshardham
Akshardham is a relatively new sightseeing destination, having opened in late 2005. It quickly has become a must-see sight in Delhi and is a place where you can easily spend a half day. Akshardham is a complex of temples that highlight a sect of the Hindu religion called Swaminarayan. The central monument of Akshardham is actually constructed of pink sandstone of Rajasthani as well as Carrara marble (from Italy). This is where one can say you've truly been to India since there are many things to see here. Not only is there the sandstone architecture but there are exhibitions about the life of Swaminarayan, an IMAX movie, a musical fountain and much more. A man-made river can be found where one can float on lovely peacock-shaped boats. At night, the lights of the place are a wonder to behold. For many, Akshardham can be a very captivating and breathtaking place sight.
Gandhi Smriti
Set away from the hustle and bustle of Delhi, Gandhi Smriti (or Birla Bhavan) is set in a lovely and peaceful garden. Gandhi Smriti is where Mahatma Gandhi spent his last months. It is also the location of Gandhi's assassination in 1948. The site, which was opened to the public in 1973, is a museum that contains several articles about the life, works and death of the Father of the Nation. Within the garden is the Martyr's Column, which is the exact place Gandhi was shot.
Qutab Minar
Another UNESCO World Heritage Site, Qutab Minar is considered the tallest minaret in the world. It consists of five levels, each with different characteristics. This architecture is a representation of the Indo-Islamic art. Aside from the minaret, there are several ancient ruins and medieval structures surrounding the area that are awe-inspiring.

Take the Metro
One of the great ways to see experience Delhi is by riding the rapid transit system that serves not just Delhi, but also Gurgaon and Noida. Thirty-five of the 142 stations are located underground and it is the best transport system that will bring you from one end of Delhi to the other end within, allowing you to see all aspects of the city.
India Gate
India Gate is likely the most recognizable landmark in Delhi. Built to commemorate the 90,000 soldiers who fought to defend the British Indian Empire during the First World War as well as the Third Anglo-Afghan War. On the wall of the India Gate are inscribed the names of those who have fell during the war Watching the sun set here can be quite beautiful.
Birla Mandir Temple
This is a temple of the Hindus dedicated to the deity, Laxminarayan. Birla Mandir Temple is one of India's main attractions. Fountains, shrines and large gardens surround the temple that gives one a strong feeling of spirituality. Hand-clapping and singing can be heard when the Hindus pray for Vishnu and Lakshmi.

Visit Haus Khas Village
If you're up for a bit of shopping but find the mall culture to be bland, Haus Khas Village is the place to go. This small enclave has independent jewelry shops, boutiques, bookstores, antique furniture shops and restaurants. Spend an afternoon here bargaining for some great deals.
Connaught Place
Connaught place is the core trading center of the city. Here, you'll find street after street filled with shops items ranging from expensive saris to moderately priced handmade goods to inexpensive souvenirs. Come prepared to bargain hard because deals are available for anyone willing to ask.
*****
Photo credits:
Humayun's Tomb: Vladislav Bezrukov
Qutab Minar: Dinudey Baidya
Connaught Place: Vladislav Bezrukov