GoLite TraveLite Messenger Bag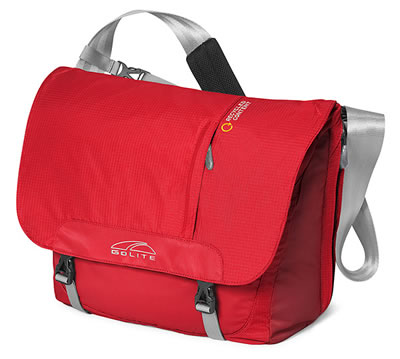 The TraveLite Messenger Bag from GoLite is a relatively large bag that would be ideal for, well messengers, running around a city needing to deliver papers and/or books, and students hauling around much of the same on a high school or college campus.
It has more than enough features to keep geeks and non-geeks alike quite happy.
The front zippered pocket provides quick access to docs or a cell phone and there's a front pocket that lies directly underneath the main flap. This has plenty of room for pens, a cell phone, wallet and keys (including a key clip).
The main compartment features two sections separated by a thin divider. One of the sides is flat-bottomed and ideal for books and includes a couple of internal zippered pockets. The other side is flatter and better suited for paperwork. There's a padded pocket that's in the back of the bag that lies next to your body. It's got a Velcro flap and is also accessible via a side zipper.
Although this was intended for a laptop (up to 17″), the way the bag sits against your body makes it not the ideal way to carry a laptop.
Though the front flap can be secured with the Velcro closures, there is space for items to slip out if this were to be set down flat or accidentally dumped upside down. That's kinda the nature of a messenger bag though, right?
This specific bag aside, the single thing that drew my attention to GoLite is its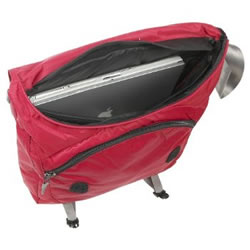 commitment to sustainability. This bag is made from 100% tier 1 recycled material. What does that mean? It means that they are using recycled nylon and polyester without losing any of the durability found in their other bags. This has meant a 70% reduction in the company's carbon footprint in the manufacturing of many of their products. They actually won the 2010 Editor's Choice Award from Backpacker Magazine for their recycled fabric.
GoLite does list a his and her version on the their website, but there's actually no difference between the two. I think a smaller version for women would be the perfect addition to this collection.
Available from Amazon from $90