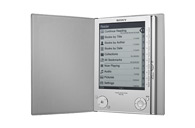 Books are by far the heaviest items I carry when I travel. On a month-long journey, I typically bring three books, including one guidebook and two novels or nonfiction travel-related books.
The Sony Reader Digital Book will quite literally cut down on pounds worth of stuff that I'm carrying and I'm so excited to add this to my travel gear.
This nifty little piece of technology is about 5 x 7 inches and about a half inch thick.Using E-ink technology, the screen is a far more pleasant experience than reading on your laptop and can even be read in bright sunlight. It can hold about 160 books making it a beautiful item for travelers. No longer will you have to haul around several heavy books for long-term travel.
After owning one of these for about six weeks, I've already taken it on two trips and I'm sold.
It's not at all awkward to read on and with three font size settings, you won't have any problem finding a font size that's right for your eyes (I prefer the medium font). I even found myself often moving my hand to turn the page, only remembering after a moment that I only had to press a button to turn the page.
Though I don't know the hour-life of the battery, the Sony website states that it's good for 7,500 page turns. I guess it depends on how quickly or slowly you read, however. The key is that you won't run out of battery on a long flight.
There's a bookmarking feature (as if you're dog-earring the page) that allows you to make note of any pages you want to return to.
I admit to having a bit of a shaky start in downloading my first book. I went to the Sony website and clicked on download for the Reader which simply downloaded the software, without any book options. I then realized that I had to go through the device's software itself to download a book. (This is similar to having to go through your iTunes program in order to download a song rather than to Apple's website.)
Ebooks are slightly cheaper than their paper counterparts but not as cheap as a used book. You'd be doing your part to save some trees by downloading rather than buying a paper version (but remember that women's travel guides are always a good purchase and they'll be coming to a Sony Reader soon 🙂 .
There are a couple of features that I'd love to see added.
First, I'd like to see an auto-sleep or auto-off function. It would be really easy to fall asleep or simply put the book down and mistakenly leave it on. Haven't done it myself, yet, but I'm sure to in the future.
Second, I'd love to have a way to actually highlight the text on a given page. Though a page might be bookmarked, I'm forced to re-read through the whole text to determine which point I wanted to keep track of.
The Sony Reader Digital Book does not come with a power cord so charging must be done through the USB cord (supplied) or a cord must be purchased separately. I don't travel abroad with my laptop so I'll have to pick up a power supply prior to my next trip.
The Reader also has additional cover options available – ones that are far prettier than the brown cover that comes standard.
The unit is a bit pricey. They are currently going for $300. I expect, however, like all electronics, that the price will drop once they become more popular.
For any avid traveler, this is a great addition to your carry on.