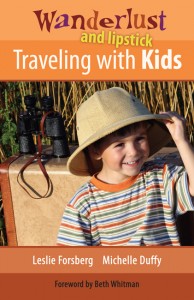 Wanderlust and Lipstick: Traveling with Kids
by Michelle Duffy & Leslie Forsberg

Limited time — only $10/each!
Now available as a PDF download!
Prefer an electronic copy of the book? Download a PDF copy through ejunkie for only $9.99! Simply click on the Buy Now Button below…

.
Order a paperback copy for just $10.00 (plus shipping). Can only ship to the US at this low cost (sorry!). If you're in Canada or beyond, please contact me for shipping rates.
If you're well prepared, traveling with your kids can be a fun-filled, transformational experience for the whole family. Learn how to turn possible roadblocks into opportunities for stretching your travel wings. Wanderlust and Lipstick: Traveling with Kids offers lively anecdotes and insightful inside tips from dozens of traveling moms with kids of all ages, giving you the benefit of proven travel techniques. The mom wisdom within these pages will give you everything you need to set off on your own family journeys, whether on a long weekend or a months-long round-the-world trip.
Now available as PDF download!
Prefer an electronic copy of the book? Download a PDF copy for only $9.99! Simply click on the Buy Now button below…
*****