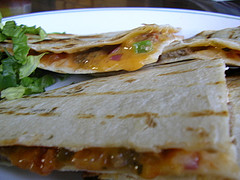 I love quesadillas, but have never had much luck at the full sized flip without spilling all the ingredients over the stove. My solution? Put the tortilla in the frying pan with a bit of cooking spray or oil, and only put the filling ingredients on half of the flat bread. Then fold the other half over and proceed to cook like you would a grilled cheese. Much easier to flip this way. When cooked, cut into three triangles per filled tortilla.
Quesadillas are great for the ethnic food lover on a budget because you can make them as elaborate or as basic as you like. Pinching major pennies? Go with cheese only in the center and some budget brand or homemade salsa for dipping. Got a little more pocket change? Add in some chopped scallions and an additional dipping sauce like sour cream or guacamole.
These are also a great way to use up leftover chopped chicken or sliced up leftover bits of steak from dinner the night before. If meat isn't your thing, I've often made these with spinach for a little extra punch.
Also, for those of you on a major shoestring who find even the pre-made tortillas a bit too expensive, here's a recipe for a homemade bulk tortilla mix you can keep on hand around the house. Particularly when you are on a budget, these can really amp up the wow factor in the overall taste of a meal. I like to make it in at least a large enough batch to fill a one gallon food storage container. Then I only have to make the dry mix once every couple of months.
Quesadillas are particularly helpful to make on warm summer evenings when you don't want to spend time over a hot stove.  Other food ideas suitable for this time of year are backyard barbecues, simple and affordable summer menus, pineapple recipes for people on a budget and cocktail recipes for warm weather.
Photo Credit: Jspatchwork