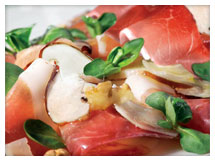 I've been missing Italy of late, so it was a pleasure to try this recipe out. The three ingredients needed? An aged Asiago, a cured speck and a bed of arugula or other mixed dark greens.
Simply put a bed of the greens on each plate, put three to five thinly sliced pieces of the speck on top (arranged to your visual preference) and shave off some large curls of the Asiago using a carrot peeler or cheese shaver. Since this dish is really all about the drama and enjoying the full flavor of a few special ingredients, it helps if you can be a bit artistic with the cheese distribution as well.
If you would like a little extra, drizzle with some extra virgin olive oil and top with some fresh cracked peppercorns. I've also modified this a bit to include balsamic vinegar, some grape or Roma tomatoes and some onion slices. Add a nice bottle of wine and your favorite crusty bread and you are all set for a simple stylish dinner.
I have to say, this meal really brought back memories. The speck we used was Speck Alto Adige, and the cheese was Asiago Pressato, both from the northern part of Italy and both available from IGourmet.Com.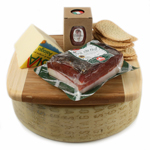 The speck held its own with a smooth, slightly smoky flavor which was mild enough to compliment the Asiago. And the cheese itself was particularly yummy. We've enjoyed it in the carpaccio, shaved on a fresh tortellini and on its own with a nice red wine. It is mild however, so bear that in mind when you choose your specific pasta filling or potential sauces. The Asiago Pressato retails for about 10 dollars a pound (not bad even by deli counter prices in my neck of the woods), while the speck is a bit pricier at around 28 dollars for a 1.5 pound package. However, because it is a cured meat it lasts a long time. Used sparingly, you can make this worth the purchase for special occasion dinners. And compared to going out for a high end meal? Peanuts!
This salad recipe is one of many menu ideas suitable for summer. Others include crisp summer cocktails, cooking with pineapple and hosting a backyard barbecue.
Photo Credits: Colangelo PR and IGourmet.Com, respectively.