Chamorro Chicken Kelaguen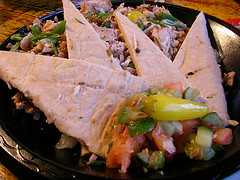 Since many of my cookbooks are in storage, I had to go digging for this one. A traveling friend and former Guam coworker came through for me. This is a recipe made by a former coworker of ours who is a native of the island, Richard Taitano.
One whole chicken cut and BBQ'd, to remain juicy. (If you prefer you may substitute a fresh cooked rotisserie chicken.) De-bone the chicken and chop it into fine pieces. Keep the skin to add later to the kelaguen. This gives it a lot of added flavor.
Chop 1 onion and set aside or substitute 24 green onions. You will also need one fresh coconut husked, cracked and shredded. (This takes time.) Richard recommends buying a couple extra, as sometimes they have sat too long in the store and are dried out when you crack them open.
Additionally, you need salt, lemon powder and hot peppers to taste. If you are unable to locate lemon powder (it was prevalent on Guam but may be difficult elsewhere), you may substitute the juice of 2 lemons.
Take the set aside chicken skin and cook it a bit to make it more crispy, you may use a toaster oven for this. Chop it into fine pieces. Mix the chicken, grilled chicken skin, onion, lemon powder, peppers and salt together. When well mixed add the coconut and serve with pieces of flat bread.
There is also a beef version of kelaguen that is made with marinating the beef in lemon and soy sauce. We were told when we lived there that this was a technique used during the war when they couldn't build campfires for risk of being captured. The acidity killed bacteria to the level where it was reasonably safe to consume. This is not for everyone's taste however, as the meat is not cooked in a traditional manner and is only sterilized through the marination process. But if you like that sort of thing . . .
Being a Guamanian recipe, chicken kelaguen is a particularly appropriate summer menu item. Other foodie finds suitable for warm weather include this list of pineapple recipes, a roundup of summer cocktail ideas and tips on hosting a backyard barbecue affordably.
Photo Credit: Jetalone
13 comments