Adventures in New Orleans Food
It was more than 20 years since I'd been to New Orleans. For years I attended either Mardi Gras or Jazzfest but stopped when I moved to Seattle and my travel trajectory sent me traveling to Asia.
I had wanted to go after Hurricane Katrina but personal circumstances and bad timing prevented that. It was only a few weeks ago that I finally got myself back there in order to do some research for a New Orleans Culinary Tour.
Oh, how I've missed NOLA. I admit it's not a city where I could live, but she does get under my skin and she's very hard to shake. I nearly cried the my first day walking around the French Quarter I was just so happy to be back there.
As part of my research I, of course, had to make my way around town to some of the more interesting eateries. Here are just a few of the New Orleans Food discoveries I made…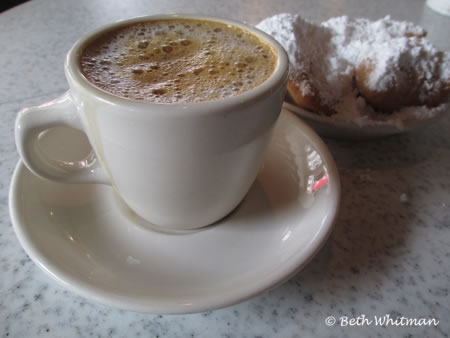 Few things say New Orleans like a cafe au lait and beignets from Cafe du Monde. Just LOOK at that powdered sugar topping on the beignets!
A visit to the Crescent City would not be the same without a stop at this iconic coffee shop. It would be like going to India and not seeing the Taj Mahal.
You can pick up Cafe du Monde coffee at many shops in the French Quarter (I can even find it in my local grocery stores in the Seattle area). What distinguishes Cafe du Monde from other coffees is their use of chicory as a bit of flavoring.
Like your hot sauces? You'll find plenty of it in NOLA. Most foods served in restaurants are not loaded up on the stuff but you can always find a bottle nearby to add as much or as little heat as you like.
Tabasco is produced on Avery Island, a couple of hours away from NOLA. You can visit their factory and pick yourself up a bottle (perhaps a gallon?) to bring home!
Since 1910, Acme Oyster House has been serving up oysters and more in the French Quarter. The restaurant is not fancy but it's loved as much by locals as by tourists.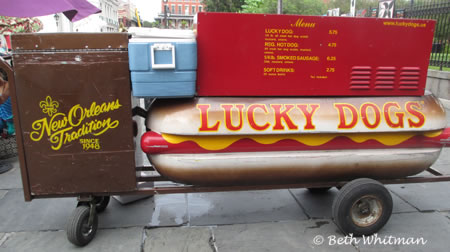 As you're walking the French Quarter, don't miss out on Lucky Dog from one of the many vendors. For less than six bucks you, too, can get Lucky.
The New Orleans Culinary Tour is tentatively scheduled for May 11 – 15. We already have a waiting list. If you're interested, please send me a note via our Contact Us form and I'll be sure to let you know as soon as the details are ironed out (likely in the coming weeks).
Travel Well,
Beth
2 comments