The Art of Tamale Making at the Santa Fe School of Cooking
There were so many highlights on our Santa Fe Culinary Tour that I barely know where to begin. Over roughly 4.5 days, we sampled, consumed, imbibed, sipped, drank and toured. We had a magical little group that gelled well and had lots of laughs (and TWO birthdays).
We had local tour guides talk about the history of the city and its native culture, we learned about pre-contact food (before the Spanish arrived), we tasted tapas and sherries, lots of chocolate and learned the difference between red and green chilis (and that you should always order Christmas).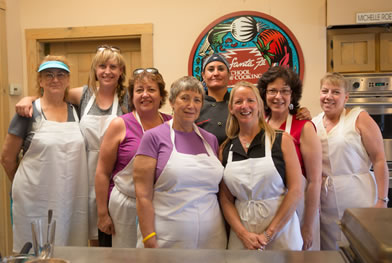 We also spent a few hours one day making 4 varieties of tamales at the Santa Fe School of Cooking. Here's what resulted…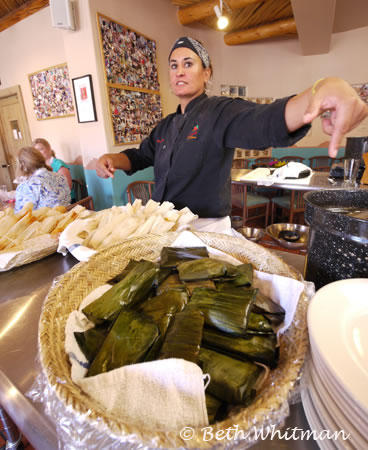 Chef Michelle (above) has, well, a pretty big personality. She oversees a number of the cooking classes and walking tours with the school. You can't help but feel empowered and confident in the kitchen when you're around her.
She helped us through the process of making the masa and the filling and putting it all together in our corn husks (or banana leaves, above).
Here she shows the group how to add just the right amount of spice to their tamale filling. Ingrid and Ann from our group look on.
Ingrid was having a blast spreading the masa. (She was drawn to the tour because she saw that she'd be able to learn how to make tamales. I think she did well!)
Jaime and I were the 2 vegetarians on the tour so helped in the preparation of the succotash filling (delicious, by the way!).
What resulted were 4 baskets of tamales – sweet, vegetarian, pork and chicken. And just a few of these little treats are enough to fill you up so there were plenty to go around.
We're working on dates for the 2013 Santa Fe tour AND are adding a Seattle Culinary Tour next year as well. Email me if you're interested: beth (at) wandertours (dot) com. In the meantime, check out the itinerary for the 2012 Santa Fe Culinary Tour to get an idea of what you're in for.
Travel Well,
Beth
Related links:
Santa Fe ~ Photo of the Day II
Santa Fe ~ Photo of the Day I
Photo credits:
All photos not watermarked are courtesy of Peter Kertz.
1 comment