Photo of the Day: I Wanna Be Just Like You (Monks)
I recently posted a photo of one monk taking a picture of another monk at a temple. On Facebook, I received a lot of comments from people who had seen monks doing things not so typical of monks (like buying cigarettes). So, I thought I'd put together some more photos of monks doing not so typical things…
The monk below is late for a prayer session at a temple in Bhutan. Hundreds of others had already filed into this building.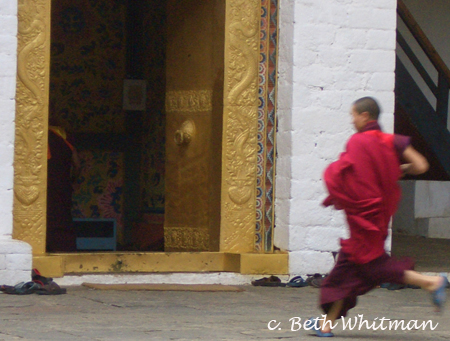 Perhaps these monks are looking for pictures of themselves in the LP guide?
Hey – somebody's gotta take care of the local billboard – eh?
This might not be so typical, but this monk is practicing Shaolin Kung Fu. It looks like a doctored photo, doesn't it?
This is part of DeliciousBaby's Photo Friday. Pop on over to see more photos!
Travel Well!
Beth
Related links:
Photo of the Day: Indian Bangles
Photo of the Day: Monks with Camera
Photo of the Day: Varanasi
Photo of the Day: Prayer Wheels – Bhutan
Photo of the Day: Layered Mountain Range
Photo of the Day: Himalayan High
Photo of the Day: Bangkok Flowers
Join other Wanderlusters and help make this the most popular women's travel blog by subscribing via email or RSS
Photo credit Tibet Monks: Matt Murf
Photo credit Monks and Billboard: hassan abdel-rahman
Photo credit Shaolin Monk: kevinpoh
All other photos: Beth Whitman

13 comments