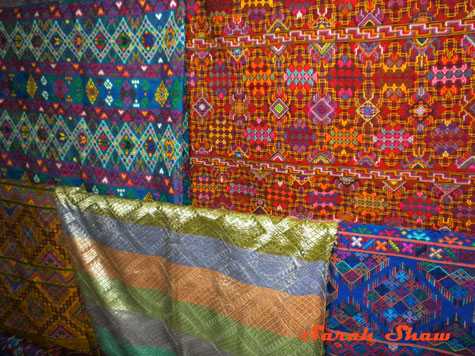 When you are traveling in Bhutan, weaving traditions will be something you will want to learn more about as it reflects a centuries-old practice. The clothing worn by both women and men in Bhutan is created with distinctive fabrics that you are unlikely to have encountered elsewhere. Throughout Bhutan, people observe the national dress code which helps to preserve the heritage of this beautiful and special country. Everywhere you wander, you will be struck by the unique fabrics women and men choose for their clothing. By the end of your stay, you will likely want to purchase some cloth of your own to remember your time spent in the Land of the Thunder Dragon.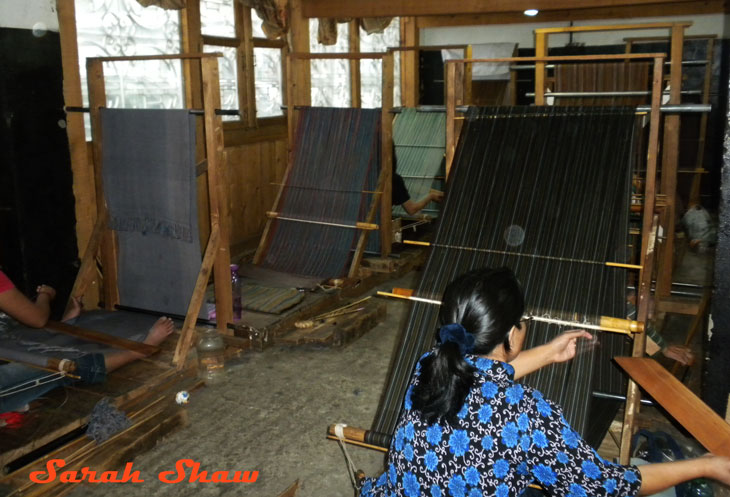 One of the best places to purchase fabric and ready made clothing, as well as to see Bhutanese weaving traditions practiced, is to visit Kelzang Weaving Centre in Thimphu. Founded by Kelzang Lhundrup, it is special for many reasons. One of which is that he is one of the only men weaving in Bhutan. Traditionally weaving was a skill dominated by women in the family. It was their responsibility to weave all of the fabric needed to cloth all of their family members. Kelzang Lhundrup learned initially by sneaking around and observing his female cousins being taught to weave by their grandmother. From that small village in Trashigang, Kelzang Lhundrup learned the skills and patterns he would need to begin his 35+ year career.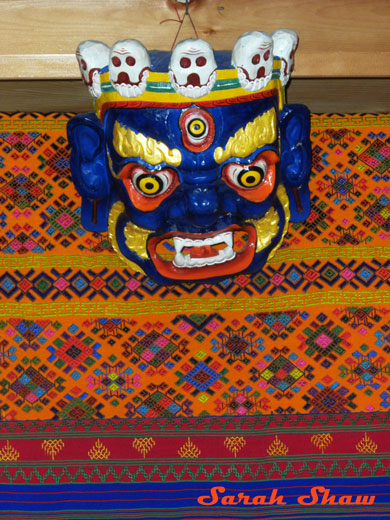 It is not an accident that this now master in weaving comes from Eastern Bhutan where they are known for the excellent quality of their weaving. One guide of mine joked that all the men in Bhutan want to marry a women from the East as she would be able to weave her own clothes and save him some money in purchases! Kelzang Lhundrup has excelled at his craft and it is said that members of the royal family in Bhutan frequent his shop to purchase cloth for their own clothes. He attracts other upmarket shoppers including elite businessmen and government officials as well as western tourists.
Today, Kelzang Weaving Centre employs 20 weavers. Keeping with the gender traditions, the weavers I observed in the studio were all women. Kelzang Lhundrup has two daughters who are also accomplished weavers and assist him with the business. In addition to the traditional garments, they also like to create fashion designs in more of a western style using fabrics familiar to all Bhutanese in a line they call Bhutanity.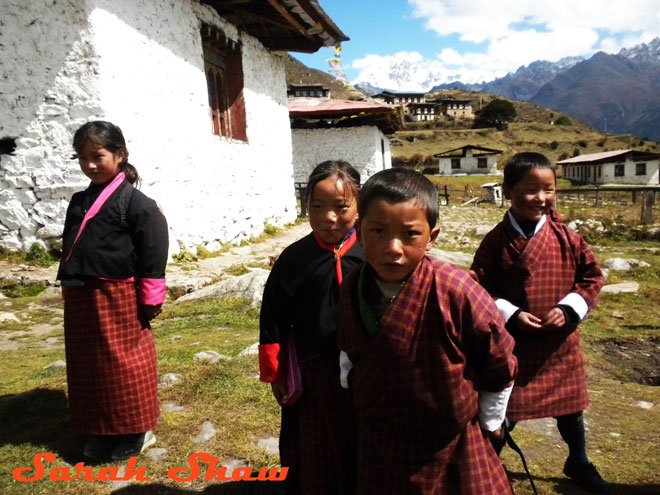 The national dress in Bhutan calls for men and women to all wear set pieces in their wardrobe. All men wear a gho which is an oversized robe that wraps around the body and hangs to their knees. During the summer, they wear knee socks and the thighs are left uncovered. For the winter season, they are allowed to wear pants underneath their gho. Women's traditional dress in Bhutan calls for wearing a kira. A long piece of fabric that wraps around their body and hangs to their ankles, the kira is fastened at each shoulder with ornamental pins to create a long jumper effect. You will also see the women of Bhutan wearing a long sleeved jacket over their kira known as a toego. This is a short jacket that falls just below the waist. Women also have a colorful sash which is worn over the left shoulder and is called a rachu. Although the pieces of clothing worn by the Bhutanese are set by the national dress code, individuality is expressed through the choice of colors, patterns and materials.
At Kelzang Weaving Centre, a variety of materials are produced. Everyday clothing is often made from woven cotton. For special occasions such as weddings and festivals, everyone puts on their best clothes which are frequently made from fine silks. When you visits the showroom at the centre, you will find several racks of gho and toego already sewn and ready for you to buy and wear. Finding pre-made clothing is unusual as most people make their own and at most, buy the fabric. You will also find many fine options in fabric on display. Depending on whether you choose cotton or silk, as well as the intricacy of the pattern and design, you may spend as little as $40 or easily over $1,000 for the very best offerings.
My visit began in the weavers studio. There I discovered a number of women sitting on the floor working at their back strap looms which were each attached to a frame. Most women begin to learn the art of weaving as young girls from their mothers, aunts and grandmothers. They may begin by learning simple designs and patterns. As their skills and confidence develop, so to will their designs as they will be able to tackle the more intricate patterns through hours of practice. Many of the designs incorporate popular symbols from their Buddhist religious beliefs. The endless knot is a popular choice and is one of the eight auspicious symbols. It is seen as a series of eight interlocking diamonds.
After observing the weavers at work, you can visit the showroom to view the end results. In addition to the cloth and ready made clothes, I found a wonderful selection of scarves and rachu which being smaller, are easier on the souvenir budget. After my first trip to Bhutan, I had been really frustrated at myself for not having brought back fabric. When I went back the next year to Bhutan weaving became one of my big priorities and  I made sure to have the opportunity to select some special pieces for my collection. That need is what brought me to Kelzang Weaving Centre. I had heard that they were the absolute best and I was not disappointed. I selected three beautiful designs and brought them home with the intent of having a quilt made from them by my mother, an accomplished quilter. She refused to cut into the fabric saying that if you were to disrupt its integrity, it had to be to improve upon it. She felt that anything she would do would not honor the beauty of this cloth. And so it sits intact until the day I find a meaningful use for it.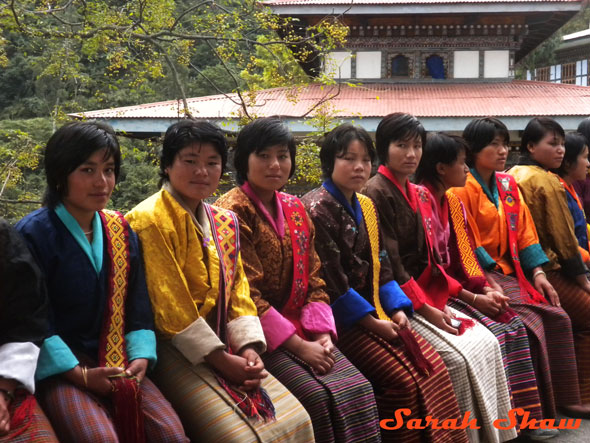 When you are traveling in Bhutan weaving and the clothing will surely be included in your itinerary. You will without a doubt spend some time in Thimphu and I encourage you to seek out Kelzang Weaving Centre to witness artisans in their studio. You will be amazed at the spectrum of colors and the intricate designs they work with on simple looms. You also will be able to shop where the royals select their finest. Whether you buy a bolt of their best silk or a simple scarf, you will have helped to support and preserve this centuries old tradition.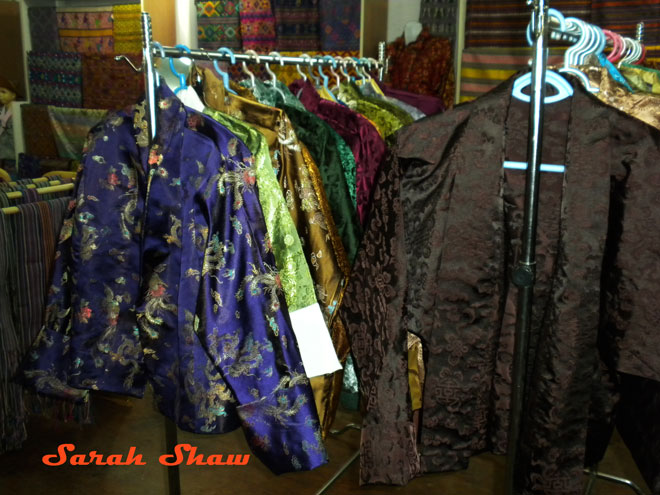 If you are interested in learning more about the Bhutanese and their clothing, you may enjoy one of my earlier posts, What if Bhutan Hosted Fashion Week. In addition to the national dress, I also explore some of the traditional clothing of some of the people in more remote areas of Bhutan. You may also enjoy my post on visiting A Tsechu (Festival) Market in Bumthang. What aspect of Bhutanese dress intrigues you the most? What would you like to buy when you visit the Land of the Thunder Dragon?
Until we shop again,
Sarah