Yesterday was the finale of Mercedes-Benz Fashion Week in New York. Twice a year, the best and brightest designers gather to show their lines to celebrities, stylists, buyers and the interested public. What walked down the runway this week will be influencing the fabrics, colors and cuts of the clothes available to you this fall. Although fashion weeks are hosted in style meccas around the globe – Paris, Milan, London and Tokyo as well as the one this week in New York – it got me thinking. One of the things I love about visiting other countries is learning about their culture and how it differs from mine. That interaction gives me the perspective to appreciate my own. So what if somewhere, like say Bhutan, hosted fashion week? What clothes, styles, colors and traditional dress would you be likely to see? What is Fashion Week meet the Traditional Dress of Bhutan?  I consulted my vast collection of photographs from my travels in Bhutan and have put together a WanderShopper Fashion Week in Bhutan. And you have a front row seat!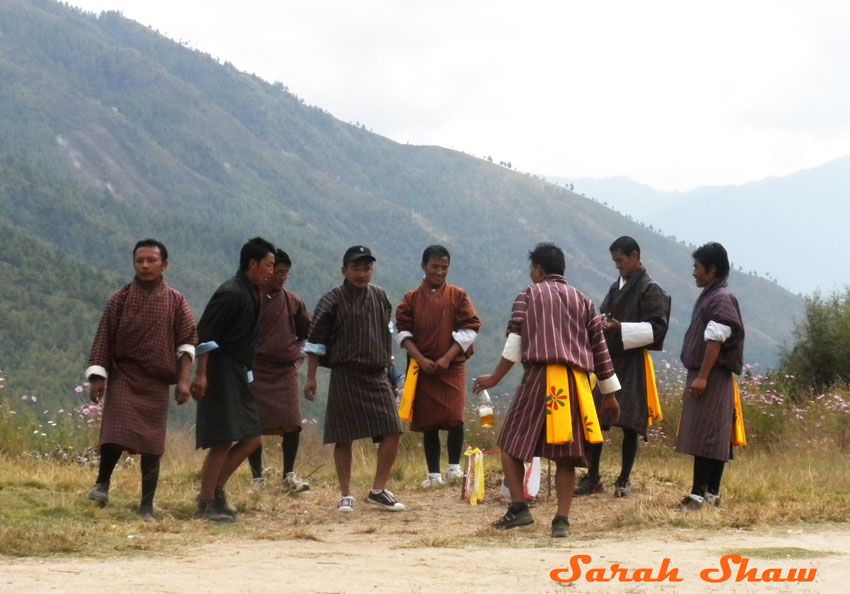 One of the first things you will notice when you visit Bhutan is that there is a national dress. Anytime a person is in public during daylight, they are required to follow this code known as Driglam Namzha. For men it means that they wear a gho, a traditional knee-length robe which is wrapped around the body and tied. The overlap of fabric above the waist creates a large pocket where they store all sorts of items they may need during their day like the ever popular betel nut. Many men choose to wear knee socks as well. If you are traveling to Bhutan and looking to present your male host or guide with a special gift, knee socks in different colors or patterns (like argyles) will be gratefully received as it is an important accessory to their look. In the photo above, men have gathered for an archery competition, which is Bhutan's national sport. Two teams compete and there is lots of taunting and trash talking between the two sides. The men above are singing and chanting to boost their confidence after a point was scored which both sides do simultaneously. They are also enjoying some beer as they celebrate their successes or drown their sorrows.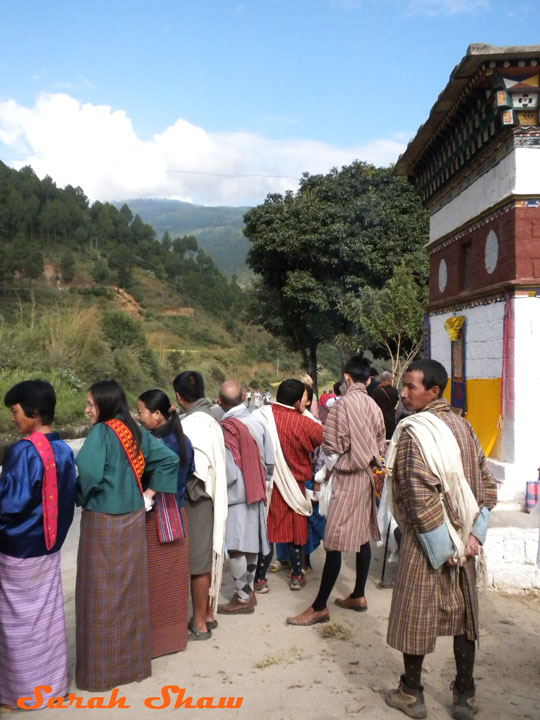 In addition to their gho, if a man is going to visit a temple or a meeting with a government official they are also required to wear a sash known as a kabney. It is worn from their left shoulder to their opposite hip. The color of the sash tells everyone your station in life. Commoners wear a white kabney. Blue are worn my members of the National Assembly. If you are a judge, your kabney would be green. Red is the color of choice if you are part of the royal family or a higher official. Ministers and other high members of government would select an orange kabney. And if you were the King of Bhutan (Druk Gyalpo) or the Chief Abbot (Je Khenpo) your kabney would be saffron. Kabneys are usually made from raw silk and measure 90 x 300 cm with fringe. The men pictured here have walked to the road near Punakha where the King and Queen will be traveling the day after their wedding to wish them Tashi Delek (Blessings and Good Luck!)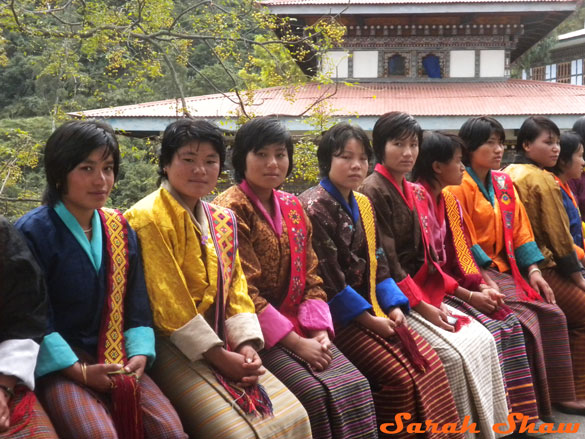 Women in Bhutan also have traditional items that make up their national dress. Women wear colorful blouses over which they wrap a large piece of fabric that hangs to their ankles. They clasp the fabric with ornamental pins over each shoulder forming a sort of long jumper. This is calla kira. For everyday wear the kira, as well as men's gho, are made from cotton or wool depending on the season. For special occasions, silk may be chosen. Stripes, checks and plaids are favored in a large array of colors.  Over the kira, women wear a jacket called a toego. This is short and worn to the waist. Just as men wear kabney when visiting a temple of meeting officials, women also have a narrower sash called a rachu which is draped over their left shoulder. The rachu is frequently very colorful and embroidered with beautiful patterns. The women in the photo above have arrived at the dzong in Trashigang to perform traditional dances and songs. A dzong is a fortress like building in Bhutan that serves as the central religious, government, military and social  center for each district. As you can see by the photo, there are a wide range of fabrics available to allow each woman to express her individual tastes in colors and patterns.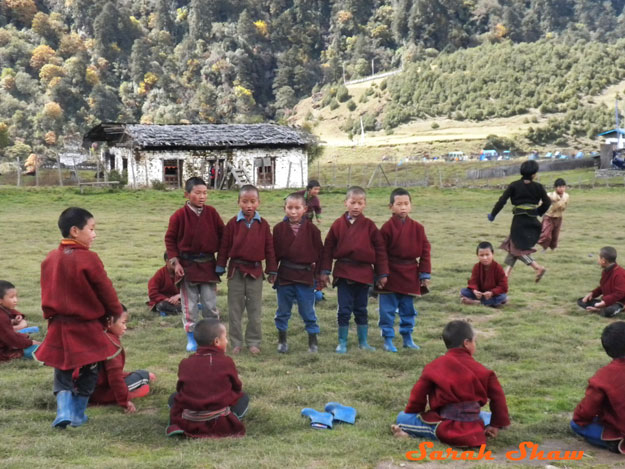 In addition to the national dress, their are also regional clothes worn by specific ethnic groups within Bhutan. Just a few months before I arrived in Bhutan for the first time, the government began allowing tourists to visit areas in the eastern part of the country. Through WanderTours, we hiked the Merak-Sakten route which can only be reached by trails as their are no roads. It was a really incredible opportunity to visit with the Brokpa people of Bhutan and see how they have lived for hundreds of years with little to no western influence. The Brokpa have a number of specific clothes that tell you immediately who they are. While taking a rest day in Sakten, we were able to visit the school and watch the children playing in the school yard. Some of the boys took a break from their game of duck, duck, goose and stood up to sing a traditional song for us. Their red wool jackets are also worn by Brokpa men.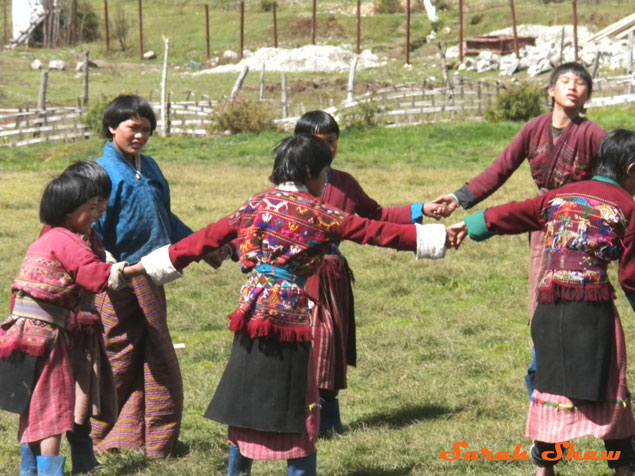 Brokpa girls and women also have a traditional jacket. Theirs is also red but has beautiful and colorful designs woven and embroidered on the back and front. Here some little girls in the school yard are playing their version of ring around the rosey. Underneath are kira or skirts. As it was getting close to the start of winter and the days were colder, many girls were wearing sweatpants underneath. At the time of our trek, eastern Bhutan was getting an unusually large amount of rain, the remnants of cyclone unleashing tons of water on the Himalayas. Throughout the village and on the trails, the paths had been reduced to sticky mud so rubber boots were worn by everyone. The girls are also wearing black wool aprons behind which work as built in sit-upons like I made when I was in Girl Scouts.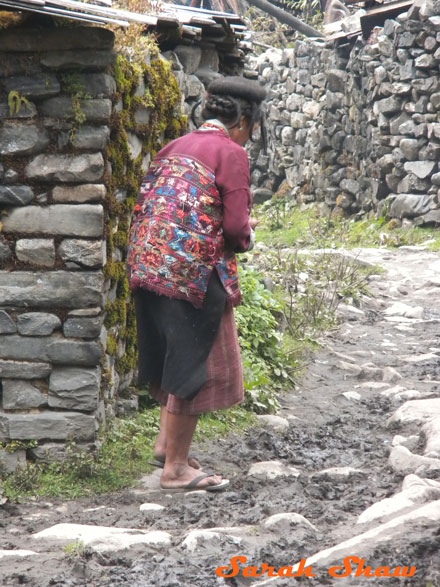 Another accessory unique to the Brokpa are their rain hats. Made from felted yak wool, they are black and shaped like a French beret. In addition to the basic shape, their are five spindles that come down and stick out in different directions. These spindles are very practical as they act like rain spouts and direct the water away from the face, neck and body so the Brokpa are more comfortable as they continue with their work or treks during the rains. These rain hats are worn by both men and women. Each household produces what they need. Now that tourists are starting to visit, extras are being made as they are sure to become a popular souvenir. As we walked through Sakten, our guide asked around and extra hats were brought out for us to purchase. I had heard about these special hats before I left and a friend had asked that I bring her one so I was able to easily find two to bring home with me.
Before we leave eastern Bhutan, I have one more look to share with you. In the photo above, a Brokpa man keeps warm as fall turns to winter wearing a jerkin made from a yak hide. The fur is worn towards to body for extra warmth. It is simply created by cutting a space to insert your head through the center of the hide. He then wears a woven sash, the same as is used on the traditional red wool jackets, to belt it in and keep it close to his body. The Brokpa are very resourceful people. They have to be as their valleys are cut off from the rest of the world for months every year as the high Himalayan passes become closed with snow. Before access to mass produced clothing from trade in some of the larger villages, Brokpa women wove all of the material used to make the family clothes. The women of eastern Bhutan are know to be excellent weavers and one of my guides joked that men hope to marry a woman from this region as it can save them a lot of money when their wives can weave their own fine kiras rather then having him earn the money to buy them. When buying the high quality handwoven silk for a wedding kira, you might spend $1,000 which is a lot of money for the average Bhutanese family.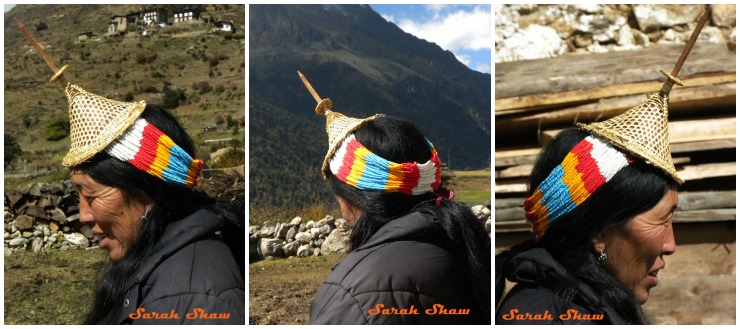 The next year, I joined WanderTours on another trek, this time to Laya in the northwestern Bhutan. This is an area again reached only by trails as there are currently no roads at the time. The Layap people of Laya have also developed clothes that reflect their traditions. Again, it is their hats that may be the most recognizable accessory. The women in Laya wear a woven conical hat called a belo. Out of the top of the hat is a carved wood spike. Attached to each side and draping across the back of the head are strings of colorful beads. I understand that when the Layap left Tibet in the 15th century, the women were wearing these hats and they have not changed since that time. It is believed that they must wear their belo or they risk upsetting the village spirits. Extra belo are now made to sell to tourists and are easy to find by letting people know you are looking for one and women will bring their creations out of their homes for sale.
 As we walked through Laya, we came across the children leaving their lessons at school and heading off for lunch. They were very friendly and were happy to pose for pictures and loved looking at their images on the screen. Along the edge of one of the classrooms, I spied a big sister helping her younger sibling fix her clothing. The women and girls in Laya all wear a black woven skirt of yak wool. It is a large piece of fabric that wraps around the waist and is tied in place. It is accented with red and yellow stripes in places. This young girls skirt must have come loose and her sister patiently tied her sister's skirt tighter so it stayed in place. They were fine with me photographing the process, her sister had a pair of sweatpants on underneath her skirt for warmth, and even posed together once everything was back in place. Our landlady, who allowed us to pitch our tents in her yard, had an old skirt her daughter had outgrown that I was able to buy so I could bring home a sample of Layap weaving.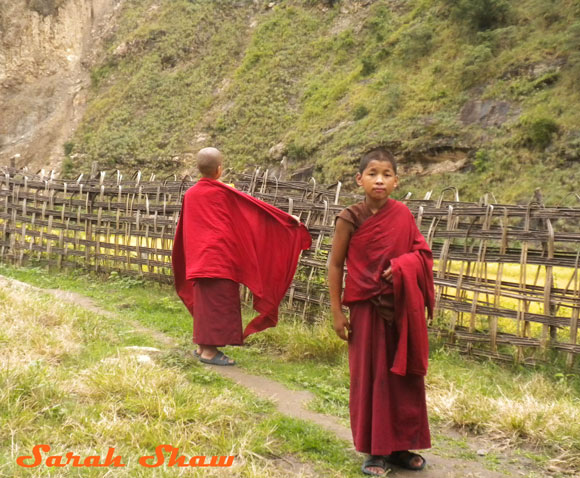 The people of Bhutan are Buddhist and it is central to everything in their lives. It is considered a great honor to have a son who is a monk serving in a monastery and it will bring good karma to the family. Boys usually join their monastery when they are between the ages of six to nine. While traveling in Bhutan, you will have many opportunities to visit temples and monasteries where you can encounter monks of all ages. In eastern Bhutan, I came across these two young monks behind a temple. One was happy to pose for a picture as his friend readjusts his robes,  wrapping them around his body. You will find that Buddhist monks in different countries in Asia will have robes of different colors. In Bhutan you will find them wearing robes of burgundy as seen here.
I was really excited when I discovered that I would be in Bhutan during a very special time as the young King was about to be married. The whole country threw themselves into the celebrations even though a relative few were able to attend the actual ceremony at the Punakha Dzong. I was in Thimphu the morning of the wedding and everyone watched as the ceremonies were broadcast on Bhutan's national network, BBS. I took a few pictures of the TV screen with my camera to remember this special event. What I never would have guessed at the time was that the next day, we would actually be meeting and speaking with the King and Queen.
We had traveled on to Punakha before heading north to begin our trek to Laya. The morning of the meeting, we were told we would need to pull our bus over and wait as no one is allowed to be traveling on the roads as the King and Queen approached on their way back to Thimphu. We were joined by villagers who had hiked up to the road to glimpse the royal newlyweds. As their car approached, it stopped and they emerged. The King and Queen walked along accepting the well wishes of the people (Tashi Delek.) Many, like us, had purchased prayer scarves to offer the King and had them extended with our heads bowed as protocol required. The King and Queen paused in front of our group of WanderTour ladies and started to speak to us in perfect English. Inquiring where we were from, what we were seeing in Bhutan, etc. It was truely a magical moment as I said "Tashi Delek" to them and the Queen spoke directly to me and thanked me. Will and Kate had just been married a few months before but you certainly didn't see them greeting their well-wishers personally. Meeting the King and Queen of Bhutan, and for such a special occasion as their wedding will always be one of the highlights of my life.
I hope you've enjoyed this pictorial fashion show from Bhutan. As usual, I have way more photos than I could fit in this post so please head over to the WanderShopper Facebook Fan Page and check out the Bhutan album. I have posted more images of Bhutanese people and their clothing for you to peruse. You may also enjoy another recent WanderShopper post from Bhutan about a Tsechu (Festival) Market in Bumthang.
What has inspired you? What could you take from the images of the Bhutanese people and apply to your own sense of style?