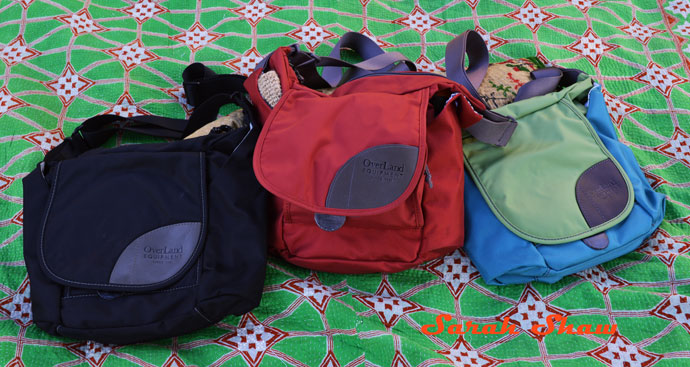 I was delighted when I learned that I would be receiving a new Overland Equipment Donner Bag for going on a WanderTour in 2013. As the owner of two other Donner Bags, I knew what a special treat this would be. In fact, every single woman who goes on a WanderTour any time during 2013, will be able to select a Donner Bag to call their own. Being a WanderTour groupie, I was already signed up to treat myself on the Santa Fe Food Tour, so receiving a new Donner Bag was a fantastic extra perk. The only challenge for me, and surely the rest of the women exploring the world with WanderTours, was to decide which color to choose in their Overland Equipment Donner Bag.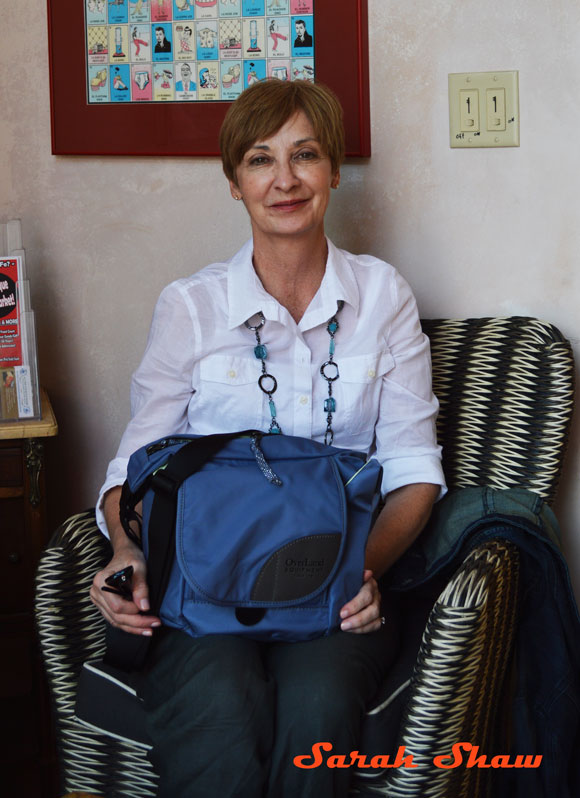 As I mentioned, I already owned two Donner Bags and they had been on other WanderTours and world explorations with me. I know Overland Equipment to produce fantastic travel gear as I also have one of their backpacks. One of the things I love about them is that they are so well designed. The Donner Bag parts are made from materials like ballistic and ripstop nylon. Now I don't understand the specifics of what that means exactly, but it does sound like some pretty impressive fabric. And I can say that my Overland Equipment Donner Bag  have both held up well to the rigors of shopping the world with many untold items shoved into them during a market spree. Not only are they strong and look close to new many trips later, they also have easily wiped clean whenever a bit of global schmuck finds its way onto my bag.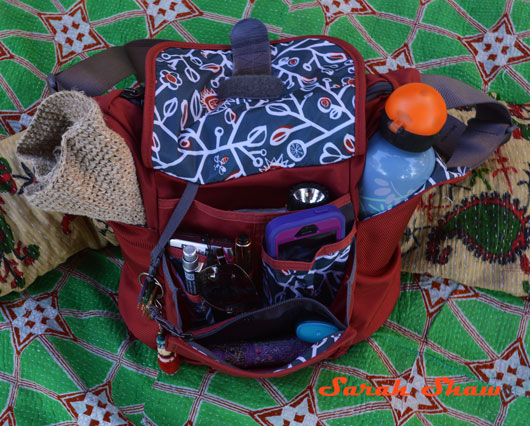 Another thing I really love about my Donner Bag is the built-in organization. I've seen some attractive bags from other manufacturers but I can say with confidence that they did not have what I needed to safely store everything I want with me for a day out sightseeing. Lift the front flap of any Donner and you will discover the command center of the bag. Here you have some fleece lined pockets for storing your phone, camera or sunglasses. You will also find some slim slots for pens or a lip gloss. One pocket pouches out a bit so it can take a bulkier item, which is usually my camera or iPod. Attached to the back of the flap is a zippered, mesh pocket where I stick the little things I don't want to accidentally fall out. And behind the multi-pocket wall is a deep open pocket where I like to slip my business cards and a small notebook for collecting contact info for shops and new friends. That same large pocket also has a key leash and clip so you can safely secure your keys and never lose them.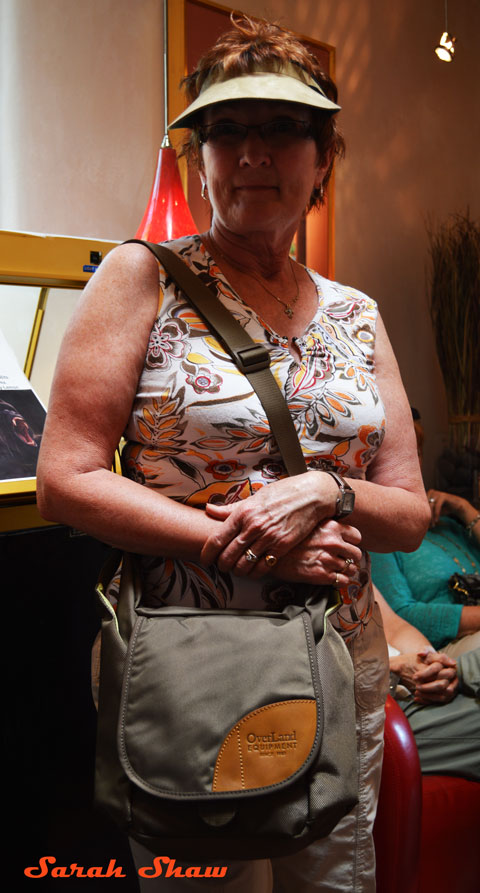 Let's continue to walk around the parameter of your Donner Bag. Go to the left or to the right first and you will discover one of the best water bottle pockets on the market. You aren't getting a bit of mesh with stretched out elastic that holds you bottle in place as long as you walk with perfect posture and never set your purse down. What the Donner Bag offers you is a deep slot designed to hammock your bottle securely in place. The strap pulls the outer material over the opening so your bottles are trapped within until you need a drink.. The side pockets are made from the same materials as the rest of the bag. I like to put water on one side. I save my other side pocket for a sun hat that rolls up and slides in and out easily. The Overland Equipment folks have solved the conundrum of how to construct the perfect side pocket. Keep walking around to the rear of the bag, and you will find a large, deep slot pocket. I find this perfect to stick a tour book, a map of the city, pamphlets for sights I want to see or anything else you can imagine.
The main compartment of the Overland Equipment Donner Bag is large and deep zippered zone. It seems to hold a never ending amount of contents. And believe me, I've really tested this when I am out shopping for the day. Along the back of the main compartment is another large open pocket. I like to keep things there that I want to be more secure and that I want to be able to find quickly when needed. For example, this is a great spot for my passport. I also like to keep a small wallet with extra money in it and I replenish my main wallet from here. When I am out bargaining with the world, I never want anyone to see how much cash I actually have access to. It helps to be able to say "look, this is all I can pay now" as well as I don't want any nosy Nancys seeing a stack of cash and marking me as the perfect pickpocket target. Keep your riches to yourself!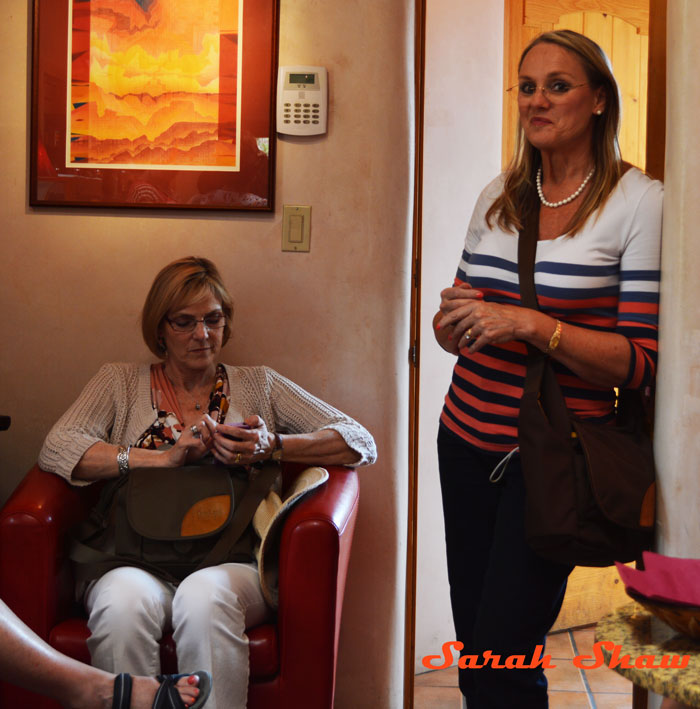 I should also mention the strap that hovers above the body of the purse. It's an adjustable 1.5 inch strap that adjusts with a buckle that holds its position tightly in place. Want it to be an over your shoulder purse? You've got it. Want a cross body bag? Its a couple seconds away. You design the bag that you need at the moment with ease. This is great if you like to bike places as it can act like a messenger purse. The Donner really is the prefect day bag.
In fact, the Donner also works throughout the day and into the night. It's an attractive bag. And one of the things I heard most from the other women on the Sante Fe Food Tour was that they loved the variety of colors it came in. Some women were looking for a neutral color that offered flexibility with many varied outfits. Other women wanted their Donner to be one of their primary wardrobe accents and chose a color that stood out. Some women like basic black. Other women wanted something more definitely feminine. Another woman matched the color to her interior decorating scheme at home because that's the color she likes to surround herself with. I think you get the point. You have options!
Donners come in so many great colors that it always gives me a chance to add another fun shade to my purse wardrobe. I started with a basic  black as well as a gorgeous blue and green model. When I needed to select my Donner Bag that came with my WanderTour registration, I decided to honor the color scheme of Santa Fe and I chose Poppy/Denim Print. The contrast interior fabric in my case was the Denim Print. That's a fun perk as it not only looks pretty but it also makes it easier to find items against it. While talking with the women on the Santa Fe Tour, they regularly mentioned that the contrast fabric was really appealing to them. When I checked the Overland Equipment site today, I discovered they were offering the Donner Bag in 10 different colors. With that kind of selection, there really is something for everyone!
I carry a lot in my Donner Bag when I need to. It always looks great again as soon as I unload it. You can carry all the bare necessities with ease but you can also test the bags limits and still be charmed by your Donner. You can see in the photo above that I'm able to get a lot into my bag and I have to say there is room for much more. I regularly carry a cardigan and a scarf with me so that I can be comfortable in an air conditioned museum and then head back out into the hot humidity and walk through a park. If you don't want to carry everything you own in your bag and you want to travel light, the Donner looks just as appealing with just a few things in it. Having a bag that is flexible in holding what you need is essential for travel.
There's still time for you to claim an Overland Equipment Donner Bag of your own. Without question, the most rewarding way to receive a Donner is to quickly sign up for the remaining WanderTours offered yet this year. You'll have to be quick to squeak into the Bhutan Tour leaving mid-October. No vacation time saved? You can still order your Donner Bag from the Overland Equipment website. The Donner isn't just for travel, its great for running around on the weekend to the farmers market or playing a tourist in your own town. The Donner also looks smart enough to take with you to work. And being able to convert to a cross body makes it perfect for hopping on your bike. Oh, I got started on telling your how great the Donner is again. Let me just leave you with this final thought, get a Donner!
Until we shop again,
Sarah