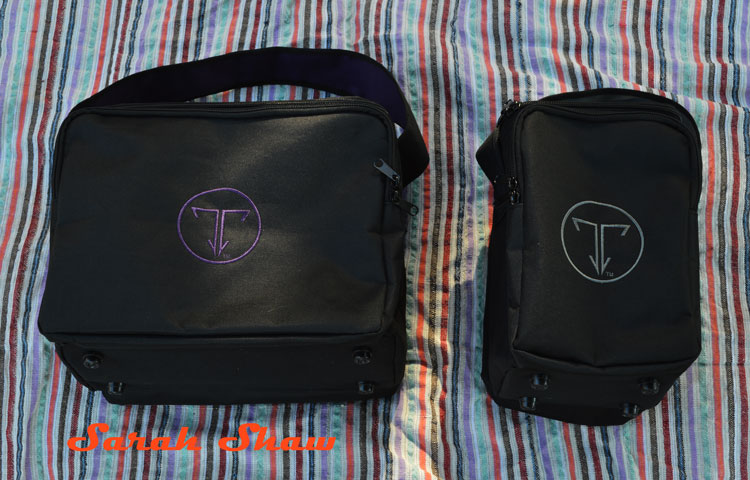 I was inspired when I learned of the solutions Inspire Travel Luggage was offering to travelers. Founder and Designer Kristin Rae also had a moment of inspiration when she decided to tackle the problem of how you could travel safely with your toiletries without having to downsize to travel size alternatives. I immediately started to think of all the different applications for a toiletry case like this. I'm sure you smart WanderShoppers can come up with even more. So let's take a look at Inspire Travel Luggage, which just made its debut in July of this year.
I know many of us struggle with what toiletries to take with us when we go on vacation overseas or just up to our summer cottage. I know a number of people, myself included, who have gotten pretty particular about what specific brand and formula they use for soap, shampoo, moisturizer, etc. For some, its a health matter as they have allergies or sensitivities that require them to use skin sensitive offerings. Or maybe you just like to pamper yourself with some high end products or a particular scent.  I understand. And more often then not, these items are rarely offered in travel size containers. So do you spend your free time dripping your favorites into empty small containers, while also oozing half of it out on your counter in the process? Or do you switch to the less than second choice product that you happened to spot in the dollar travel bin because it's easy?
Kristin Rae has offered us an alternative. Inspire Travel Luggage  offers two sizes of toiletry cases that are scaled to fit full size bottles. The main compartment has a durable insert of a removable plastic bin that will contain any surprises in the way of a leaking bottle. I'm sure we've all arrived at our destination to discover our shampoo, moisturizer or nail polish has erupted in transport and now not only coats its neighbors, but may have also hit other items like your clothes, jewelry or other valuables. With your Inspire Travel Luggage along, you can simply remove the insert and wash it out easily in any sink, dry it and you will be ready in time for your next transfer.
When selecting your Inspire Travel Luggage, you will have a couple of key decisions to make. First, what size will you need? If you tend to travel light and and by yourself, the Solo Traveler is probably right for you. It accommodates 3-4 full-size products in its center compartment. It is priced at a very reasonable $30. If on the other hand, you usually head out as a couple, family or you just prefer to have all your favorite products along, then you may want to select the Traveler Elite. You can expect it to easily hold 6-10 full size toiletries. You can pick it up for only $40. Both models have two exterior, zippered pockets where you can pack less fragile items like your comb, cotton balls and q-tips or even your slippers. So you've probably found this first choice was pretty easy for you. On to what is sure to be your hardest decision.
Both of the Inspire Travel Luggage models come in 5 different colors. All bodies and the upper side of the strap are in a classic black which will work well for everyone. The embroidered logo on the front pocket of each bag and the underside of the strap are done in a contrasting color. You can choose from charcoal, light gray, lime, pink or plum. This array of colors makes either of the Inspire Travel Luggage pieces appropriate for a woman or a man. I was offered the chance to try out both sizes so I selected plum for the Traveler Elite and charcoal for the Traveler Solo. I think both look very smart and I would have been happy with either of my choices.
The obvious application for using one of the Inspire Travel Luggage pieces is when you are going on a vacation. If you are like me, you want to be able to use the same products you do at home and not have to sacrifice personal care just because you are on the road. Shampoo, conditioner, moisturizer, soap are all nice to stay with what you like best. And you never know what the quality of the items offered in your hotel room will be comparable to what you would choose for yourself. No one wants to have to visit a doctor somewhere else just because they had a reaction and got a rash from a lower quality product. (This happened to me once in the Dominican Republic.)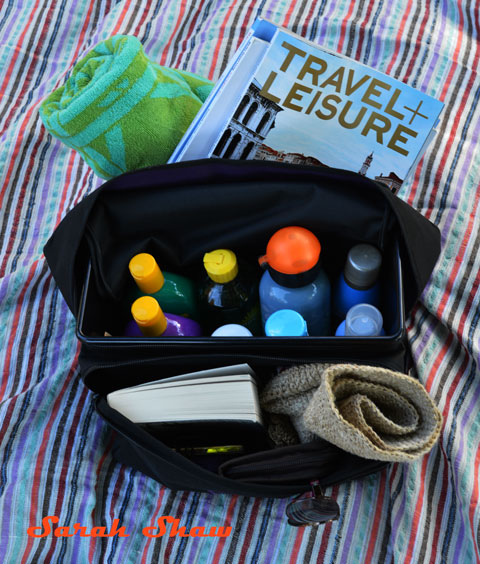 Additionally, if you bring what you use, you won't have to deal with running out of something because the travel size was too small for the length of time you were traveling. Many times, you end up paying higher prices in hotel gift shops or a nearby pharmacy to replace an item you have run out of before you were due to leave. With your chosen Inspire Travel Luggage piece, you will never be taken advantage of just because your hair required extra conditioner from days spent playing in the ocean.
And let's talk about the beach. Whether you are travel to a beach resort somewhere tropical or are just headed to your favorite cabin on a lake, taking the products you want to use along with you will save you money, effort and grief. I always try to bring the sunscreen(s) along that I think I may need. Being a fair skinned blond, I will tan but I will also burn when I hit my chosen winter Caribbean retreat. I need a variety of sunscreens and I also prefer to have one made specifically for my face which tends to be more delicate. If you travel with your family, your children may need a different sunscreen SPF than you do. Maybe you are a spray oil girl, while your husband prefers lotions. And then there is the after sun care moisturizer and aloe vera products that some us us feel better to have along. So picture what that would cost at your hotel gift shop? And not many of those items come in good travel sizes. By bringing your own from home, picked up on clearance at the end of the summer, you will have saved enough to take yourself out shopping for something pretty as a souvenir. You can also use your Inspire Travel Luggage to carry it right down to the beach so you can stay there all day without going back to your room.
Another fun use for the Traveler Solo, is to load it up with some of your favorite mani pedi items and head over to a friends house. Maybe your best girlfriend is expecting and she hasn't seen her feet for several months. Surprise her with a foot spa treatment. The two of you can make a girl's night out of it and have a lot of fun. Getting her toes done up pretty may be just what your friend needs. Sticking everything into your Traveler Solo allows you to transport all your supplies safely without the worry of the lacquer or the polish remover spilling all over your car. I've also had a polish leak during travel and it is a pain to clean off things. By restricting what it can damage, you will be doing yourself a big favor.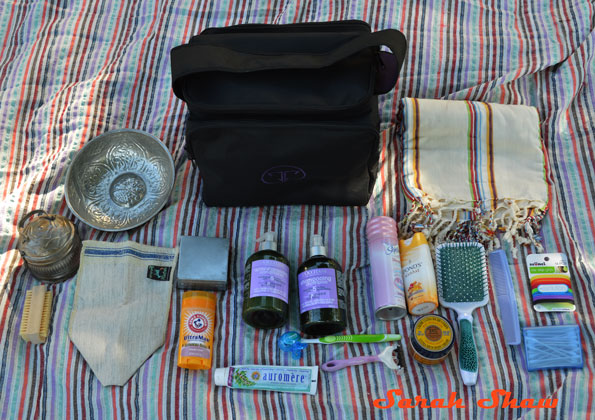 Some countries you travel in keep a tradition of public baths and hamams. It was the custom not to have bathrooms in your home at one time and to instead head to your local hamam to clean up, relax and socialize. It is a wonderful custom that I have really enjoyed. You can of course rent or buy some of your needed supplies once you arrive at the hamam. But when you own some of your own already like I do, it is much preferred to use your own kese to exfoliate your dead skin.
One last illustration I will leave you with is for those of you with four legged friends. Maybe you have a really special dog and regularly travel to dog shows. Shampoos, conditioners, toothpaste, dry cleansers, etc. can all be safely stowed in the main compartment. Combs, brushes, scissors, nail clippers and bows can be placed in the outside pockets. There may even be room for a busy bee. By selecting the Traveler Solo or Elite of your choice, you can put together a toiletry bag that will be sure to help your pooch win best in show.
I can immediately think of some other activities that would be perfect for an Inspire Travel Luggage piece. Maybe you have a daughter in pageants, cheerleading or dance. When you are in competition or have to perform, you may want to travel to your school, theater or destination with all the products you need safely secured. I also see this being great for the gym. After swimming or an especially sweaty workout, you can throw your wet suit in the main compartment too. Maybe you are a family that likes to R.V. and go camping. I can see this being a great way to store your toiletries and tote them off to the communal shower at the park. If you are traveling to a special event like a destination wedding where your appearance really counts, it may be important to you to use your favorite products for the special day including your signature scent.
To sum up my thoughts on the new line of Inspire Travel Luggage, if I were asked, I would make three adjustments to their bags. First, I felt that having the plastic insert narrower at the bottom than at the top, limited the items I could stash in there. I think my shampoo and conditioner are unusually wide but they did limit the other space I had and the idea is to be able to use what you use. I think if the zippered top were gusseted, that might address the issue of making it easy to remove and insert the plastic liner. I would also consider adding some padding to the top of the cover and the exterior pockets. I have heard that the bag travels well if it were checked. I don't know that I would would do that myself without padding and would be tempted to insert my own bubble wrap. The last modification I would make would be to make the zipper one that has a place to insert a lock. I always use TSA approved locks on all of my checked and carry-on luggage. It makes it one more step someone would have to get through before they riffled through my bag for valuables whether behind the scenes at the airport or by my seatmate while I am asleep. If I were carrying full size products, it might include one of my nice perfumes and those can be expensive to have to replace at duty-free.
Overall, I liked the innovations that Kristin Rae and Inspire Travel Luggage offers.  I do think there is a segment of travelers who like to go on vacation with full size toiletries, especially those traveling by car, boat or train. I also think there are a number of special events, as well as everyday uses in your hometown, that lend itself to a well built bag like this. The quality of the construction and sewing at the seams were first rate. It appears to be durable and will last me a long time. I think the Inspire Travel Luggage line has the potential to help a lot of people and save them hassles and money. I would love to hear from you, your impressions. How would you see yourself using one of the Inspire Travel Luggage pieces?
Until we shop again,
Sarah
Although Inspire Travel Luggage provided me with samples of both the Traveler Solo and Traveler Elite to try out and photograph, the opinions expressed within this post are entirely my own.