Everyone can have a globally chic home by framing travel art purchases once they get back. While I am out wandering the globe, I keep my eyes open for artwork that represents the area I'm visiting. Bringing artistic creations back with you is usually pretty easy and the rewards are that you will be decorating your spaces over time to reflect some of your favorite vacations. Plus you're guaranteed to have things that are distinct and different from your neighbors and friends. Not only that, but a lot of artwork is very reasonable to purchase overseas so you can make a big impact on your walls and leave money in your wallet for other purchases. So on today's WanderShopper At Home post, I want to share with you some of the art I've collected during my travels, how I make custom framing choices and give you ideas of what to look for on your next trip so you can start your own international art collection.
Last month, I visited my favorite framing store, Frames Unlimited with two pieces I picked up during my trip to southeast Asia in November. I brought my camera along so I could capture the process I go through with Store Manager, Sean Doyle, to select the best frames and mats for my art. First up is is a painting I purchased in Bagan, Myanmar. While visiting some of the temples there, I came across this young man and some of his friends selling their acrylic paintings of scenes around Bagan. Known for its thousands of temples scattered across the plain, Bagan was a beautiful destination I knew I would want to remember. Plus as all of the paintings were directly on canvas and not stretched or framed yet, it was easy to roll it up, wrap it with a sheet of newspaper and fit it into my suitcase for the weeks of travel ahead of me still.
Here is the painting I selected. I liked it because it captured the beautiful shapes of the old temples clustered together amid the brush and scrub as well as the incredible colors of the sunset being captured. There are so many colors in this painting that it gives me a lot of options when it comes to framing it. After showing the painting to Sean, he went to work pulling mat board choices.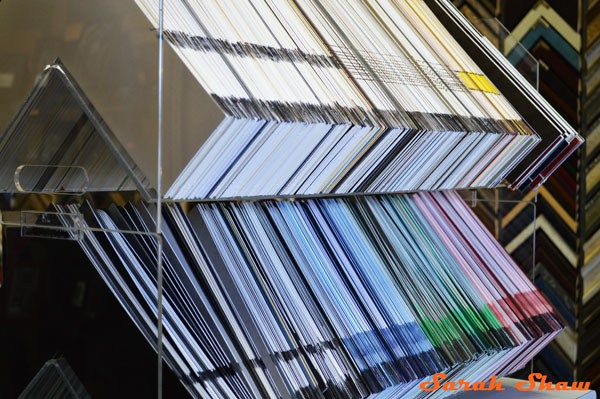 One of the advantages of going to a professional framer is that they have years of experience and will help you make the best selections for your artwork. Even if you sometimes feel you are colorblind or have never had anything framed before, a consultant will guide you in the right direction. Sometimes I go in knowing exactly what I want. Other times I head in and just let Sean, or one of his staff members, show me their ideas. They always know what options will work well with my artwork. As you can see from the photo above, there are a lot of choices for matting so it helps to have someone narrow down your options. Almost every color you can picture is offered as well as in different finishes and with different materials like silk or linen.
Sean pulled a stack of the colors he immediately thought might work with my painting and then started to put them together. Sometimes a color you think will work, ends up not quite being right once it is against the art. You can keep playing with options until you find what you like. Here are four different set of mats that would all compliment my painting. Sometimes, you may want a neutral mat board to let the subject of your painting be all the focus. Other times, you may pick a brighter color to draw a shade out of the artwork or cause other colors to pop. Here the mat boards have been layered with two other colors for an even more dramatic effect. After some consideration, thinking about where you want to hang your artwork and the colors being used in that room, you will usually be able to narrow down your choices.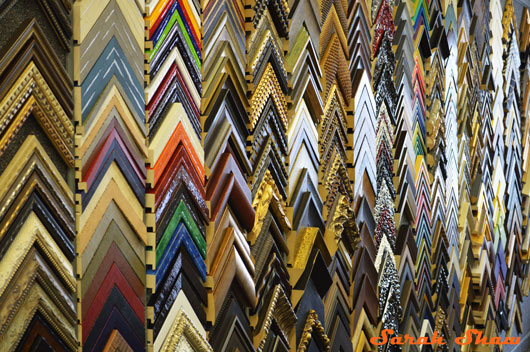 I made my selection for the colors of matting I wanted to use so now it is time to pick the frame. As with the mat boards, there are hundreds of framing options available. They come in every color you can imagine as well as being made from different materials like wood or metal. They also come very plain or with a lot of detail carved into them. Some are just a single color in a matte or glossy finish while others have been accented with other finishes such as antiquing. You can see in this picture from Frames Unlimited that it could be overwhelming. That's where the help of a professional comes in again. They can help you narrow down your choices. The size of your artwork and whether is is a casual or more formal piece of art may suggest the direction you want to go in.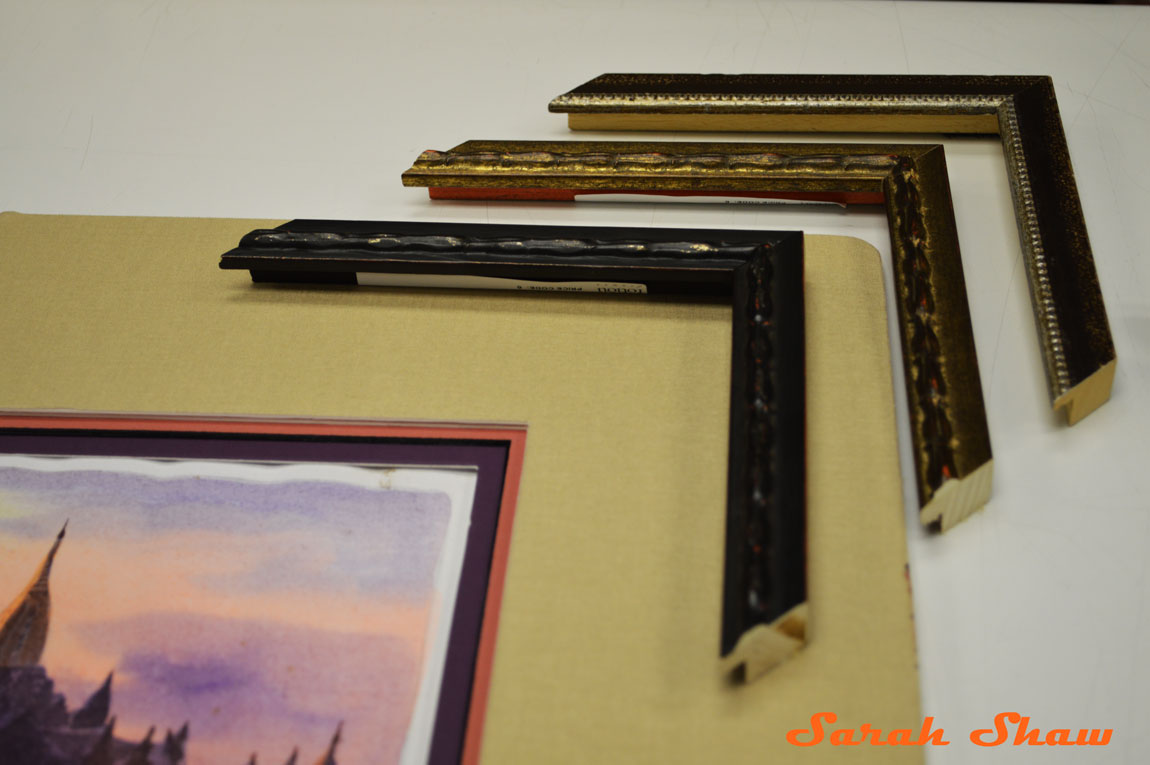 After trying out a bunch of frames Sean and I both liked, we narrowed it down to these three. I liked the top option as it was a simple plain wood frame with an antiqued metallic bead going around the inside. It felt like a good option because this painting was going to join a wall of artwork going up a stairway where I showcase pieces from my travels. I wanted the frame to blend in with the other pieces I have put together over time. The other two frames are the same frame, but in different finishes. It has a carved detail of a line of flower buds that reminded me of the strings of jasmine used as offerings at the temples. I liked the black as I thought it would work nicely with the other artwork near where this one would be displayed. In the end I choose the gold version for this framing job as the gold reminded me of the gold leaf that was offered to, and rubbed on, the Buddha in the temples. By thinking about my experiences on the trip, my decision was made easy as I felt the gold flower frame was the perfect accompaniment for my painting as it told a complete story.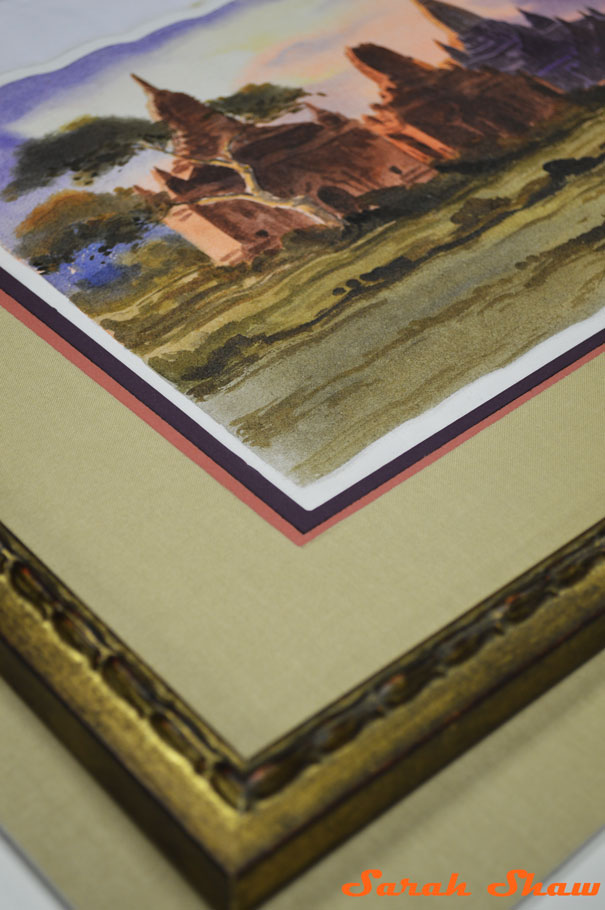 Before I show you how it turned out, I wanted you to see the impact of using multiple mat boards and colors on this painting. Above is the frame I selected along with the colors of three mat boards I also selected. The painting was done on white so by revealing that too, it gave the effect of four mat boards. By using the three colors it allows different colors from the painting to be highlighted and accented. Some pieces of artwork don't have as many colors to work with or it may not be desirable to use so many. It will also cost a little more to go with more layers so let's look at what other options will do for this painting.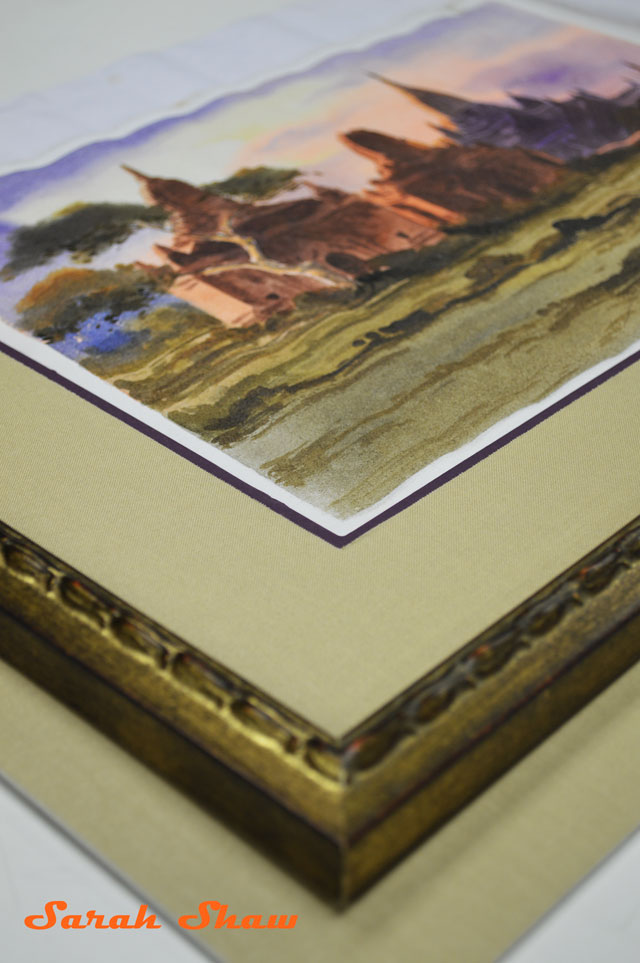 Maybe instead of three mat boards, you would prefer to use two. This is still a beautiful option for framing. The bulk of the exposed mat board is the neutral color with a sliver of purple exposed. This combination keeps the focus on the painting and the hint of purple brings out those colors in the artwork.
You could also choose to go with a single mat board. As I mentioned, the white of the canvas can be left partially exposed so it will give the effect of two mat boards. You may choose to use a neutral, single mat board. This definitely draws the eye to the details in the painting.
But what if instead of a neutral, you wanted to make a big impact. There are so many colors in this painting to choose from. Look at how it looks if you choose purple. Do you notice how using this color makes the purple shadows on the temple come alive? Or you may choose the color to coordinate with other colors in the room you want to display it in such as what you have chosen for your furniture, linens, rugs or other artwork.
I know you are as excited as I was to see how my framing order turned out! For me, it was the perfect balance of a neutral top mat and frame to help it work well with other surrounding artwork. The other colors in the inner mat boards helped to accent and enhance the painting. I think Sean and his team did a fantastic job, as always.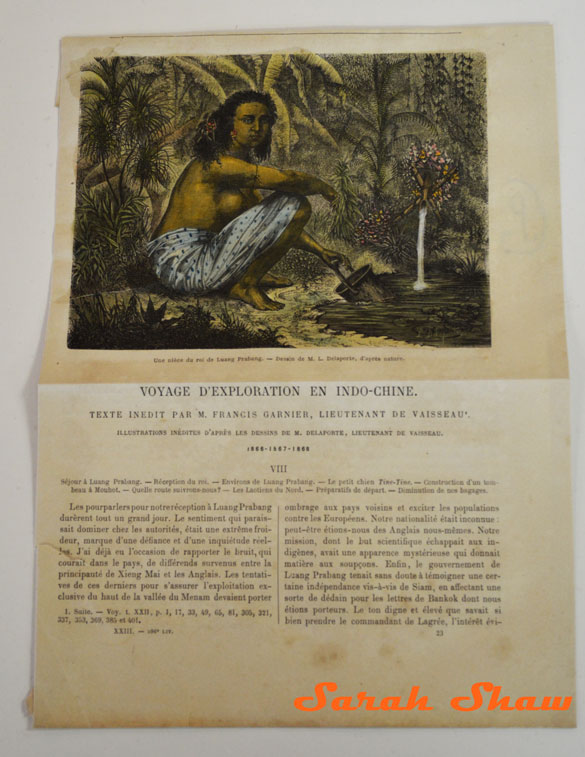 Let's head to Laos next. While browsing in a bookstore in Luang Prabang, I discovered they had a selection of antique book engravings from the area, many of them hand colored. I thought one would make a perfect souvenir of my visit. In the end, I selected one showing the niece of the King from the mid-nineteenth century. At that time, the capitol of Laos was in Luang Prabang and the palace was just a few blocks from the bookstore where I purchased this. I like that it depicted royalty as they were at the time or at least how they were seen by the French colonizers. This is a page from a book in French about the region. It had been folded to display just the engraving. In talking with Sean, we decided we wanted to reveal the caption as well as the title of the chapter when we framed it as it would help to place the image to viewers.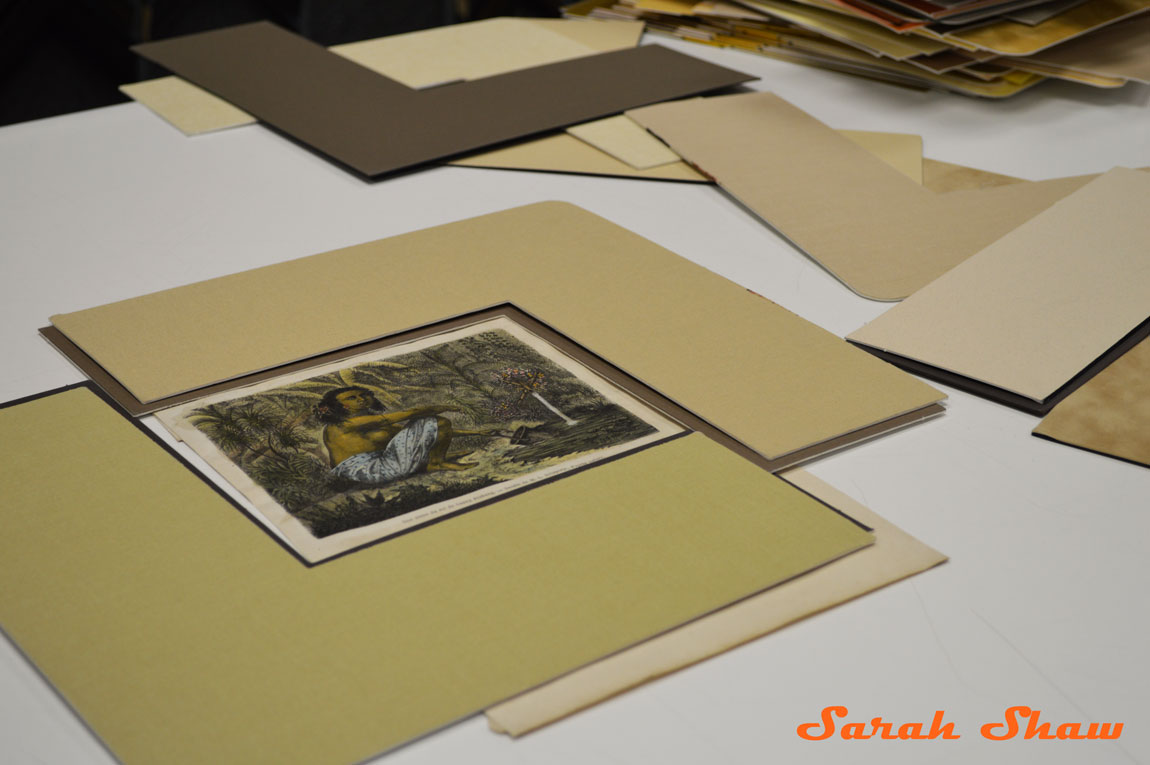 Again we started by choosing the mat boards we liked for this artwork. Pretty quickly we decided we wanted to do a neutral mat board with an accent underneath. This engraving is so dark, it needed a lighter color to balance it out. A darker inner mat board, echoes the lines within the engraving. Both mat board options work. One has more green in the color and the other is more tan. To choose which way to go, we decided to see what frames we liked as one of them might dictate one mat board over the other.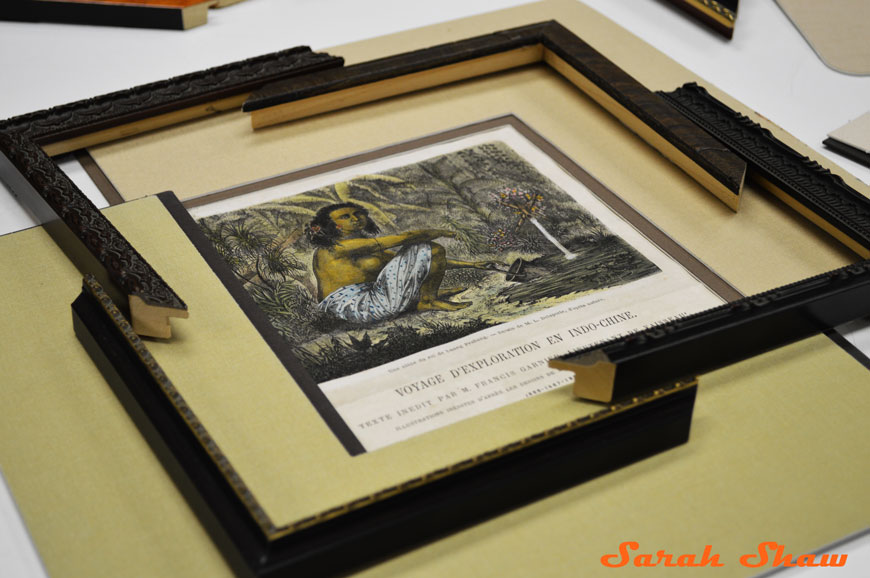 Here are the frame options that were our front runners. I knew I wanted to go with a narrow frame. I wanted to keep this picture relatively small in size as well as keep the focus on the art. A simple frame would do just that. This will again be joining the international collage on my stairway so it needed to play well with other artworks. Just because you want a simple frame doesn't mean that it has to be plain or boring. You can see that one option here has a antiqued metallic detail. Others have subtle patterns carved into the wood. One thing I look for when I am framing something old like this is that I like to have the frame make sense with the age of the art. I didn't want to do a bright modern chrome frame with this piece. I wanted it to look like a French lady might have framed this in 1880 to hang in her library and I have just discovered it in an antique store. The frame also needs to make sense with where the artwork was found. It should look like it could have been done locally instead of in Michigan. All of these frames work for that requirement.
Here is the finished framing of my antique engraving from Laos. I'm really pleased with how it turned out. I selected a frame that looked like natural pieces of wood. It had ridges almost like it was stained bamboo. I choose the mat board that was more tan than green with a dark brown interior mat board. Those choices allow the subtle shadings of colors in the engraving to come forward and been seen easily. This is a really easy thing for you to reproduce by finding an old magazine during your travels or using postcards. In fact, let's look at something like that.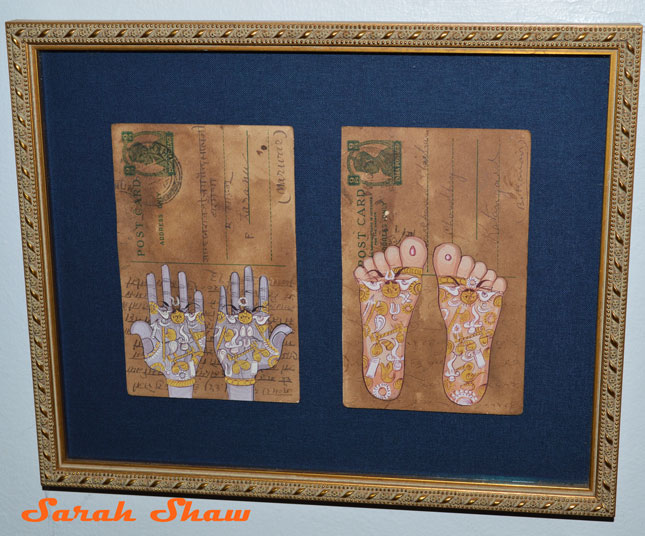 While traveling in Tamil Nadu, India a few years ago, I came across a selection of paintings done on vintage postcards. I love the patina, the foreign script and the old stamps. The artist had gained a collection of these and painted right over someone's message. Above are two postcards that I had framed together. One depicts a set of palms and the other soles of the feet. I thought they would look perfect together. I chose to have them placed over the mat board rather than have them revealed through an opening in the mat board. You can see how the effect changes. It emphases the found object as opposed to presenting it as formal art. The gold frame works well with the gold accents on the hands and feet. I also really love the color indigo so these were matted on a mat board covered in indigo silk. This coordinates with other postcards from the same artist but this time of Ganesh and an elephant, seen below. Although these now hang in different spaces, I had all the frames of the postcards done the same way so they would work together if I ever wanted to group them all together. I have an affinity for Ganesh and these are part of an entire wall of Ganesh artwork I have collected. Finding old postcards while you travel is an easy and inexpensive way to create art for your home.
Another grouping I put together hangs in my office at work. It is a collection of five small paintings I found in Hanoi, Vietnam. They depict women, from the Red Dao Hill Tribe, wearing traditional head scarves. I am fascinated by the Hill Tribe cultures so bringing home paintings to showcase some of their traditions was a special find for me. As mentioned, I love indigo and so do the Hill Tribes, picking indigo mats was a meaningful choice. The metallic on the frames, picks up the glimmers of metallic paint used for the jewelry the women are wearing. These paintings were no more than a few dollars each in Hanoi so they are affordable for everyone. Buying a number of smaller artworks also allows for big impact on a wall. Plus they can always be broken up and hung in different spaces as your needs change.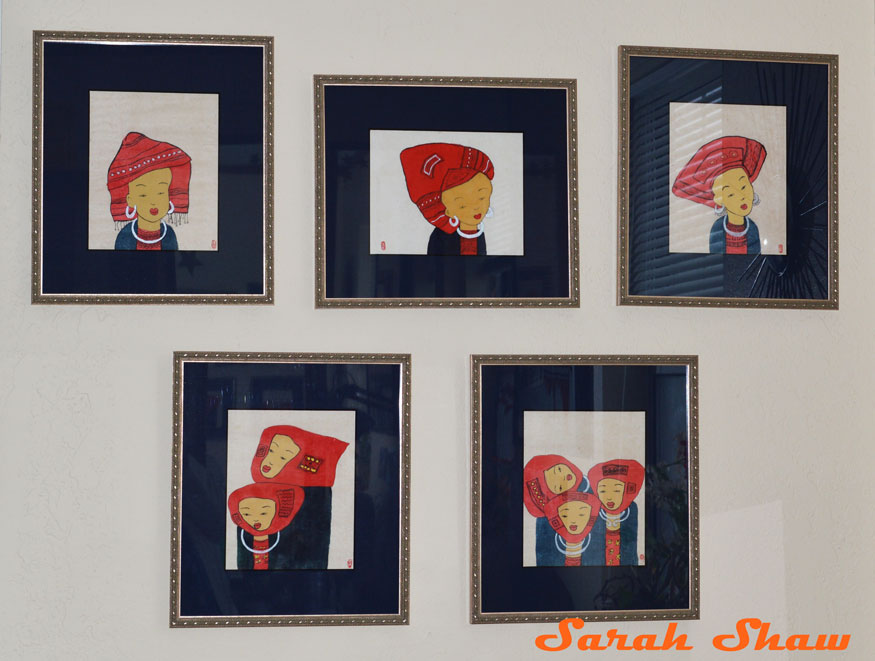 Keeping with a Hill Tribe theme, let me show you that you don't have to be restricted to just traditional artwork when you have things framed. While in Sapa, Vietnam, I purchased a number of vintage textiles. Many of the different ethnic groups have traditions of amazing weaving and embroidery techniques. One item I bought was an old wedding scarf worn over the head and face of a bride for the ceremony. It is embroidered in tiny cross stitches. I wanted to preserve this amazing creation so I had it framed. It now hangs above my chair at my desk in the office.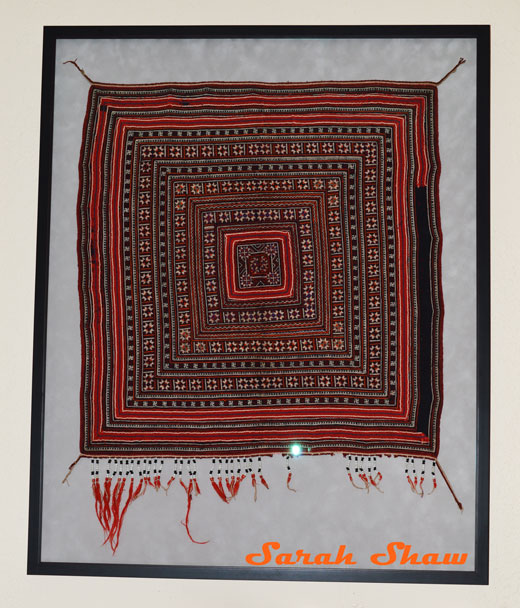 Another textile I really love is this piece of silk brocade from India. While visiting Varanasi, we were able to shop at Mehta International. They have been creating fine silk fabrics and brocades for centuries. I couldn't afford a large piece from them especially since this was at the start of one of my trips and I was spending conservatively and trying to travel light. They offered a number of squares of some of their centuries old patterns so I purchase one of those in gold. When I had it framed, I asked that it be floated between two pieces of glass so that the transparency of the silk could be seen. No mat was used. This allows it to work in almost any room now as the color of the wall shows through and coordinates with the gold thread of the design.
Another framed textile is also from India. While staying in Rohet Garh in Rajasthan, I admired a patchwork of scraps of fabric from wedding saris and other garments hanging in my room. Later while in Jaisalmer, I purchased a vintage blanket from a vendor. He claimed not to have change and I only had a few more minutes before I had to meet the group. He suggested I select one one of his patchwork pieces in place of change. Now I'm sure this was a tactic to keep all of the money but I was in a hurry and had wanted to find one similar to the beautiful one in my hotel so I quickly selected the one I now own. Eventually I decided this would be perfect to fill the space above my TV. I was concerned about dust and keeping it clean as TVs as notorious for attracting dirt. As this was beaded, mirrored, sequined and doubtfully colorfast, I decided to have it framed to save me grief later. The irony is that my heart became set on a beautiful frame that of course was hand carved from Italy. Once I saw it, nothing else would do. That and the size of the glass made this a very expensive and impractical framing job but I stuck with it. No longer does this hang above my TV either! It starts my international stairway from the first floor. But I gaze at it and admire its beauty everyday and even now as I write this post. Not bad for what someone threw in instead of my change!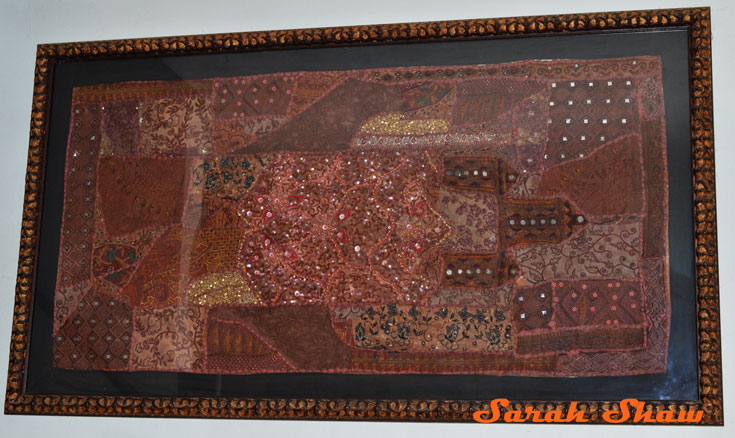 I'll leave you with one last framing indulgence. While in an antique store in southern India, I came across a number of old thangkhas from Tibet. Thangkhas are religious paintings depicting important stories and deities from Buddhism that are painted on fabric making them easy to roll up and store or travel with. Some are quite large, the size of a several story building, and displayed on special days. This one is a modest 3 feet by those standards. As this thangkha was old, I decided rather than keeping it on its wood pieces for rolling (the end caps were missing, as well as some of the covering fabrics) I would frame it to stabilize and protect it. I love how this one turned out.
There are many ways to frame the artwork you purchase during your travels. You can but ready made frames or visit a discount store. For me, I always go to Frames Unlimited. I feel that the professional framing job I receive along with the knowledge from a seasoned framer like Sean are invaluable. I want my artwork to be protected from light so it won't fade or be damaged. I want acid free mat boards. I want someone who knows the products inside and out to advise me on what will work best- they are always right! I select the artwork, Frames Unlimited does my framing and has for over 20 years. They were founded in Grand Rapids, Michigan by Dorothy Zimdar in 1971. Today they have 18 retail stores in Michigan and Ohio. Sean Doyle has been with Frames Unlimited in the East Lansing store for almost as long. I wouldn't trust my artwork with anyone else and encourage you to find an established custom framer in your neighborhood, too.
If you would like to see more of the art I have collected during my travels and had framed at Frames Unlimited, please visit WanderShopper's Facebook Fan Page and the Framing Your Travel Art album. I'd love to hear from you about what you like as well as what artwork you have found during your travels. Please leave me a comment.
Until we shop again,
Sarah