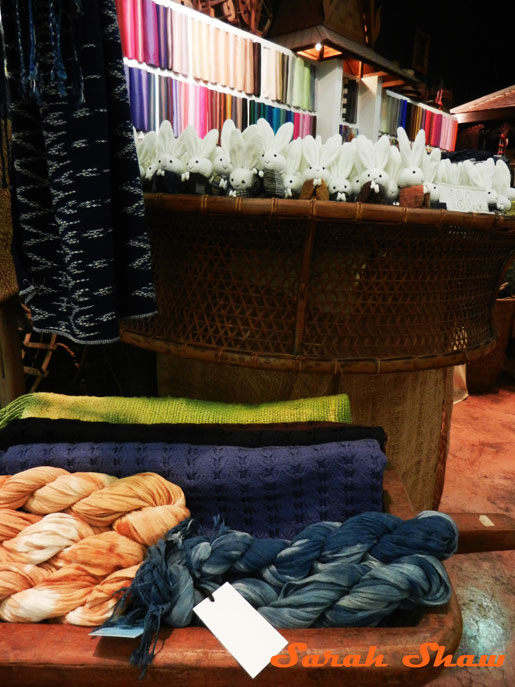 Indigo and Ikat are two of my favorite things in fabric so when I discovered them together at Indigo House in Bangkok, Thailand recently, I was overjoyed. Some of my favorite places to shop while in Bangkok are at the Siam Paragon. I'm not usually a mall girl, and there are plenty of stores I skip, but I am regularly impressed with the collection of wonderful stores Siam Paragon has gathered together in addition to the high-end designers they are known for. One such favorite is Indigo House which you can find on the fourth floor right across from Fai Sor Kam, which I featured in the earlier post Elephants Galore and More. So grab your shopping bags and join me for a look around the wonderland that is Indigo House.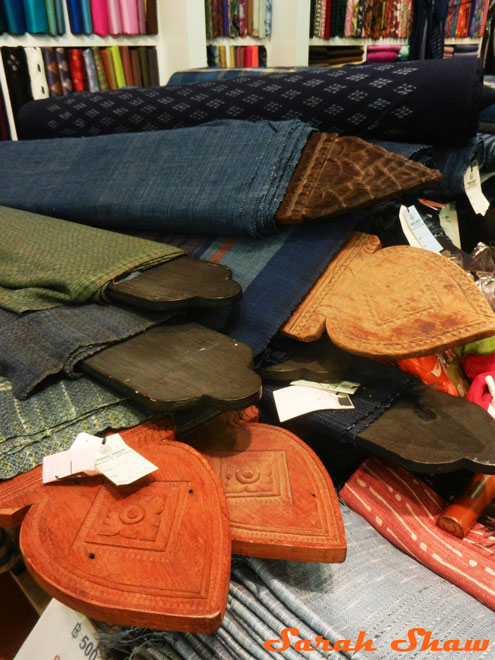 One of the things that grabbed my attention right away when I stepped into Indigo House this last time were the stacks and stacks of bolts of indigo fabric on vintage and antique fabric boards. They looked so beautiful piled on the central island that it made me wish I had my own fabric store so I could display cloth just as they have done. I've never seen the incredible carving on the end boards for fabric before and these were truly exceptional. Quilting is very popular where I live and we are fortunate to have some exceptional fabric stores but I've never seen anyone display their goods so beautifully. It made me want to immediately buy some of everything. I was so excited so see so much handwoven, indigo dyed fabric.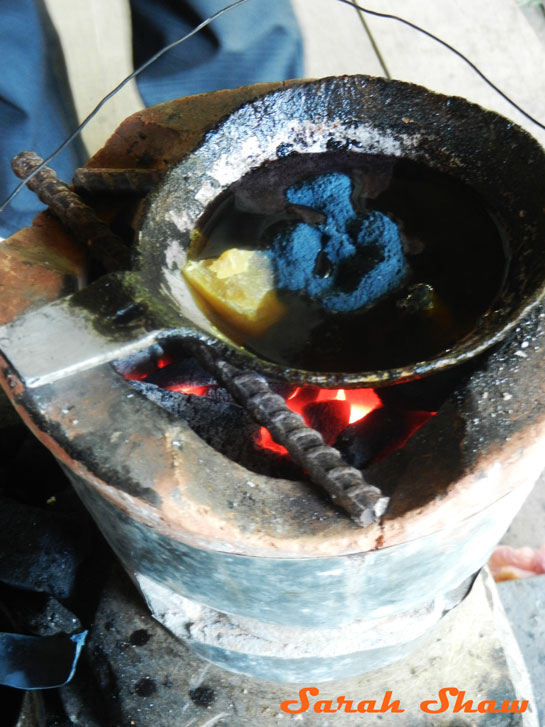 Indigo is a blue dye derived from the plant Indigofera tinctoria. First used in India, they also supplied the west with its source of indigo and as a result the Greek word for dye is indikon. The Romans picked it up where it became indicum where then through Italian, it entered English as early as the 13th century as the word indigo. You may remember back in school when you were learning the colors of the rainbow how you had been given the mnemonic Roy G. Biv and learned that indigo was that shade between blue and violet. It was Sir Issac Newton who introduced the seven colors after his work with prisms. I found it interesting that he choose the seven colors to correspond with the notes of the major scale, each of the primary colors being assigned a note and indigo and and orange were the semitones. Maybe this subtly is one of the reasons I have long been drawn to indigo. In the photo above, you can see pure indigo dye being added to beeswax which makes it visible for use in a Hmong batik class I took in Luang Prabang, Laos.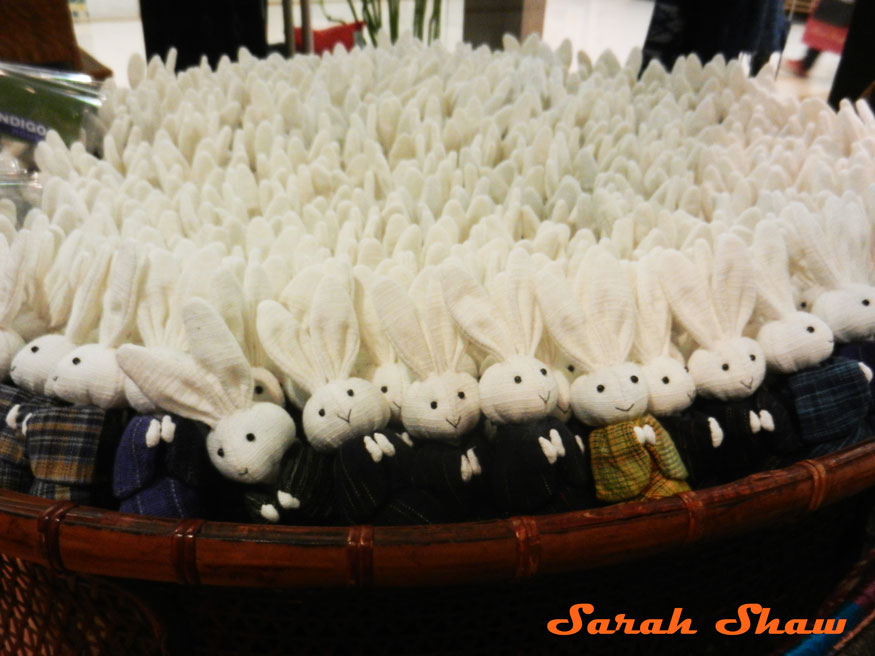 Indigo has been embraced as a color around the world. As early as 660 CE, the Japanese included indigo in their grouping of traditional colors. Known there as ai-iro, the shades produced by indigo dyes are favored in kimono designs. In Mexico, indigo is only behind silver and cochineal (used to create the color red) in terms of its importance as a historic export. In the 19th century, many military began to use Persian indigo (once known as regimental) as they favored the indigo dyed cloth from Persia for their navy uniforms. Shades of indigo became more readily available to artists with the advent of psychedelic art which called for brighter pigments than traditionally available. Worldwide, people love their bluejeans. Made from denim cloth dyed with indigo, the color is now regularly known as denim.  Even one of Crayola's indigo crayon shades has been called denim since it was introduced in 1993. Today, El Salvador is the major exporter of indigo to the world for those who require a natural source although more often synthetic dyes are used.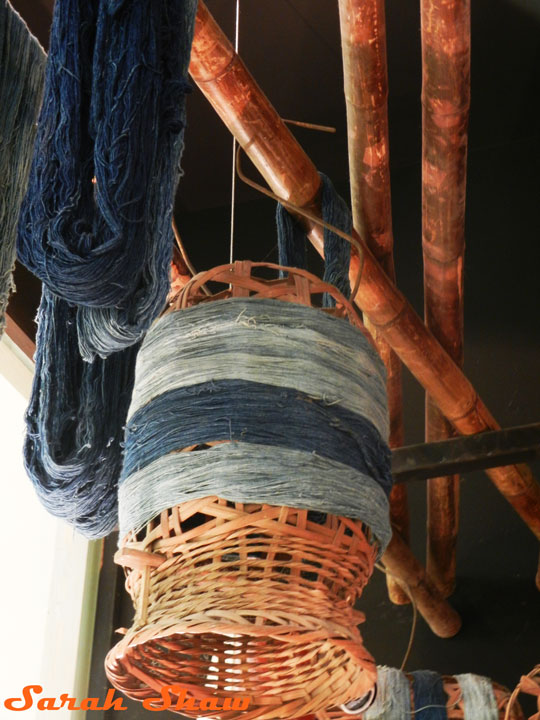 Back in Bangkok at Indigo House, one of the things that stands out is that their fabric is made with natural dyes. The indigo cottons and silks have actually been dyed with indigo which also makes it a more environmentally friendly product. Although synthetic dyes can be cheaper and brighter than traditional natural dyes, they carry a high cost. Synthetic dyes can give off deadly poisons, be carcinogenic and be highly flammable. For some people, synthetic dyes can cause skin irritations and allergic reactions seldom seen with natural dyes. To learn more about it, I suggest you read the Synthetic Dyes post I found on the blog Green Cotton which offers a lot of information on the subject.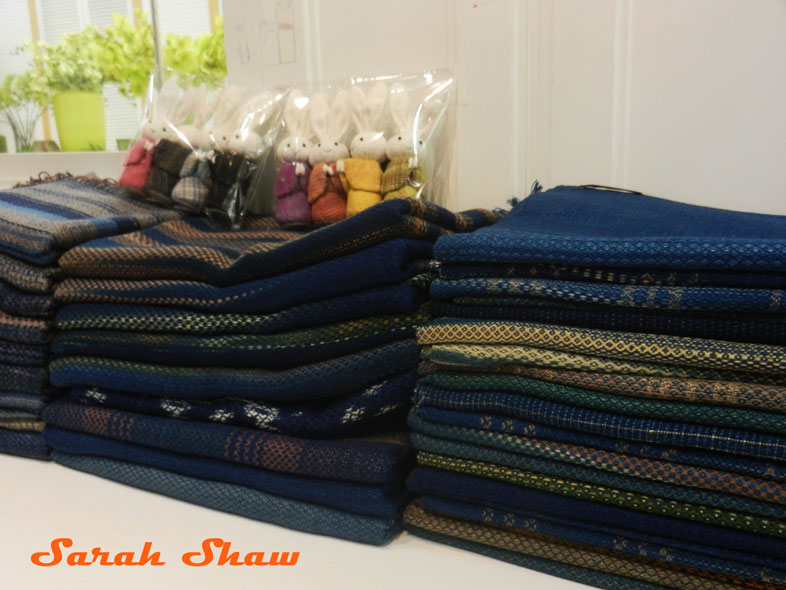 Indigo House offers a number of items ready to be immediately enjoyed or added to your suitcase for the trip home. I fell in love with several of the scarves they had on display. They also have some beautiful handbags, shirts, blouses, skirts and pants. I admired their wonderful collection of pha sin, the traditional ankle length, tube skirt worn so beautifully by Thai women. One big tube, the skirt is held in place with one hand tightly over the right hip as the excess is pulled snugly across the front of the body and tucked into the waist forming the illusion of a wrap-around skirt. The indigo blue pha sin I purchased at Indigo House took my breath away but its beauty also turned it into an investment piece. They have a small collection of vintage items but most of what they offer is new.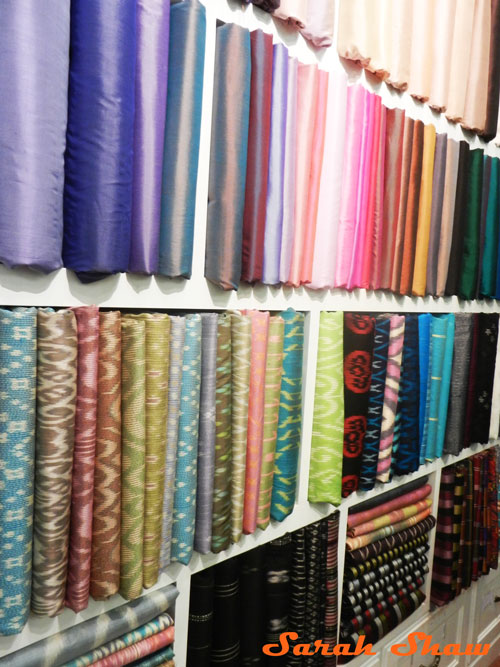 Most people who visit Indigo House do not buy their clothes there ready-made. Instead they choose the style and cut of the garment they wish to purchase, select from the amazing collection of fabrics being offered and have their clothing custom made for them. This is a really easy process. Your measurements would be taken and then a tailor will sew your own unique creation  in just 48 hours. This is something that Americans would almost never do at home but it is so affordable and easy to do that everyone should try it at least once while traveling in Asia. Treat yourself to an indulgence of having something unique made just for you that has been designed by you.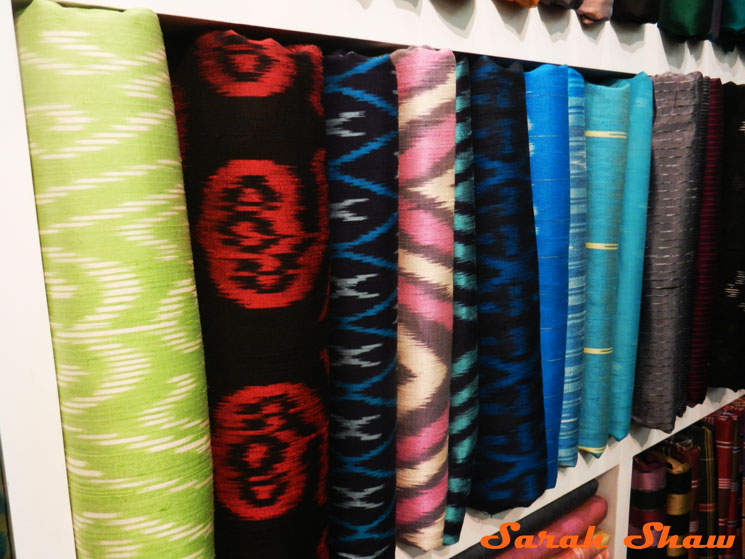 While browsing through the gorgeous collection of fabrics offered at Indigo House, you may decide to go with one of their ikat options. The word Ikat is derived from the Indonesian word meaning "to tie." Ikat is like a distant cousin of tie-dye which you might remember from your summer camp days where you took rubber bands or string and tied them tightly around the material before you dipped it into the dye. Then afterwards when you pulled off all the rubber bands, the area that was covered remained the initial color of the material or another way to say it was that it "resisted the dye." Ikat is also a resist dye process except instead of banding and dying fabric after it is already made, with ikat you are resist dying the fiber before it is even woven.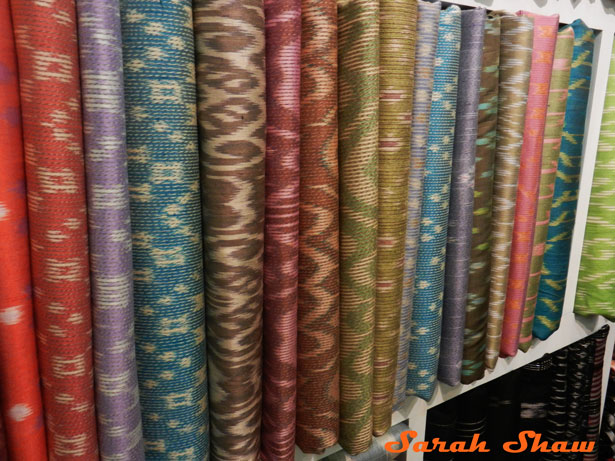 For ikat, the thread or fiber is tied in bands and then dyed the colors desired. Ikat techniques and patterns have been embraced all over the world. It is uncertain where ikat first developed. It probably did spontaneously and independently in many locations throughout history. You can find early ikat examples from pre-Columbian Central and South American countries. Many communities along the silk road across Asia developed sophisticated ikat patterns. Several countries in Southeast Asia like Thailand, Myanmar, Cambodia and the Philippines have a long history of ikat weavings. India, Japan and Indonesia are the only three countries to have developed a double ikat technique where both the weft and the warp threads have been resist dyed which requires great skill from the weaver to create their elaborate designs.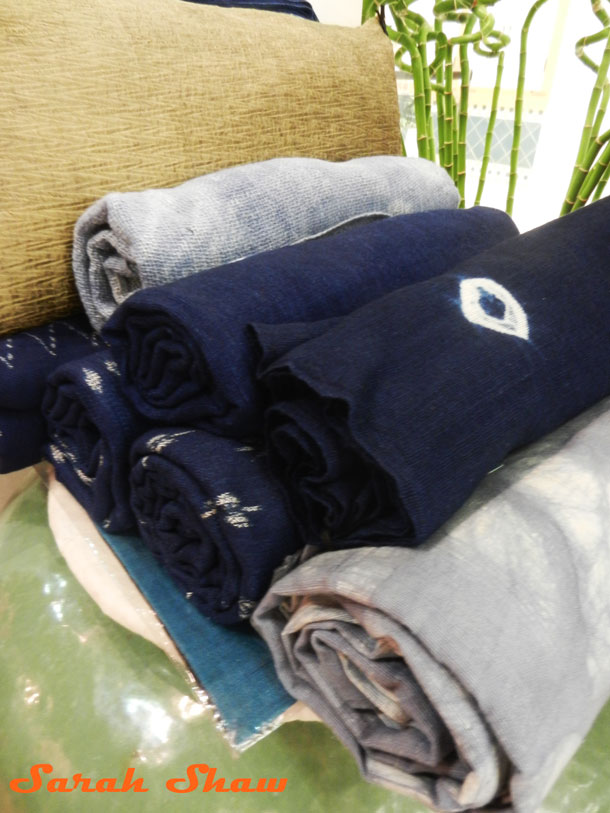 At Indigo House, I was thrilled by the collection of ikat they offered. They had many shades of ikat in silk that could be made into more formal skirts, blouses, jackets or dresses. Every color of the rainbow was represented as well as bolder selections like black and blue or black and orange. I could always choose to go with my first love, indigo, as seen above in cotton and in a rougher weave. Different shades of indigo are achieved depending on how long the fabric is left in the dyeing vat. Shorter lengths of time will produce lighter colors. To achieve the deep shades in the center, you may need to dye it for a month.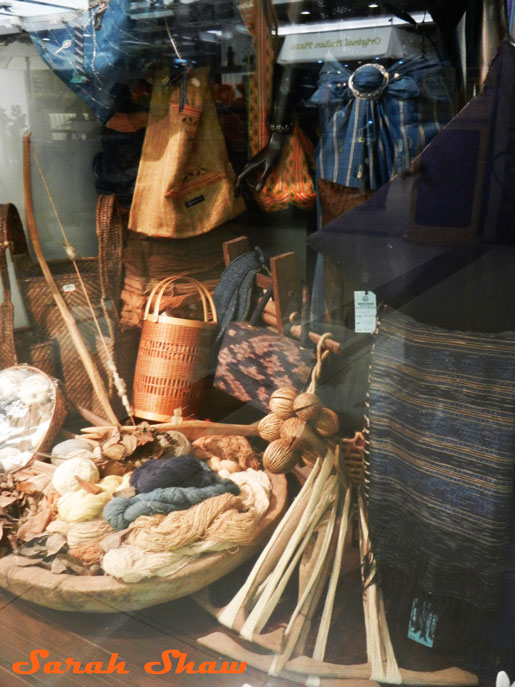 Although the image above has a bit of blur to it from the reflection of the glass, you can see what a beautiful selection of goods they carry at Indigo House. Featured prominently are the indigo items but you can also see a collection of other artfully woven things like the baskets. I know Indigo House will continue to be a store on my "must visit" list for all of my stops in Bangkok moving forward. I will always be able to find at least a bag full of indigo and ikat to come home with me each time.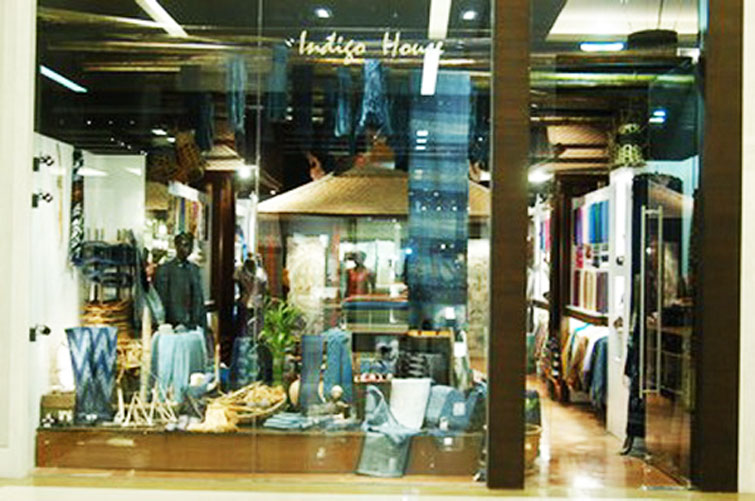 You can find Indigo House on the 4th Floor of the Siam Paragon. Their phone number is +66 (0) 2129 4518.
What is your passion? Indigo? Ikat? Or Indigo Ikat? Where do you like to buy yours?
Photo credit: Exterior of Indigo House (above) courtesy of the Siam Paragon