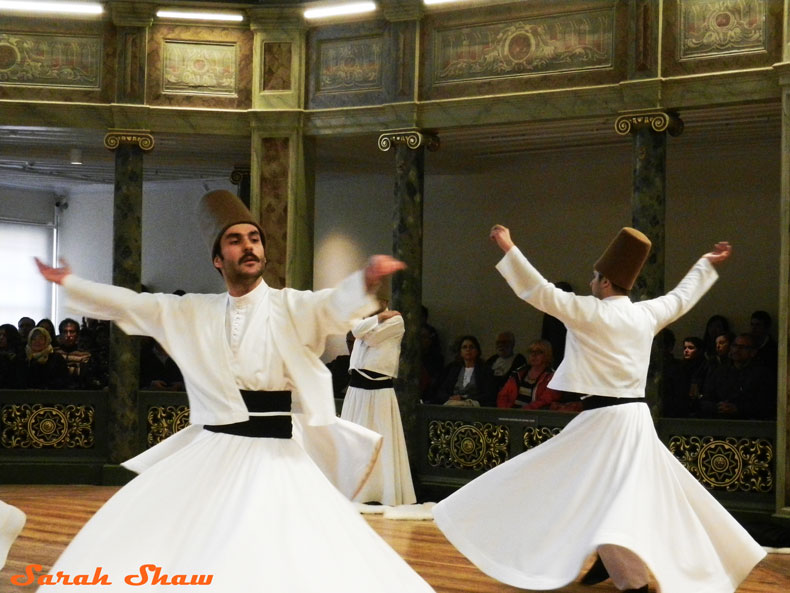 I love finding souvenirs that remind me of favorite moments on a trip like attending a ceremony of the Whirling Dervishes in Istanbul. I didn't know very much about what it meant to be a dervish or why they twirled other than it was like a form of meditation. Visiting Turkey seemed like the perfect time to learn more about this intriguing practice and I was thrilled when I discovered that I could actually attend a ceremony. Dervishes have become one of the symbols of Turkey and you can find their images represented in many materials in markets, studios and shops throughout Istanbul. Join me for the Sema Ceremony of the Whirling Dervishes and I'll also share with you shopping ideas of how to bring a dervish back home with you.
The Dervishes began Whirling back in the 13th century when the practice was founded by the Persian poet Jalal ad-Din Muhammad Balkhi-Rumi, also known as Mevlana Celaleddin-i Rumi, or Rumi for short. The story says that Rumi was walking through a marketplace one day when he heard the rhythmic hammering of the goldbeaters who were chanting the dhikr "There is no God but Allah (The God)" over and over. Rumi is said to have been so overcome with joy, that he stretched out both of his arms and began to spin in a circle. Followers of Rumi created the Mevlevi Order in Konya, Turkey and began to perform Sema Ceremonies as a mystical remembrance of God. Today, the Mevlevi Order is led by the 20th great-grandson of Rumi.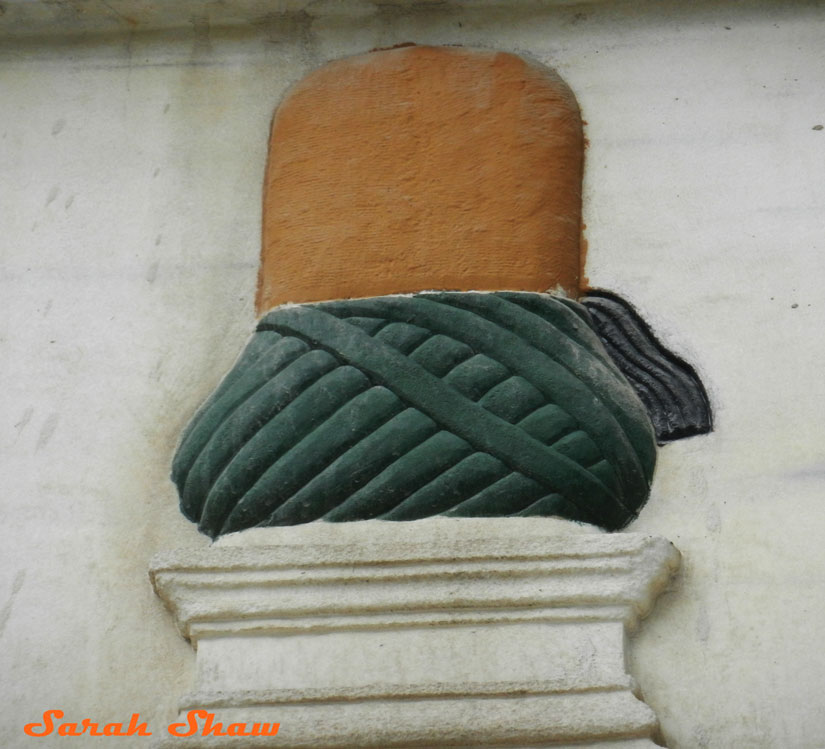 The Mevlevi are a Sufi order, meaning that they are from a branch of Islam that believes that it is possible to draw closer to God in this life through practices and austerity. A Sufi may live in a cell of a monastery, living a life of self-discipline that is similar to the life of a Christian or Buddhist monk or a Hindu Sadhu or Ascetic. A seeker would need to find a teacher to show him the way. This learning cannot be obtained through books and must only come through direct experience and serving their teacher. In the Mevlevi Order, an initiate must serve in the kitchens of a hospice for the poor for 1,001 days before being accepted for spiritual instruction. And after that, they would be required to do a solitary retreat for another 1,001 days before their instruction would be considered complete.
As part of its mission to introduce Turkish history, culture and civilization to the rest of the world, the Istanbul Art, Science, Education and Culture Association (ISBEK,) founded in 2008, sponsors concerts of the Mevlana Sufi Rituals Society. Although it is possible to find Whirling Dervish performances as part of a dinner theater for tourists, I was glad to find a group of Dervishes practicing an authentic Sema Ceremony as it has been done for centuries and that people of all faiths are welcome to attend. It is held in the Mevlevi Lodge (Galata Mevlevihane) which has a traditional performance space. You can purchase tickets the day of a performance but it is open seating so I recommend arriving half an hour or more in advance of the start time to guarantee you will have a seat in the front row for the best view. The Mevlevi Lodge is an intimate space and there are not many seats so I advise buying your tickets at the box office out front earlier in the day and then spending your afternoon shopping in the Galata neighborhood or visiting the Pera Museum just a few blocks away. The paintings to the right and above right are both from the Pera Museum. The one on the right is by famous Turkish artist Osman Hamdi Bey.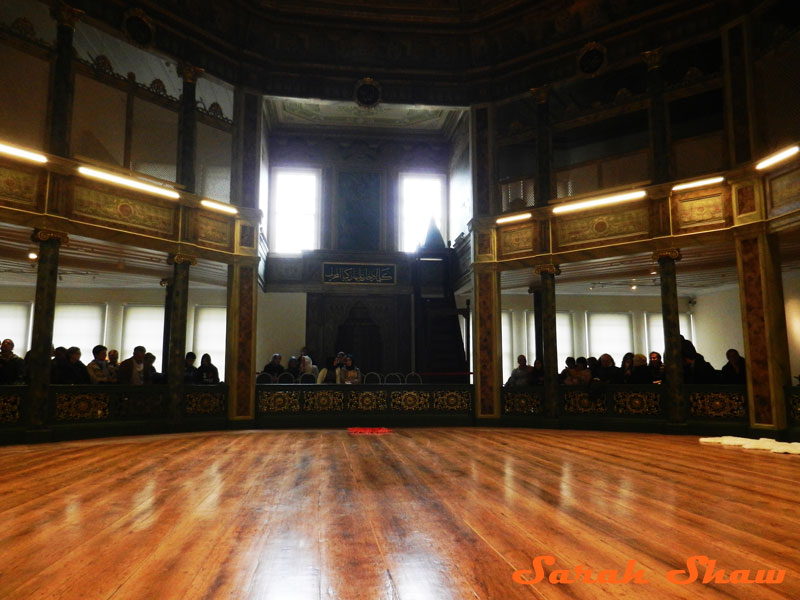 A Sema Ceremony is said to symbolize the different meanings of a mystic cycle of perfection broken out into seven parts. The Whirling the Dervishes do is an extension of a beings natural inclination to revolve. They point to how planets rotate on their own axis as they also spin around the sun. On a molecular level, electrons and protons are also rotating in an atom. The circulatory system moves blood through the body in a continuous cycle. Because of our intellectual ability, humans are able to replicate this inclination to revolve and by doing so we can begin our spiritual ascent to the "Perfect." During this journey, you travel through love, deserting your ego, finding the truth and arriving at the "Perfect."  You return from this spiritual journey as a more mature person who is "able to love and be of service to the whole creation, to all creatures without discriminating in regard to belief, class or race."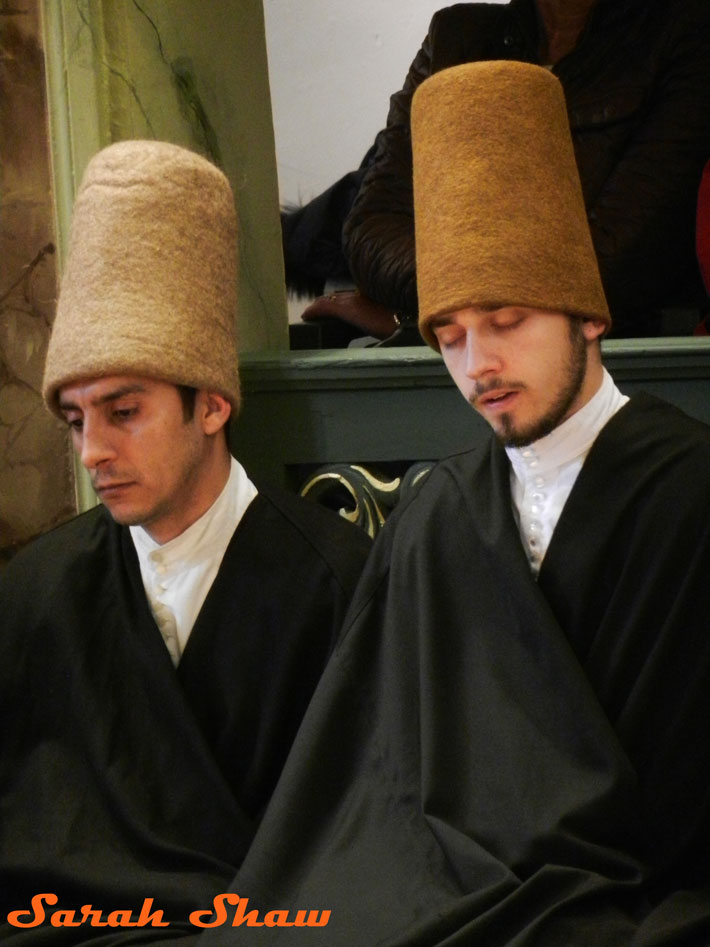 One of the things you will notice right away is that there is a lot of symbolism in the ceremony. The Dervishes all wear the same garments for the Sema Ceremony. The felted headdress he wears signifies his ego's tombstone. The white skirt, his ego's shroud, is exposed to the truth when the Dervish removes his black cloak near the beginning of the ceremony. At the end of the ceremony, together the dervishes collect their black cloaks to once again cover themselves.
After the attendees have taken their seats, a procession of Dervishes enter the performance space in single file. Their teacher sits in the center of the floor along the back with the Dervishes in a seated line along one side. Underneath their black cloak, their arms are crossed over their chests with their hands resting on the opposite shoulders. This position is one they assume frequently during the ceremony as it signifies the number one and "testifies to God's unity." The Dervish are quiet and focused inward in meditation and prayer. The first part begins when a eulogy Nat-i Serif to the Prophet Mohammad and to all Prophets before him. Praising them is a way of praising God as he was the creator of the Prophets. Following the eulogy is the second part which is a beating of a drum to symbolize the Divine order of the Creator. The third part represents the Divine Breath, or the first breath which gives life to everything. It is symbolized by playing an improvised melody, or taksim, on a ney which is a reed flute.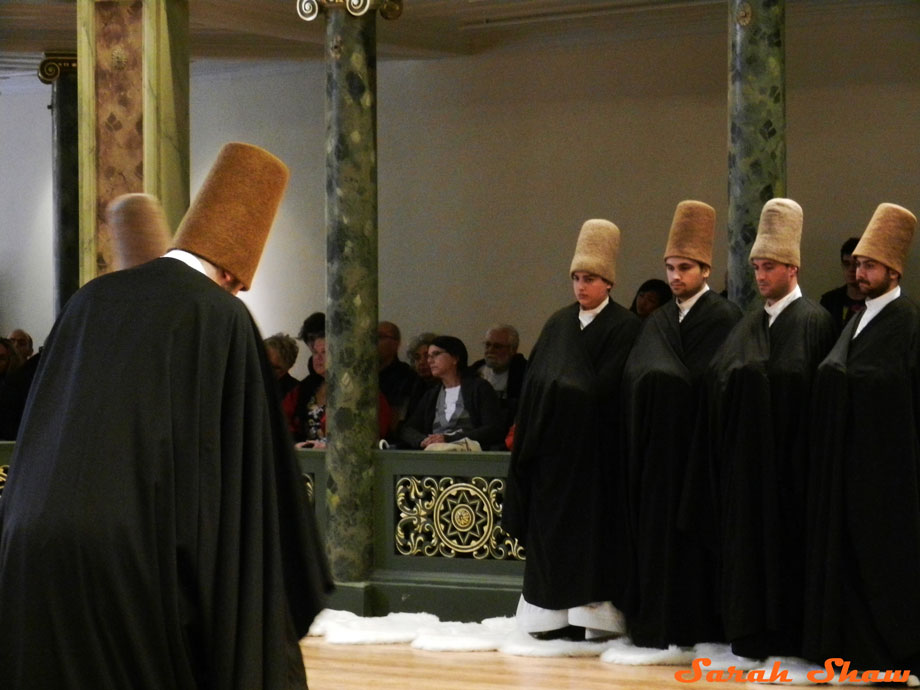 The fourth part begins with the Dervishes greeting each other by bowing towards the group. They perform a circular walk, or Devri Veledi, while music is played. The walk is done sing file and around the entire parameter of the performance floor. This fourth part symbolizes souls greeting souls that have been concealed by shapes and bodies.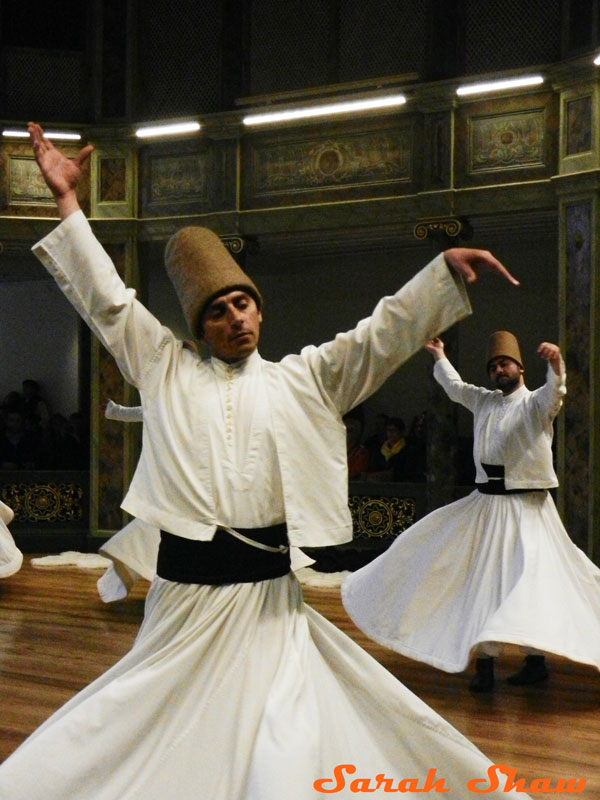 In the fifth part, it is finally time to whirl. The Dervishes begin by discarding their black cloaks, which allows their egos to be exposed to the truth as they travels through the next stages of the Sema Ceremony. The whirling is done is a series of four salutes or Selam's. To begin and end each salute, the dervish assume the position of one with his arms crossed over each other across his chest. When whirling, the Dervish's arms are open with his right hand palm up towards the sky ready to receive God's beneficence. His left palm is pointed down towards the earth as he turns and pivots from right to left so he is revolving around his heart. He pivots on his left foot. Revolving this way, he symbolizes God's spiritual gift to the people and the Dervish embraces all humankind and the world with love  and affection.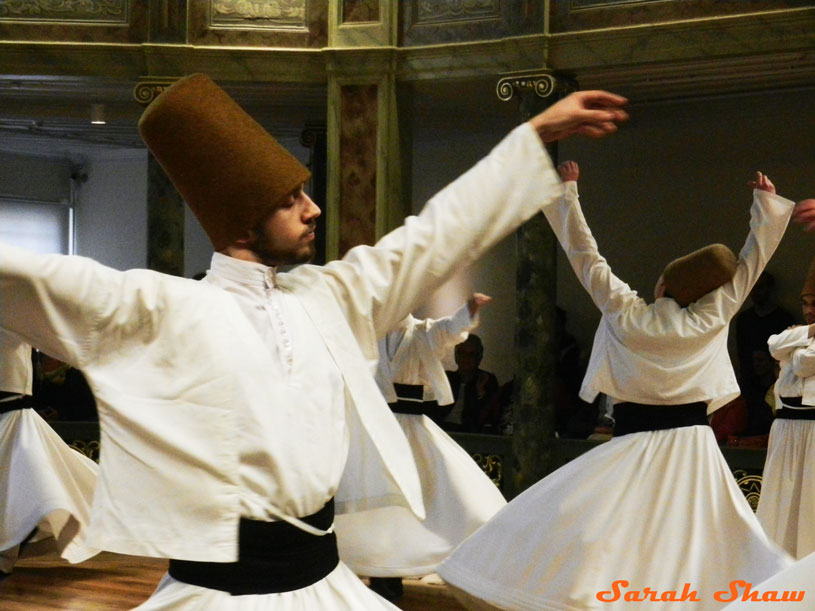 As I mentioned, the fifth part is divided into four salutes. The first salute represents mans birth to the truth. The second salute expresses the rapture man feels as he witnesses the splendor of creation.  The third salute is the dissolving into rapture and abandoning the mind to all love. The dervish will focus on abandoning ideas of self to become one with everything. This high state of ecstasy in Islam is called Fenafillah. The goal is not to reach a sustained experience of this ecstasy, as nirvana would be to the Buddhist, but to only gain realization of the state. In the fourth salute, the Dervish follows the example of the Prophet who ascends the throne but then returns to his task on earth.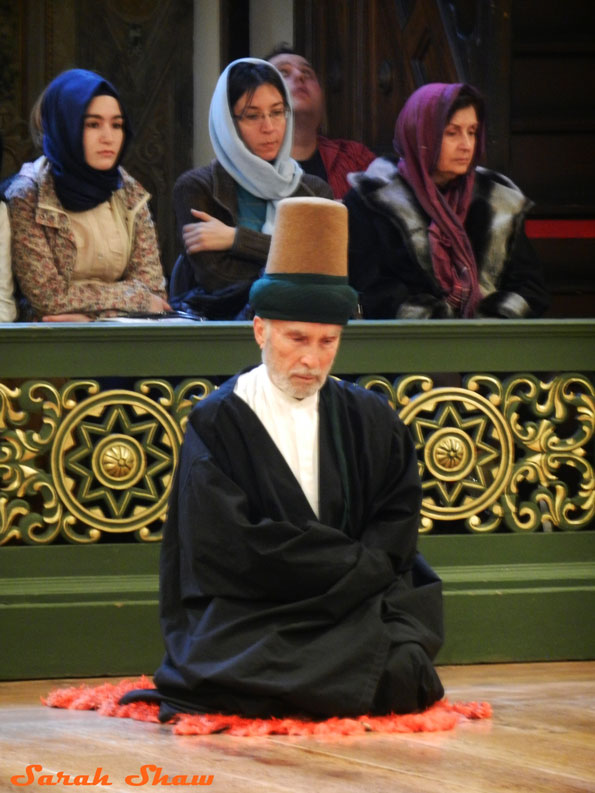 The sixth part of the Sema Ceremony contains readings from the Qur'an followed by the seventh part where a final prayer is offered. This prayer is for peace for the souls of all the Prophets as well as all believers. The Dervishes pick up their black cloaks and drape it over themselves again. And just as quietly as they came into the space, they form a line and walk slowly back out of the theater to return to their meditation cells. As you depart the Mevlevi Lodge, you may want to pause at the graveyard just outside. The tombstones of buried dervishes may have additional meaning for you now that you have witnessed the Sema. Each tombstone is tall and slender, topped with a headdress, and bearing the name and dates of the dervish below.
The Sema Ceremony is an unforgettable experience. The rustle of the skirts and the breezes swirled up to your face from their rotation as the Dervishes whirl in an expression of ecstasy. I've never witnessed anything like it before. Luckily many opportunities exist throughout Istanbul to bring home a remembrance of the Dervishes. As I had enjoyed the paintings of Dervishes at the Pera Museum, finding a piece of art to come home with me seemed like a great place to start. In the courtyard of the Little Hagia Sophia is a small market full of artisans actively working while you shop. The Little Hagia Sophia is an easy 10-15 minute walk past the Blue Mosque in the opposite direction of the Hagia Sophia. I discovered Ozgun Feride Ozgan at work in her stall, Somuncu Baba Minyatur Atolyesi. She paints traditional miniatures as artists have for centuries. Working on old pages from books, she quickly paints scenes as if she had been asked to for an illuminated manuscript. Her clusters of Dervishes on gleaming gold backgrounds were beautiful. Her paintings represent many subjects and stories but in the end, I selected a trio of Whirling Dervishes which I brought home and had framed. Be sure to stop at the stall a couple doors down where another artist paints tiles in the Iznik tradition.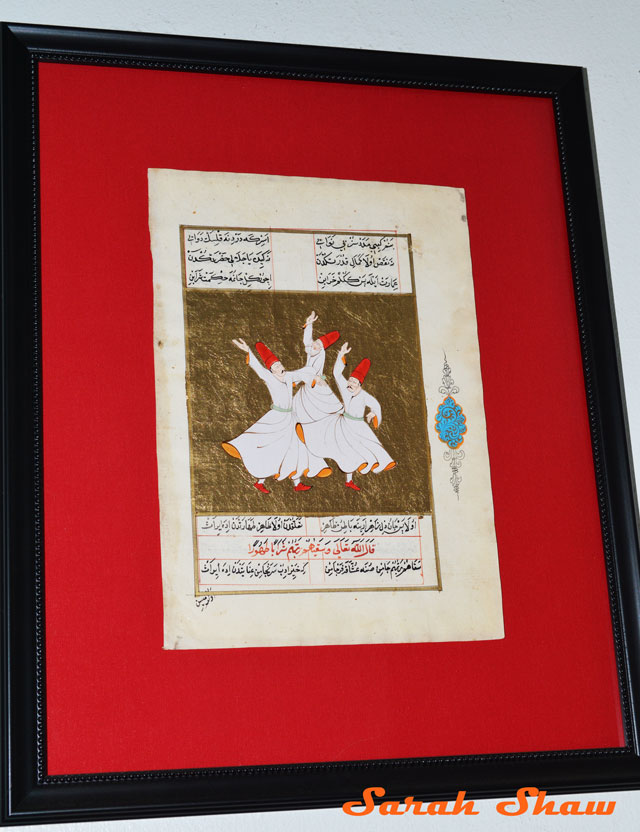 I also purchased another painting of Dervishes. I did this on my first day which was a rookie mistake that I should have known better than to do. I saw it in a window of a souvenir shop where they had stacks of these paintings. I have a rule that if you really want something, and can live with the price and the repercussions, then buy it which I did. But the entire rest of the week, I saw similar pieces everywhere I went and I probably bought mine at one of the more expensive shops. My advice to you is if you will be somewhere for a few days, hold off on that initial purchase and see if you find it elsewhere and determine what the going price is before buying. I do like the one I selected though so that is what matters most in the end. It shows a Dervish in three positions so that it gives the impression of movement. I also like it because it is done in strokes like calligraphy so I believe this would be considered a modern interpretation of arabesque artwork. This I also brought home and had framed. Look for a post later this week on artwork as souvenirs where I will talk more about ways I have done this.
On the way to the Little Hagia Sophia, you will come across a number of shops with a lot of items done in felt. I found a lot in the markets as well but I found some of the nicer examples nearer to the Little Hagia Sophia. One shop in particular, which sat on the corner back behind the Blue Mosque called Galeri 44 Mozaik, has lots of figures done in colorful felt.  You could put together a whole family of dolls or create a sizable collection just in this one shop. They offered a number of different Dervishes as well. The headdresses that dervishes wear are made from a strong and sturdy felt so I like the idea of buying felt dervishes. Some stood on their felt skirts which formed a cone of felt as a solid base. Others were round rolly-polly Dervishes that reminded me of Burl Ives in that animated version of Rudolph the Red Nose Reindeer. I visited them a few times before I made my final decision of what would come home with me. There were so many different ones done in different colors, their arms in different positions and different expressions embroidered on their faces that it made it hard to decide which to adopt. Below is my final cut of dervishes to choose from.
While in the Spice Bazaar, I found a number of nice boutiques I really liked shopping in. One in particular had a number of nice Dervish figurines which was called Tugra Handicraft. I especially liked the silver plated ones and brought home a small silver dervish figurine that spins. I also purchased a silver candy dish that has a dervish at its center. They had a variety of ceramic dervishes too. I liked ones done in a gold finish as well as the more traditional white glaze to match their skirts. Once you've noticed the dervishes, you will start to see them everywhere in every stall in one form or another.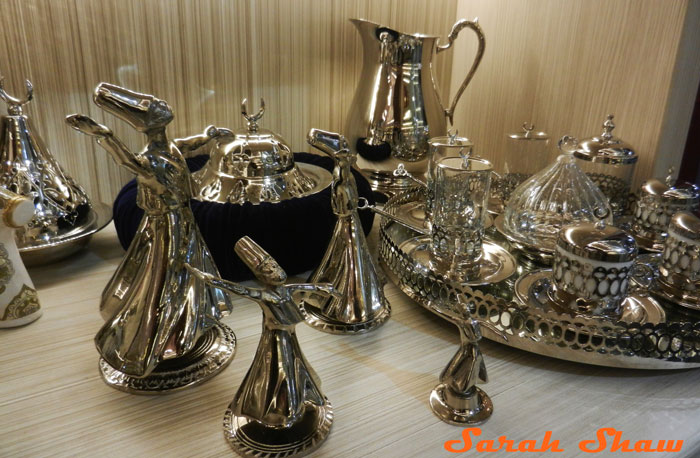 Another way to remember your time at the Sema Ceremony would be to purchase a book on Whirling Dervishes or to do as I did and buy a book about Rumi, their founder. After looking through my options, I selected Love is All: Rumi's Life and Poems of Ecstasy The Whirling Dervishes by Talat Sait Halman. I liked this one especially as it not only had color photographs of Dervishes (including women!) performing in a variety of theaters but it also had a lot of nice reproductions of art representing Dervishes through the centuries. And then of course there is the information about Rumi and a selection of his poems so you can learn more about him directly from his writing. Rumi has been embraced by people of all faiths over the years and was recognized on the 800th anniversary of his birth by UNESCO who proclaimed the Mevlevi Sema Ceremony to be one of the Masterpieces of the Oral and Intangible Heritage of Humanity. Rumi writes on many subjects but I will share with you a small excerpt.
"Whoever joins the circles of our faith to go our way
Sees that in our body hundreds of lives have their heyday;
Whoever drinks nectar from the pitcher of our spirit
Finds such blissful ecstasy that he takes our night for day."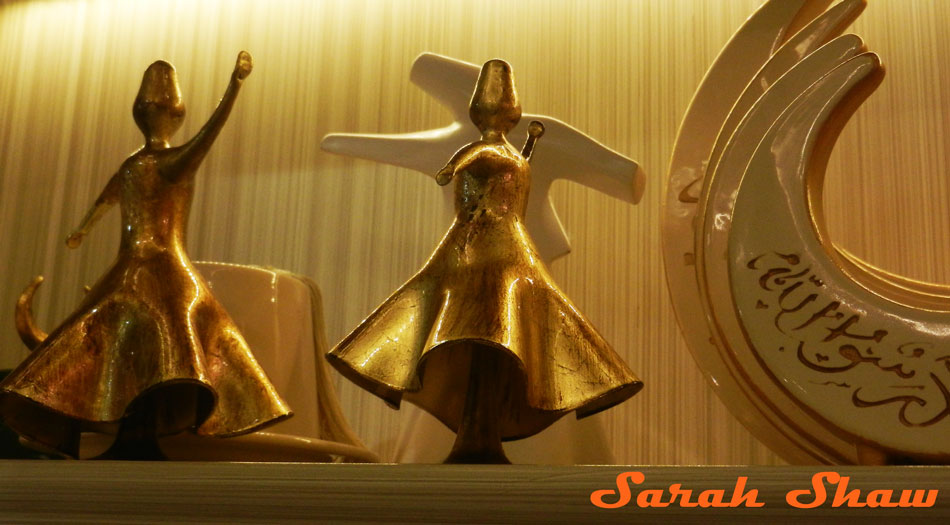 I really enjoyed my time in Istanbul and find Turkey to have a fascinating history and culture. If you would like to learn more, you may want to check out one of my earlier posts about visiting a hamam, what items to buy before your visit and where to find the best ones in Istanbul. Also, please visit the WanderShopper FaceBook Fan Page and the Istanbul, Turkey Album to see more images from my stay in Istanbul last year. Be sure to "like" WanderShopper while you are there so you can get alerts to upcoming posts.
Have you ever attended a Sema Ceremony or seen a Whirling Dervish perform? What were your experiences like?