Turkeys may rule the roost on Thanksgiving, but we all know that the true treat of the holiday is the humble pumpkin. From pumpkin pie to pumpkin latte, pumpkin cheesecake to pumpkin tarts, even pumpkin bread for that day-after turkey sandwich, everyone loves pumpkins. So why not indulge all of your senses in the flavor of the holiday and enjoy some pumpkin spirits. We've compiled seven great pumpkin cocktails, all made with real pumpkin, to satisfy even the most hardcore squash-addict in your family. Perfect for an afternoon meal or while sitting beside an evening fire, they're also great complements to Wanderfood's delicious turkey recipes or her family's traditional Ambrosia salad. So raise and glass and give thanks for all the good things in your life. Happy Thanksgiving!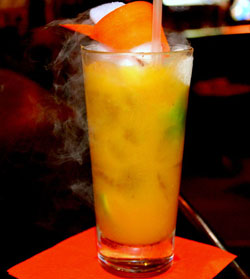 SMOKED PUMPKIN CAIPIRINHA
Photo and recipe courtesy of Sushisamba
Ingredients
1½ oz. cachaça
1/2 oz. mezcal
1½ oz. pumpkin purée
½ lime cut into wedges
Directions
In a highball glass, muddle limes. Add remaining ingredients. Churn with ice. Garnish with a sliver of pumpkin rind.

PUMPKIN SPICE MARGARITA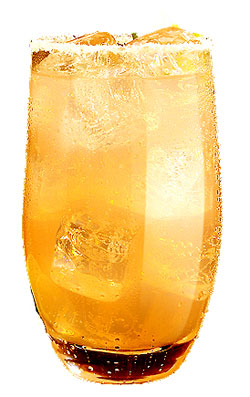 Recipe and photo courtesy of Familia Camarena Tequila
Ingredients
2 oz. Camarena Reposado tequila
2 cans pumpkin purée
½ cup brown sugar
¼ cup sugar
1 tablespoon cinnamon
1 pinch nutmeg
2 cups water
½ oz. orange liqueur
Juice of ½ lime
Directions
Combine pumpkin purée, brown sugar, sugar, cinnamon, nutmeg, and water in saucepan. Stir over low heat for 20 minutes. Remove from heat, cool, and strain for pumpkin simple syrup. In a cocktail shaker, combine 2 oz. of syrup with lime juice and tequila. Shake well. Serve on the rocks.

KANPAI PUMPKIN
Recipe by Rob Floyd. Photo courtesy of 41 Ocean, Santa Monica, CA
Ingredients
1 Japanese pumpkin
Pinch of cinnamon
Butter
Brown sugar
2 oz. bourbon
1 oz. maple syrup
¼ oz. Combier orange liqueur
2–3 dashes Angostura bitters
Directions
Microwave pumpkin for 5 minutes to soften. Thinly slice meat of the pumpkin, removing the thick skin. Place thin slices on cookie sheet and cover with cinnamon, butter, and brown sugar. Bake at 350° for 30 minutes. In cocktail shaker, muddle two baked slices with bourgon, maple syrup, Combier, and bitters. Shake and strain over fresh ice. Garnish with peel from your favorite citrus and slice of baked pumpkin.

IT'S THE GREAT PUMPKIN

Recipe and photo courtesy of Sue Erickson, bar manager at Fireside, Portland, OR
Ingredients
1 oz. Ron Matusalem Gran Reserva rum
½ oz. Cruzan Black Strap rum
2 tablespoons spiced pumpkin butter
Fresh ground nutmeg
Directions
Combine rums and pumpkin butter in a mug. Fill mug with hot water and mix thoroughly. Garnish with nutmeg.
PUMPKIN EATER
Recipe by Kevin Martin, former bar manager at Eastern Standard Kitchen & Drinks, Boston
Ingredients
2 oz. Privateer Silver Reserve rum
1 oz. orange juice
1 oz. honey
1 spoon pumpkin purée
1 dash Angostura bitters
Grated cinnamon
Directions
Combine all ingredients except cinnamon in a cocktail shaker. Shake well. Strain over ice in rocks glass. Garnish with cinnamon.
ZAK-O-LANTERN

Recipe and photo courtesy of Zachary Blair, lead mixologist at Whiteface Lodge, Lake Placid, NY
Ingredients
2 oz. spiced rum
1 oz. hickory syrup*
Splash of lemon
Bar spoon (generous teaspoon) of pumpkin purée
Club soda
Cinnamon stick
Directions
Combine rum, syrup, lemon, and pumpkin purée in cocktail shaker. Shake thoroughly. Pour mix into a high ball glass with club soda. Garnish with a cinnamon stick.
*Birch syrup or real maple syrup (not imitation) can be substitute for hickory syrup.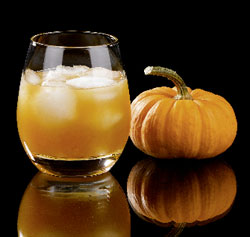 GRANDE PUMPKIN SPICED SMASH
Recipe and photo courtesy of Joshua Perlman, Avec, Chicago
Ingredients
1½ oz. Calvados Père Magloire V.S.O.P.
½ oz. pumpkin purée
¾ oz. housemade spices (clove, lemon peel, other)
½ oz. lemon juice
2 dashes bitters
Directions
Combine all ingredients in a cocktail shaker. Shake until well-blended. Pour into a double Old-Fashioned glass on the rocks.
Veni, Vidi, Bibi!
—Rebecca