Whether you're invited to a holiday party or you're meeting up with friends to celebrate the season, a great way to add some fun to your gathering is to sample some delicious craft beers. And winter offers some of the best choices—at least it does for this stout- and porter-loving drinker. So be sure to check out some of these new winter releases from breweries around the country. They'll help keep you warm on a cold, snowy night.
ALES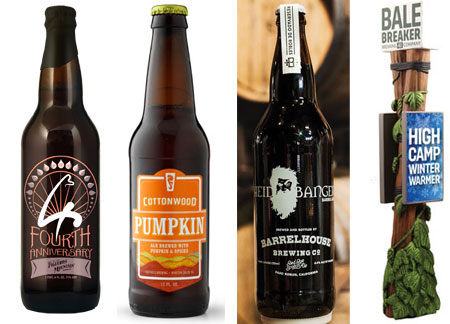 4th Anniversary Belgian-style Abbey Quadrupel
Figueroa Mountain Brewing Co.
Buellton, California
Crafted in the traditional style of Trappist monastery breweries, this dark brew was aged in oak barrels with figs. The result is a heady ale with dark fruit aromas along with deep caramel notes and a deep malt backbone. The delicate spiciness of the traditional Belgian yeast adds character along with influence from the oak barrels.
Cottonwood Pumpkin
Foothills Brewing
Winston-Salem, North Carolina
This crisp, dry spiced ale sets itself apart from the plethora of pumpkin beers by featuring organic spices (nutmeg cinnamon, cloves, ginger) in the recipe and by incorporating fresh pureed pumpkin. The result is a seasonal that gives Mom's pumpkin pie some serious competition.
Heidbanger Red Rye Scotch Ale
BarrelHouse Brewing Co.
Paso Robles, California
The second release in the oak-barrel-aged Reservado De Robles series, Heidbanger has quickly developed a cult following. Aged eight months in three-year-old rye whiskey barrels, this malt-focused ale imparts big caramel, oak and whiskey flavors while remaining dangerously smooth and complex.
High Camp Winter Warmer
Bale Breaker Brewing Company
Yakima, Washington
Named for the ski lodge atop White Pass Ski Resort, High Camp Winter Warmer takes Bale Breaker's signature hop-forward style to a slightly darker side. Perfect for the season, this winter beer hits first with a malty backbone of spice and chocolate. Dry-hopped with Cascade, Centennial, and Mosaic, the hop character in High Camp bursts with pine and grapefruit. And at 7.3% ABV, this fireside sipper is sure to warm from the inside out.
Mothman Pale Ale
Greenbrier Valley Brewing Company
Lewisburg, West Virginia
The very first release from GVBC is named for the winged, red-eyed creature believed to have appeared multiple times in West Virginia throughout the '60s. This medium bodied black ale has touches of roasted toffee and chocolate, and at 6.7% ABV, it promises to satisfy any hophead.
Moustache Ride Red
Flat 12 Bierwerks
Indianapolis, Indiana
A rich American amber with hints of roasted malt and very moderate hop bitterness, Moustache Ride Red is aged in a bourbon barrel with real vanilla beans. Its aroma is dominated by vanilla and bourbon with hints of caramel, grain, and chocolate. The flavor is smooth and rich, like cream soda with a slight alcohol kick.
Puppy Dawg Tails
Parkway Brewing Company
Salem, Virginia
This luscious ruby brown Belgian-style Winter Ale is flavored with hazelnut, coriander, orange peel, and a hint of apricot resulting in a spiced brew perfect for cozy evenings by the hearth. Brewed in honor of Parkway's Master Brewer's firstborn son.
Sleigh'r Doüble Alt Ale
Ninkasi Brewing Company
Eugene, Oregon
This dark doüble alt ale was brewed with winter in mind. Malty and delicious, it features a more refined and crisp lager-like flavor than traditional ales, and its deep toasted-malt flavor finishes dry, with 7.2% ABV.
Tarten Tent
Sunken City Brewing Company
Hardy, Virginia
This strong Scottish Ale is boiled long and fermented cool to give it a sweet and smooth caramel character. A winter seasonal, with 6.6% ABV, it is robust enough to keep you warm on any long winter night of camping or an evening closer to home.
Waterville Wheat
603 Brewery
Londonderry, New Hampshire
Brewed with an abundance of white wheat, Waterville Wheat is an unfiltered semi-dry American wheat ale. The nose shows a touch of fresh orange peel, while on the pallet you will experience subtle sweetness reminiscent of vanilla and orange, with an herbal profile from freshly crushed coriander.
Winter Warmer
Lancaster Brewing Company
Lancaster, Pennsylvania
This classic Olde Ale redefines the term full-bodied with its deliverance of complex and firm malt flavor. A blend of British and American hops provides an even bitterness as this beer, true to its name, finishes with a warming alcohol flavor.
IPAs
Blizzard of Hops
Tröegs Brewing Company
Hershey, Pennsylvania
As winter slowly creeps in, Tröegs salutes hop growers who process and ship hops around the world. Enjoy the fruits of their labor and savor sticky notes of citrus and pine with this revitalizing Winter IPA. Pair it with strong flavors like garlic, onion, and ginger; bold fatty cuts of meat; or spicy Thai dishes that use curry, coconut milk, and lemon grass.
Filament
Ecliptic Brewing
Portland, Oregon
This Winter IPA celebrates the cosmic wonder known as a solar filament. Pale, Munich and Caramel malts create a rich malt character with a honey-like flavor; which Crystal, Chinook and Centennial hops combine to lend a spicy, citrus hop note.
Tunnel Vision
Mavericks Brewing
Half Moon Bay, California
This limited edition IPA is made from a combination of hops including Columbus, Centennial, Simcoe and Experimental Hop #5260. A strong, dry ale, it blurs the line between a single and a double IPA.
STOUTS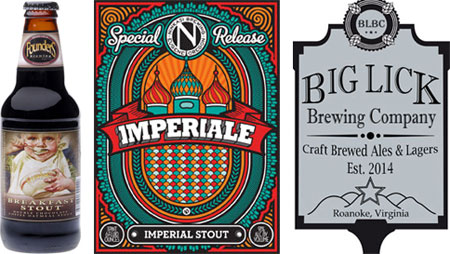 Breakfast Stout
Founders Brewing Co.
Grand Rapids, Michigan
This seasonal brew combines Nugget and Willamette hops, Gibraltar milk chocolate chunks, bittersweet Orinoco chocolate, and locally-roasted Kona and Sumatra beans. Flaked oats and malt complete the blend. The result is an intense fresh-roasted java aroma with a creamy, cinnamon-colored head and rich coffee and chocolate flavors.
Imperiale
Ninkasi Brewing Company
Eugene, Oregon
Rich, full bodied and surprisingly smooth, Imperiale Stout has a big roast hit up front, with a smooth and creamy body warming the mouth. Dark malt flavors are balanced with an ample hop bitterness to finish.
Soul Man
Big Lick Brewing Company
Roanoke, Virginia
This award-winning jet-black Oatmeal Stout is full of chocolate and coffee/cream. Toasted oats lend a silky mouthfeel, while molasses gives a nice richness of flavor. 6.3% ABV.
THE REST
California Common
Sin City Brewing Co.
Las Vegas, Nevada
Sin City's seasonal lager is brewed without the use of refrigeration. This warmer fermentation process dries out the beer to create a full malt flavor. The California Common features a bold profile, accentuated fruit and caramel flavors, solid hopping, and a crisp CO2 bite.
Dos Rios Vienna Lager
Glenwood Canyon Brewing Co.
Glenwood Springs, Colorado
This Vienna-style lager features a soft elegant maltiness created from a special blend of Munich malts and Cara Vienna malt. It is crafted from one of the original recipes of Todd Malloy, Glenwood's director of brewing operations.
Nebula Chocolate Porter
Bang The Drum Brewery
San Luis Obispo, California
Aged in freshly emptied bourbon barrels for just over six months, Nebula has a deep brown color with garnet hues and an aroma reminiscent of sweet malt, dark chocolate, caramel, and vanilla. It is Bang The Drum's first barrel-aged brew.
Shaved Black Truffle Pilsner
Moody Tongue Brewing Co.
Chicago, Illinois
The unique limited-edition craft beer uses prized truffles harvested in Manjimup, Western Australia. A single 22-ounce bottle of the 5% ABV pilsner costs $120.
Veni, Vidi, Bibi!
—Rebecca