Trust me, you'll spend a lot of time in pubs during your next adventure to Wales. It's a great place to taste local brews while chatting up the friendly Welsh pub-goers about politics, the latest dirt on the Royal Family and rugby.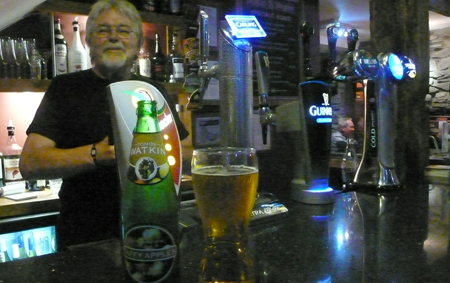 An amused barkeeper at Ty Morgans in Rhayader after I tried to order a drink in Welsh…
Here are some of my favorite artisanally-made Welsh beverages I discovered while doing my fair share of pub crawling, as they say in Wales…Iechyd Da or Cheers!

Aerona Liqueur –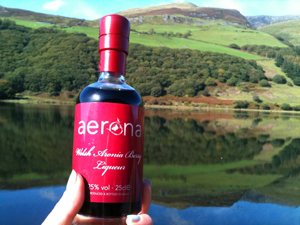 Recently launched, with the help of a very nifty organization called the Food Technology Centre that assists local Welsh farmers to transform their produce into a marketable product, Aerona Liqueur is a gorgeous deep ruby colored liqueur made of Aronia berries. In the U.S., they are better known as chokeberries.
Hazel and Gwilym Jones hand pick the berries from their family farm and hand fill and finish each bottle. It tastes what I imagine a Goji berry or Acai berry would taste like if made into a liqueur … delicious and full of antioxidants! The Aronia berry is one of the eight true superfruits in the world.
When traveling in Wales, there are plenty of divine ciders to sample, but Rosie's Black Bart Cider made by cider maker, Steve Hughes, with apples from Wales highest cider orchard in Llandegla, has a special flavor profile due to the aging process in both stainless steel and rum barrels. The name comes from the infamous Welsh pirate, Black Bart, of the 1700's. The Welsh red dragon pictured in the photo to the left is overjoyed to be sipping on a bottle of Rosie's Black Bart Cider.
Pen-lon Cottage Brewery Ewes Frolic Lager –
When I visited the organic lamb, beef and bison farm of Rhug Estate, it was the first time in my life I ever encountered a bona fide Lord! Of course, I had to know what a Lord drinks when he's not 'lording'. To my question, Lord Newborough replied Pen-lon Ewes Frolic Lager was his favorite Welsh beer and graciously gave me one from the Rhug Estate Farm Shop to try. Pen-lon Cottage Brewery is also a seven time winner at the True Taste Awards – the Welsh Oscars for Food and Beverage.


Gwynt y Ddraig Perry Vale
Discovered this scrumptious pear (affectionately known as 'perry') cider at a gourmet food shop in an arcade or covered shopping area in Cardiff.
Gwynt y Ddraig Perry Vale makes the perfect picnic cider or paired with the Little Black Bomber cheddar by Snowdonia Cheese Company.

llanllyr Source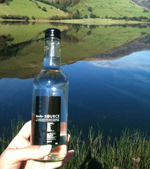 Occasionally I do imbibe non-alcoholic drinks as well.
Usually there's not much to say about water, but llanllyr Source, pronounced sshhl-an-shl-er, is not only gorgeous to look at in its sleek modern bottle but the taste is as pristine and unspoiled as the Welsh countryside it comes from…
The llanllyr water source dates back to over 800 years. A nunnery was established on the site in 1180 and it survived for over 400 years.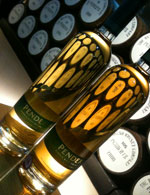 Made in the town of Penderyn from a local source of pure Welsh water, Penderyn Whisky is Wales' only claim to fame in the whisky department.
Three types of finishes of the single malt Welsh whisky are readily available to taste at their tasting room – the Madeira, Sherrywood, and Peated. Of course, being a seeker of the unusual, my favorite one was the Portwood, aged in port barrels, NOT available to taste and only for purchase at the distillery or in France!
Toffoc Vodka
Toffee flavored Vodka –  a candy bar in a glass. Made by two ski aficionados who first tasted something like it while skiing in the Alps but couldn't find it when they off the slopes – so they went home and made it themselves! Read more about it at: Like Toffee? Now You Can Drink It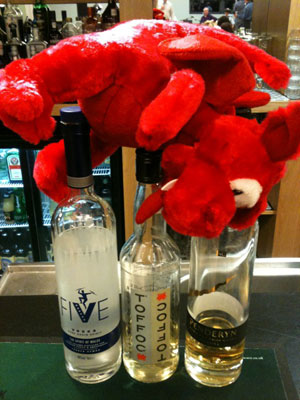 Even the mighty Dragon can have a little too much fun with local Welsh spirits.
For more info on the best liquid love of Wales, visit Drinks From Wales.