All lushes are not created equal.
(Photo: Wanderlush Lanee adorned with Wales flag at Tal-y-llyn Lake by GoNomad's Max Hartshorne)
Eating a three-course meal at Dawsons Restaurant in the The Castle Hotel of Conwy with a slew of international travel bloggers on the first day of my Wales Food tour, Lindsay, a journalist and friend of mine also on the Wales blogger trip, mentioned to Rob Jones, the Visit Wales Tourism guide,  "You do know what Lanee's nickname is, don't you?"
I was a bit apprehensive as to what she was about to blurt out; it could have been a bevy of private jokes or embarrassing moments shared between us during our many shared adventures.
She says, "Lanee the Lush."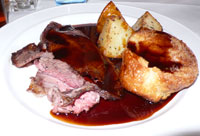 Hearing this, Rob blushed and choked on his Welsh roasted beef. With eyes wide in shock, he replied in disbelief, "Oh really? And what do you mean she is lush, because it may mean something different in the U.S. than it does here in Wales?"
Lindsay proudly announced, "Ya know, she has a travel blog called Wanderlush Diary about drinking around the world, so she likes her booze."
With much relief, Rob broke out in laughter as he said the word 'lush' in Wales means luscious or gorgeous, thus explaining the look of confusion on his face when Lindsay called me luscious!
Next time you call someone a 'lush' just know in Wales it means gorgeous and in the US it means a boozer – a hot tip to save yourself a 'lost in translation' moment next time you're in the UK.
I don't mind being called either or both, whether in Wales or US. How about it…
Lanee the Lush Lush. Love it!
Stay tuned for the Best of Welsh beer, liqueur and cider makers.
Welsh Toffoc Vodka Review.
For more on Wales travel, VisitWales.