Townshend Cellars features an extensive collections of wines from Viognier to Malbec, but the most unique find was the Townshend Cellar creative take on the favorite local berry – the huckleberry. Located in the GreenBluff Growers circuit on the outskirts of Spokane, Washington, a popular attraction with locals and tourists alike to visit and sample the bounties of apple, pumpkin and pear farmers, Townshend Cellar is well known throughout the Washington area for its T3 wine, a Bordeaux blend, who has garnered a cult following among Spokane restaurants and wine aficionados.
Much to my surprise, Spokane has a serious community of locapours (wine lovers). For more on winemakers and wine events in Spokane, Sip of Spokane is great resource.
What stood out among the thirty or so wines on the Townshend Cellar tasting menu was the Huckleberry sparkling wine, Huckleberry wine and Huckleberry port-style wine. Huckleberry grows wild in the area and likened as the caviar of fruits for wine-making. For example, a ton of Cabernet grapes is $1,200 and a ton of Huckleberries is $10,000!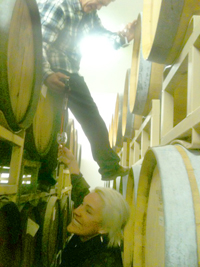 Winemaker Don Townshend graciously first opened a bottle of the sold out 1999 Huckleberry port, he even let us taste the Huckleberry goo or sludge that gathers on the cork – a very special treat. Then for the Townshend Cellar winetasting finale, he gave us an exclusive barrel tasting of a not yet released Huckleberry port. Oh what a sight that was to see Don scale the barrels with cat-like agility to give us a turkey baster splash of the local nectar of the Northeastern gods. Certainly a wine tasting I shall never forget!
Huckleberry Blush ($9.95) is pale rose colored wine with 7.5% real huckleberry juice. Great for an aperitif or cheese or oyster pairing.
Huckleberry Brut ($18.95) is some sass in a glass. Like the blush on a new bride's cheeks, this sparkling wine is a sensory charmer – both beautiful in appearance and an exciting ride for the taste buds.
To taste these berry beauties, Townshend Cellars is open Fri-Sun.
Don Townshend is also a bit of an up-and-coming Spokane wine baron as he also owns these wineries as well – Caterina Winery and Lone Canary.
Taste both Caterina Winery and Lone Canary wines in one conveinent location in downtown Spokane at 905 N. Washington, Spokane.