LIBATION: Toffoc Vodka
LIQUID TRAVEL DESTINATION: Isle of Anglesey, Wales
Photo Description: Toffoc Vodka, flanked with the red dragon, Wales' emblematic symbol, and above is the name of the world's 4th longest town name and longest name in Europe… Ready? Say it with me.
LEGACY: If you're a toffee candy fan, this is the spirit for you. It literally tastes like a boozy Heath Bar in a glass. Toffoc Vodka isn't too syrupy, just the right balance of spirit and sweetness. It is great alone as an after dinner drink or have a Welsh version of the Bailey's coffee. Toffoc could be used to add a little kick to your favorite dessert like chocolate truffles, Bread Pudding recipe, or even in homemade whip cream.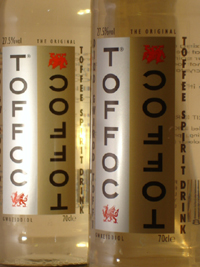 Toffoc Vodka, from two guys, Dewi and Padrig, who used to drink something similar on the Alpine ski slopes but couldn't find it elsewhere when not hitting the slopes, uses the finest UK grain that gets triple distilled, then infused with toffee flavors. Toffoc comes in miniature bottles as well as full size. A perfect size to facilitate a little nip on your way up the ski lift!
And as they say in Welsh, Toffoc Vodka is Bendigedig (marvelous)!
Beyond the interesting spirit scouting mission I'll be on during my Food tour of Wales this week, I'll also keep you updated on how many castles I see of the 641 in Wales, quirky facts, and beautiful scenery…
Tara'wan! (Good Bye)

For more Welsh travel rarebits, visitwales.com