Apparently I have a nose for Michelin approved restaurants. Too bad I nearly fell asleep in my delicious 3-course meal.
My husband and I were wandering around the maze of streets in Old Town Prague trying to stay awake long enough to get our jet lag under control. I really wanted a glass of wine and as we rounded a corner, it was as if the universe lit up and spoke to us when we saw the sign for Le Terroir. In my foggy mind, I thought, "terrain, earth, wine vines!", so we entered the door hoping to spend about half an hour with a good glass of wine.
What we didn't realize was I had led us to a restaurant with Bib Gourmand status. I'd heard of the Michelin star rating system, but didn't know what Bib Gourmand was and that it's quite a rarity in Prague. Exhausted and somewhat hungry, we decided to stay. We were led to a beautiful underground wine cellar turned restaurant. Unfortunately, I only have a couple of photos from my phone of the interior because we had just arrived and wanted to get our bearings before carrying around cameras.
Diners can choose from a 3, 4, 5, or 6 course meal and the menu changes about every four weeks. They use seasonal ingredients and everything we had was super fresh. We were a bit worried with our limited diets of no dairy and only seafood that the staff may be frustrated, but it was quite the opposite. They saw it as a challenge and created a special 3-course meal for us featuring a beautiful salad, sea bream, and a scallop dish that blew my mind. I don't usually like scallops, but the dish they created was divine.
So tired.
photo credit: Carlos Jackson
As we were enjoying our last course, I suddenly started to fall asleep. I've had jet lag before, but this was heavy duty and I was quite embarrassed as I fought my body's urge to nod off. Carlos told our waiter that I was fading fast and they asked if we had time for dessert. They had started making a special dessert for us during our first course since all of the desserts on the menu had dairy in them. We did not expect this and felt so taken care of. I hung in there for dessert, which was a delicious fruit sorbet. They swiftly brought us the check, called a cab, helped me into my coat, and the manager walked us out to the cab, holding the door as we got in.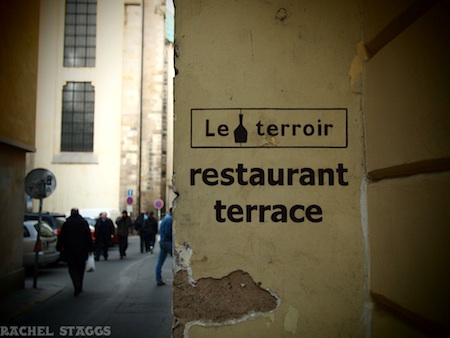 A few days later, we stumbled upon the restaurant again and considered a second round before taking off for the Czech countryside. Sadly, they were closed.
<iframe src="http://rcm.amazon.com/e/cm?lt1=_blank&bc1=000000&IS2=1&bg1=FFFFFF&fc1=000000&lc1=0000FF&t=traveltracks-20&o=1&p=8&l=as4&m=amazon&f=ifr&ref=ss_til&asins=2067153889″ style="width:120px;height:240px;" scrolling="no" marginwidth="0″ marginheight="0″ frameborder="0″></iframe>