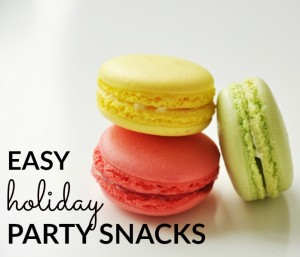 Last week, I gathered up a list of the best Christmas Party Cocktails. Cocktails are important, but I missed an important point. The food. Food makes the holidays go 'round. Am I right?
This week, while preparing for a holiday party of my own, I've cultivated a list of the best easy holiday party snacks. They are simple enough to throw together in the throes of a holiday fete, even after you've had one too many servings of eggnog. So go ahead, have another cocktail, throw a party, and celebrate!
Orange Blossom Candied Cranberries. Count on Food52 to supply genius holiday snack ideas. These little babies only use three ingredients, and can serve as a centerpiece as well as edible art. Also helpful, making them means using up all those cranberries you didn't get through at Thanksgiving. Score.
Bake Brie with Blackberry Compote.  The way to my heart is certainly through a slab of baked brie. Impress your holiday guests with the extra effort of a berry compote, this recipe provided by Brown Eyed Baker.  Also tasty? Crackers topped with brie and sour cherry sauce (yes, even the stuff from the deli section). A cranberry compote would be festive as well.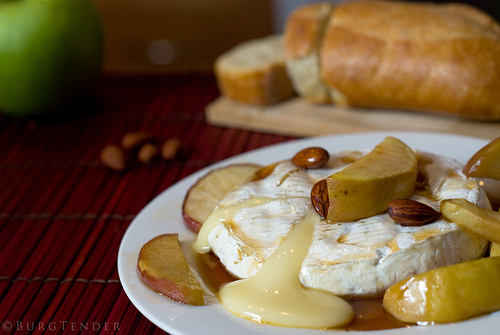 Grape Salsa on Goat Cheese Crostini. Crostini is always a crowd pleaser, but tomatoes are not particularly amazing in December (at least not in Seattle).  Instead, choose the unexpected, grapes combined with a little zest and creamy goat cheese. Thanks again Sprouted Kitchen.
Rosemary and Lemon White Bean Dip. Need to feed a crowd? Throwing together a unique dip is potentially the easiest solution out there, provided you have a food processor. Throw it all together, slice up a baguette, and get to eating. Serious Eats provided this easy recipe. I might be making my favorite, tomato basil white bean dip, to add a little color to the party.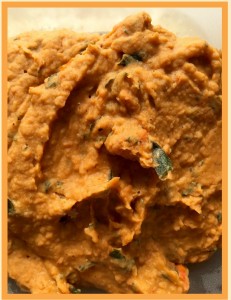 Baked Rosemary Parmesan Chickpeas. I understand that the terms "baked chickpeas & party" don't go together at first blush, but bear with me. My best friend got married this summer, and her mother wisely made some bags of seasoned and cheesed chickpeas to brake out during the post-wedding dance party. Let me tell you about those chickpeas: they did not stand a chance against the dance – exhausted wedding party. I'll hazard a guess that they won't last long when busted out at your holiday party either. A Beautiful Mess provides the recipe here.
2 – Ingredient Queso Dip.  Queso is a fairly new discovery for me. Seattleites don't really have queso on everything like other parts of the county, but I'm starting to think maybe we should consider it. For my boyfriend, a meal is not complete without queso. I'm not suggesting we go that far, but I wouldn't mind having some at a holiday party. Especially if there are chips. There have to be chips! This queso is literally a jar of salsa and a block of cream cheese expertly melted in the microwave. Plus, the genius blogger behind it calls her blog Gimme Some Oven, which is beyond hilarious.
Deep Fried Ravioli On A Stick. Yep. You read that right. There is an actual recipe that involves deep frying a delicious pillow of pasta, skewering it, and plunging it into various sauces. The plus side to the stick? You have a free hand to continue sampling other snacks… Just a Taste provides this recipe.
Photo Credits:
Brie fondant aux pommes et sirop d'érable.  Pier-Luc Bergeron. CC BY-SA 2.0.