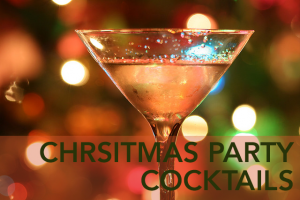 It seems my calendar is filling up fast with Christmas parties. Different organizations I'm part of, office parties, cookie exchanges – you know the ones. With all these festivities, it's easy to burn out on unique Christmas party cocktail ideas. I'm tempted to buy a keg for our upcoming Christmas party and call it a night, but am determined to remain festive. And what's more festive than a cocktail at a Christmas party? Especially a themed cocktail. Behold, a list of Christmas party cocktails to fuel all your festivities this season.
Butterbeer. Harry Potter fans rejoice! You can experience the malty warmth of butterbeer in your own muggle life. Butterbeer is a perfect holiday treat – it's warm and decadent. Also, it's probably too sweet to have a lot of – perfect for a cookie exchange in lieu of hot chocolate. This recipe from Waiting on Martha uses non alcoholic butterscotch beer, but I plan on using the real stuff.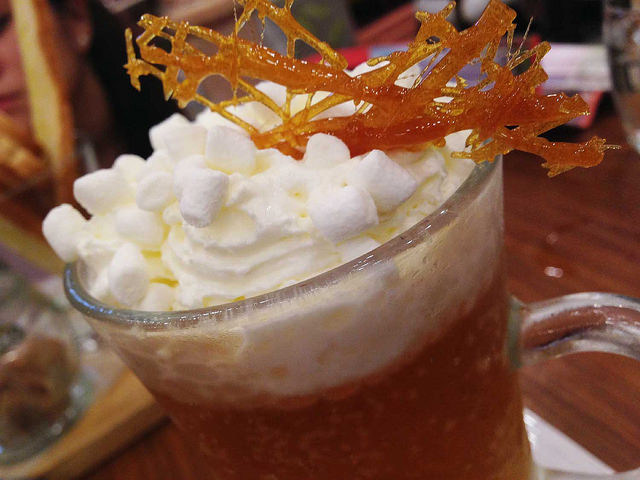 Apple Cinnamon Old Fashioned. Old fashioned are a constant experiment in my house – we're always trying to perfect our recipe. This Apple Cinnamon Old Fashioned from A Spicy Perspective is the ultimate signature cocktail, sure to have your party guests wondering just how you do it.
Spiked Eggnog. Eggnog is potentially my favorite holiday food. I can go through a gallon of the stuff in 2 days, easy. I realize the health implications of that kind of eggnog consumption, but partake anyway. You could, of course, just add rum or brandy to store – bought 'nog, but making it from scratch is much more impressive. This easy blender eggnog recipe from Real Simple makes the homemade treat almost as easy as pouring a shot into the ready-made stuff.
Hot Spiced Cider. The only way to do hot spiced cider is in the slow cooker. Aside from easily creating a warm and delicious cocktail, cooking up the cider this ways makes your entire house smell like Christmas. Everyone will instantly believe in you as a host or hostess if your house smells like Christmas. Kitchen Treaty makes a perfect batch with just four ingredients. I recommend adding a little whip cream and caramel sauce, but, to each his own.
Orange Cranberry Gin and Tonic. A well-made gin and tonic is a thing of beauty, but feel free to color it up a bit at Christmas. A lighter cocktail than the milky and warm varieties you'll find gracing holiday parties, this orange and cranberry gin and tonic from My Recipes will put you in a festive mood without weighing you down.
Photo Credits:
Holiday Cheer, John Morgan,  CC by 2.0.
Butterbeer, John Ong, CC by 2.0.
Christmas Eggnog, Iris, CC by ND2.0