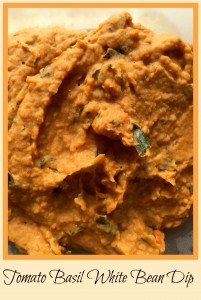 This month has been a crazy one for me, and having access to healthy, filling, portable snacks is a must-have when my schedule fills up. This tomato basil white bean dip made it with me on a recent trek at Mt. Rainier – it was easy to pack, filled me up for the calorie-burning ahead and was oh-so-tasty. My fellow hikers liked it too, which is always a plus. I served it with a homemade wheat bread (toasted is especially delightful). It's also a great dip for crackers, veggie sticks, or tortilla chips if you're feeling adventurous.
The other part about this white bean dip recipe – it's so easy! You don't even need to turn on the stove (though I like it better with blistered tomatoes and browned white beans). This recipe is for a fairly small amount, but double it to bring to a summer potluck.
Ingredients
1/4 Cup cooked white beans
1/4 Cup cherry tomatos
1/8 Cup chopped basil
2 Tablespoons Balsamic vinegar
1 Tablespoon Olive oil
Salt and Pepper to Taste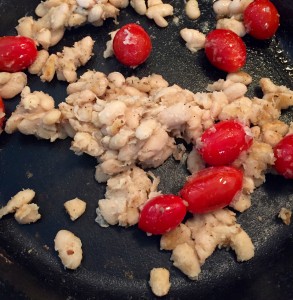 Directions
Brown white beans and tomatoes in a large pan over high heat. I love blistering the tomatoes for this recipe, and the browned white beans are extra buttery, but it's probably not totally necessary if you want to save time.
In a food processor, blend the white beans and tomatoes, be careful, they're hot!
Add the basil, vinegar, olive oil and salt and pepper to taste.
Blend until perfectly creamy.
You're done! It's really that easy. Break out the bread and enjoy!
What's your favorite white bean dip? Let us know in the comments below!
Never miss a chance to eat, drink and travel with Wanderfood. Follow me on  Facebook, Pinterest  and Twitter, and subscribe to my RSS.