Oh the potato. Easily one of my favorite foods. Though I could eat the humble potato anytime of day, convincing others that eating it as the main dinner course is not always simple. Enter the potato latke. Yes, latkes are traditional holiday fare, but I eat them at all times of the year. You can throw these easy potato latkes with lime crema together on a weeknight – it won't seem like you gave up and made breakfast for dinner. Even if you did.
There is teeny-tiny breakfast spot in Seattle, The Ridgeback, that we go to all the time. They have this amazing crema that they put on their crepes. It's spiced to perfection and makes the meal seem so special. It inspired my lime crema for these latkes, but I highly recommend trying it in person next time you're in Seattle.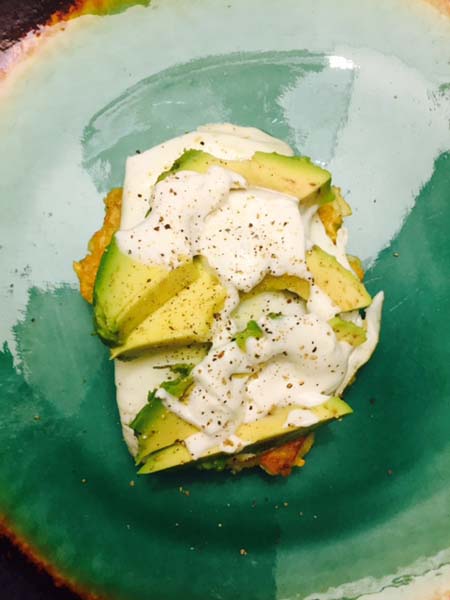 Have mashed potatoes left over? Check out my other favorite potato recipe, mashed potato patties.
Enjoy!
Ingredients:
3-4 small potatoes
1 Tablespoon olive oil
1/3 Cup flour
1 Teaspoon salt
1 Teaspoon baking powder
1/4 Teaspoon chili flakes
1/4 Teaspoon pepper
4 Tablespoons fresh crema
1/2 fresh lime
1 avocado, for serving
Eggs, for serving
Directions:
Heat your oven to about 250 degrees, you'll want to keep your latkes hot after you fry them up
Using a box grater or a food processor, grate your potatoes into small pieces. A box grater makes a nicer looking latke, but a food processor is so much easier. I use a food processor.
Using a cheese cloth, squeeze out all the water from your processed potatoes. Let squeezed potatoes sit for about two minutes, then squeeze them again. I didn't want to use my cheese cloth, so I just used a clean kitchen towel.
Combine flour, salt, baking powder, chili flakes a pepper in a medium bowl.
Add potato to the flour mixture and stir until potato is fully coated.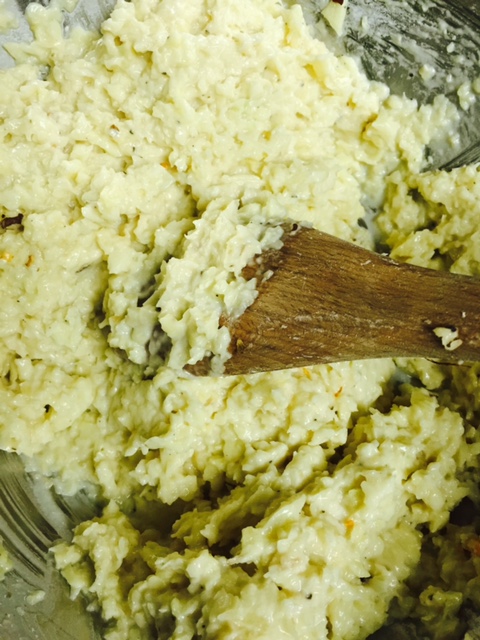 Working with small batches of the potato – flour mixture, fry your potato pancakes in the heated oil. The cast iron is wonderful for this, they cook great over medium – high heat.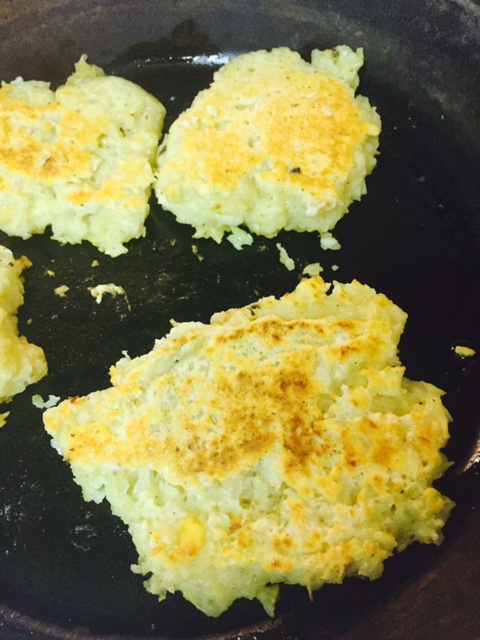 While your latkes cook, squeeze your lime juice into the crema. Add a pinch of salt to taste.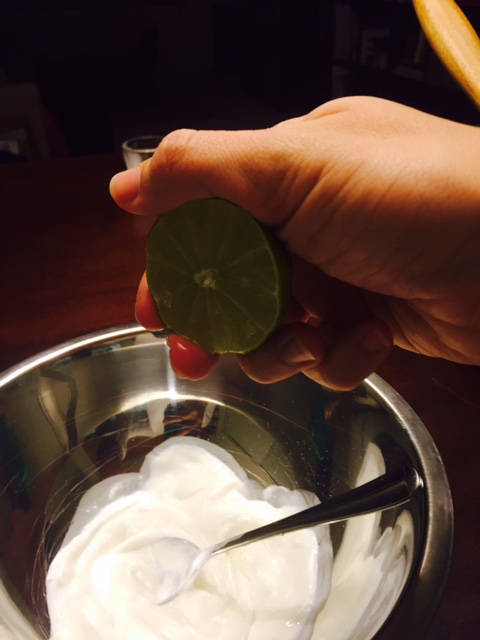 Serve finished latkes with a fried (or poached!) egg, avocado and lime crema.
I added a side salad and some wine to make it even more dinner – like.
Have any other latke additions or combinations that you can't live without? Let us know in the comments!
Never miss a chance to eat, drink and travel with Wanderfood. Follow me on  Facebook, Pinterest  and Twitter, and subscribe to my RSS.