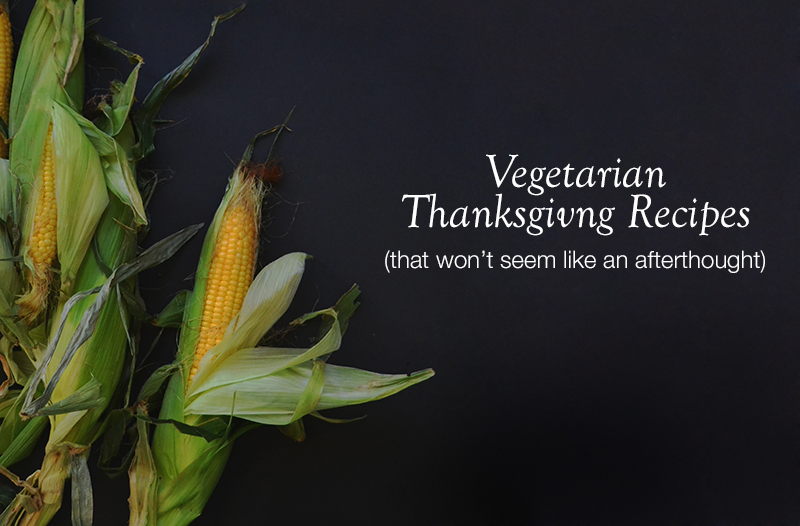 Thanksgiving is one of my favorite holidays. I think it's likely one of everyone's favorite holidays, especially those of us who take a special joy in eating. Because I love Thanksgiving so much, I was sad to hear my vegetarian friend say she eats a peanut butter and jelly sandwich every year. If she's lucky, her family will have used veggie broth to make the mashed potatoes, and she'll score a side of cranberry sauce. One of the ways I show love is cooking for others – making something that everyone sitting at the table can enjoy is really important to me. I couldn't stand to watch someone eat a lame sandwich while everyone else enjoyed the riches, especially on a holiday when we are celebrating being thankful for those around us.
I'm not a vegetarian, but I am pretty fussy about my meat these days. I'm not sure yet if our Thanksgiving table will have a vegetarian at it, but I might just make some of these vegetarian thanksgiving recipes anyway. The key to making a vegetarian meal that satisfies the celebratory nature of  the holiday? Real ingredients that don't try to mimic the meat everyone else is enjoying. Tofurkys are not the answer. Embrace the vegetable people.
Butternut Squash Risotto (The Pioneer Woman)
You can't go wrong with Ree, especially for decadent holiday fare. This risotto is easy, festive and rich enough to carry a meal. Butternut sound good in general? Try butternut squash lasagna (Julia's Album), or twice baked butternut squash (Naturally Ella).
Stuffed Portobellos (Blogging Over Thyme)
Let's face it: you can stuff a portobello with anything you want, but this recipe for portobellos stuffed with goat cheese and homemade tomato sauce is particularly fabulous looking. If you are looking for a portobello with more Thanksgiving-y flavor, think of things like walnuts, cranberries and goat cheese. Yes, please.
Thanksgiving Perogies (Agent Minty)
I lived in British Columbia for about 6 years, and was introduced (and quickly addicted) to perogies. Many a Canadian family has perogies on their Thanksgiving table, a tradition I am pretty pleased with. Another happy tradition from my Canadian days? Celebrating two Thanksgivings a year (the Canadian one in October, and the American one in November). Those were the days.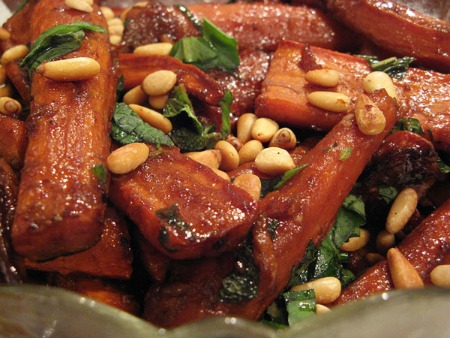 Roasted Carrots with Pomegranate (Wanderfood) 
My wanderfoodie friend made these fabulous roasted carrots, and they are a perfect Thanksgiving treat. Maybe not ideal for a main course, but a perfect side that will please everyone at the table. Speaking of roasting vegetables, get creative! Roast whatever you want, add cheese, and make a  vegetable galette, you don't even need a recipe, according to Food 52. 
Speaking of galettes, you could also make a tart. (Martha Stewart)
This one happens to be for cauliflower, red onion and chestnuts, but add whatever fall flavors sound good to you. I bet you could use my recipe for homemade potato garlic pizza, only in tart form. Let me know how that goes.
Stuffed Acorn Squash (Food Network)
If you aren't making any meat for Thanksgiving, but still feel the need to roast something, making a stuffed acorn squash might be a good plan. This one is stuffed with quinoa and cranberries (so in theme!) but you could stuff it with any holiday flavors you like.
Sweet Potato Gnocchi (Just A Taste)
I love gnocchi. Have we been over this before? I love the stuff! It's so great! But it's so annoying to make. If you're not cooking a turkey on Thanksgiving, you have extra time to make gnocchi, right? Right. It's worth it. You'll thank you. And your vegetarian guests will thank you. If you don't eat all the gnocchi before they arrive that is. Gnocchi sound too tricky? Make pumpkin ravioli. Also a festive pasta treat, but a smudge easier on the nerves. Try this pumpkin ravioli recipe from Julia's Album. 
Leek Fritters (A Thought For Food)
I admit it, leek fritters are one of my go-to meals. I love them with a poached egg on top and side of greens. I love them for breakfast. I love them for lunch. I love them for Thanksgiving. You will love them too. They are also so easy to make, they could be an afterthought, but they won't feel like one for your guests. Another leek idea? Leek bread pudding, from the Smitten Kitchen. 
Butternut Squash Cake (Wanderfood)
In case you thought I had forgotten dessert, I didn't. This butternut squash cake is one of my all-time fall favorites, I could eat it instead of Thanksgiving dinner.
Have any other thanksgiving vegetarian recipes that aren't on this list? Let me know in the comments below!
Never miss a chance to eat, drink and travel with Wanderfood. Follow me on  Facebook, Pinterest  and Twitter, and subscribe to my RSS.