I'm not really a sweet-breakfast-type of person. I prefer eggs, toast and crispy potatoes to sugary pastries. This usually means muffins are not my go-to, but these walnut millet muffins are healthy, slightly savory, and have just a hint of toasted honey flavor. If a savory muffin sounds weird, think of cornbread, or sweet bread.
I had made a batch of walnut milk at home, and wanted to use up the leftover pulp (the pulp was in fact the catalyst for this muffin creation). If you don't have nut-pulp on hand ( I mean, who doesn't?) ricotta would likely work just as well. Enjoy these muffins warm with some butter, or, even more delightful, butter and honey.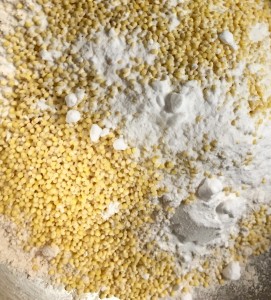 Ingredients
1.5 Cups whole wheat pastry flour
1/3 Cup raw millet
1 Teaspoon baking soda
1 Teaspoon baking powder
1/2 Teaspoon salt
3/4 Cups plain greek yogurt (I used goat yogurt, any whole milk yogurt will work just fine)
1 Cup walnut pulp (any nut pulp will work equally well)
2 eggs
1/2 Cup butter, slightly melted
Juice and zest from 1 lemon
1/2 Cup honey
Directions
Preheat the oven to 400 degrees.
Prepare a muffin tin, either lining it with muffin cups or buttering it.
Combine flour, millet, baking soda, baking powder and salt.
In a separate bowl, combine yogurt, pulp, eggs, melted butter, lemon juice, zest and honey.
Add the combined wet ingredients to the dry ingredients, stir until combined.
Add to muffin tins, the batter should come up almost to the top.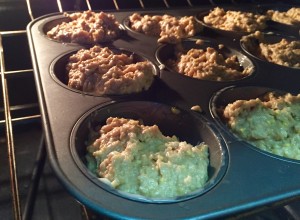 Bake for about 15 minutes.
Enjoy!
These muffins are screaming for your experimentation – let us know what you create in the comments below!
Never miss a chance to eat, drink and travel with Wanderfood. Follow me on  Facebook, Pinterest  and Twitter, and subscribe to my RSS.