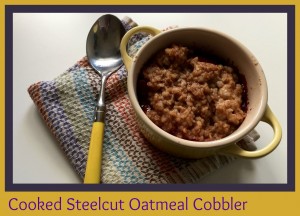 Remember when I said I had a lot of steel cut oatmeal hanging around the house? Well, that oatmeal recently became a delicious dessert-slash-semi-healthy-breakfast-item called cooked steel-cut oatmeal cobbler. I wanted to make a killer cobbler, but didn't have any instant oats (or just regular fashioned oats, for that matter), so cooked oatmeal entered the equation.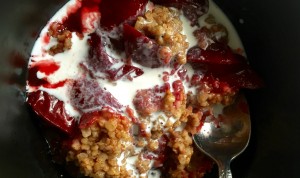 I used plums in this recipe, but it would work just as well with other stone fruits like nectarines or peaches.  Cooked steel-cut oats make this cobbler pretty heavy, it would have stood up well to fancy vanilla ice cream. I just used some heavy cream to fancy it up, but also enjoyed it straight out of it's adorable ramekin.
This recipe is for two small ramekins, each cobbler serves 1 person. For a larger creation, use an 8 inch square pan.
Ingredients: 
About 1 pound plums, or other stone fruit
1 Tablespoon orange juice
1 Tablespoon cane sugar
1 Teaspoon corn starch
1/2 Teaspoon pure vanilla extract
pinch of sea salt
for the crumble:
1 Cup cooked steel cut oats
pinch of sea salt
1/2 Teaspoon cinnamon
1 Tablespoon agave
1/2 Teaspoon vanilla
1/4 Cup barely warm coconut oil, plus more to line the dishes.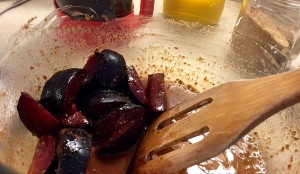 Directions:
Preheat the oven to 375 degrees.
Coat the ramekins with coconut oil.
Wash, pit and slice the plums into bite-size pieces.
In a large mixing bowl, toss plums, orange juice, cane sugar, corn starch and vanilla; set aside.
In a separate bowl, combine the oatmeal, salt, cinnamon, agave, vanilla and coconut oil.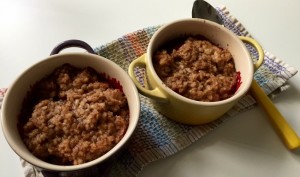 Divide the fruit among the two ramekins and top with crumble.
Bake, uncovered, for about 20 minutes on the middle rack, or just until the tops start to brown.
Let cool for at least 15 minutes, and enjoy with ice cream, yogurt or cream.
Never miss a chance to eat, drink and travel with Wanderfood. Follow me on  Facebook, Pinterest  and Twitter, and subscribe to my RSS.