"Do you want to come over for dinner?" my new neighbor asked. "I've got bean curd sheets."
Maybe you all know that the man next door, who I had met for the first time that evening, wasn't suggesting a romp in the tofu.
But my 21-year-old self, freshly installed in a Boston studio apartment, was not yet intimate with Chinese food.
And as I considered his offer, running through all the advice my mother gave me about men, I came up empty on "How to handle propositions involving bean curd sheets."
*****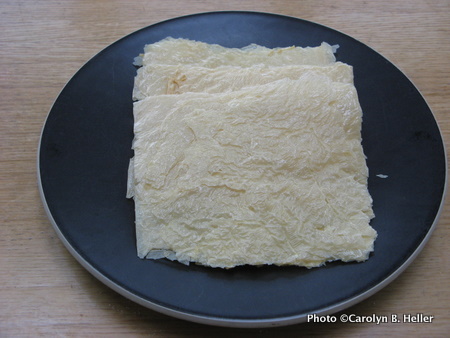 Bean curd sheets or tofu skins – which the Chinese call fǔpí (腐皮) and the Japanese yuba – are a by-product of the tofu-making process.
When soy milk is heated, a thin film forms on top. The film is removed and hung to dry, creating the crinkly, cream-colored "skins" of the bean curd.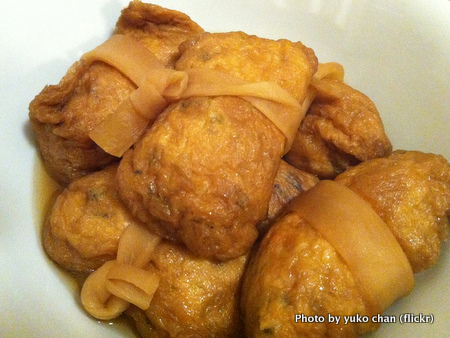 I've since had bean curd sheets at dim sum, where they're often rolled and stuffed, but I hadn't given much thought to these tofu skins in the years since that Boston evening.
Until recently, that is, when my husband Alan and I were scavenging in the kitchen for supper ideas, and he unearthed a package of dried bean curd sheets from the back of our cupboard.
Since we didn't really know what to do with them, we improvised.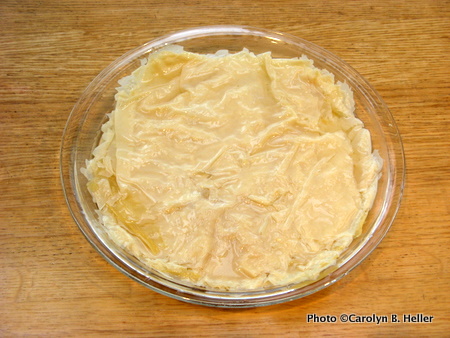 To rehydrate the dried skins, we briefly soaked them in water.
Then we drained then, sliced then, and braised them in a mixture of soy sauce and rice wine.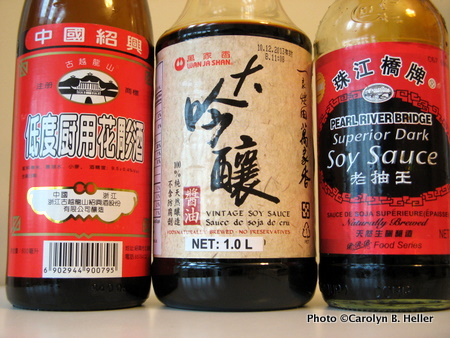 We cooked a pot of rice. Sauteed some greens. Mixed it all together.
The bean curd sheets were slippery and a bit chewy, and they soaked up the saltiness of the soy. We added a dollop of chili sauce to punch up the flavor. Easy and delicious!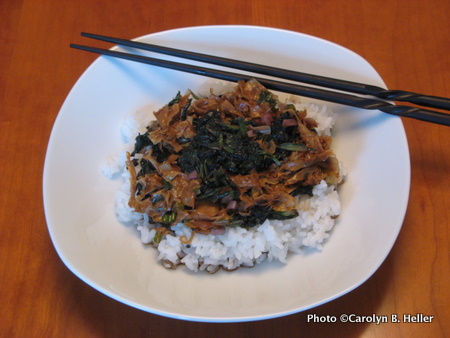 *****
That long-ago night in Boston, I did go to my neighbor's apartment for dinner, though the details of our bean curd sheet meal are lost to the passage of time.
But nothing unsavory happened, and my neighbor, who had grown up exploring New York's Chinatown, became not only a good friend but my guide to Chinese eating.
Then one day, he knocked on my door again.
"Duck tongues?" he asked.
But that's another story.
*****
Resources:
If you want to try making your own bean curd sheet dishes, here are some more ideas and recipes.
From Saveur Magazine: Spicy Yuba Stir-Fry with Edamame
From Serious Eats: Red-braised Dried Bean Curd Sticks
From Food Mayhem: Vegetarian Yellow Sparrow
And if you've gotten an unusual food, er, proposition, feel free to share your story, too!