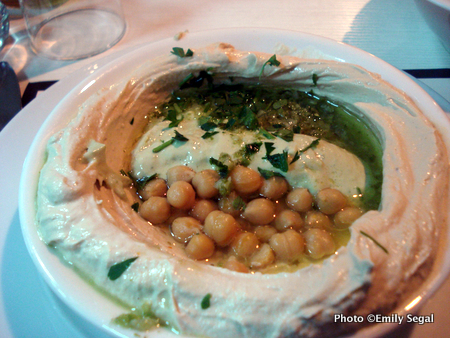 You sit down at a sidewalk table, under an awning to shade you from the already searing springtime sun.
Squinting as you peer inside, you spy the critical component for your upcoming meal. It's a massive clay pot, similar to a tagine. Except this super-sized specimen could be a cauldron for a ravenous giant.
That's OK. You're ravenous, too.
Which is a good thing.
Because you've come for lunch at a hummusiya, an Israeli hummus restaurant.
That's right. A café that serves hummus. Big bowls of warm, creamy, garlicky hummus.
And nothing but hummus.
In North America, hummus is at best a "vegetarian alternative," slathered on sprout-stacked multigrain. At worst, it's a chickpea-garlic glue.
In Israel, though, hummus eating is a high art, with restaurants specializing in this velvety chickpea puree.
At a hummusiya, your hummus is served warm, scooped from the big clay pot.
The choices are simple: you can have hummus plain or hummus with ful (stewed fava beans). Or maybe hummus with whole chick peas.
Even if the idea of bean spread topped with beans seems, well, a little too bean-y, the whole chick peas or favas add a lovely chew to the creamy hummus.
Either way, your bowl of hummus comes topped with a pool of fruity olive oil and a mound of freshly-chopped parsley.
You scoop up your hummus with pieces of warm, thick pita, making sure that you get a bit of ful, olive oil, and parsley in every bite.
On the side, you might nibble from a plate of olives and pickles, the tangy brine a vinegary counterpoint to the rich beans.
When you've eaten your fill, you might want to linger over a pot of thick, syrupy Middle Eastern coffee, if you're planning anything more strenuous than lounging on the beach.
Or even if you're just going to lounge on the beach.
To dream of your next bowl of hummus.
***
If you go…
So you want to sample hummus in Israel? Here are some resources to help you plan a hummus-eating sojourn:
Israel Ministry of Tourism
Israel Food Tours
The world's largest bowl of hummus
Can hummus bring Israelis and Arabs together?
Lonely Planet Israel
***
Thanks to my sister Emily Segal, Holistic Health Counselor and self-described Sorceress of Supper, and to my brother-in-law Meny, for introducing me to my first hummusiya. Emily gets credit for the awesome hummus photo, too.
Herzliya Beach photo by RonAlmog (flickr)
[mrlinky owner=wanderfood postid=19Jul2011 meme=2888]